The Real-Life Origins Behind 'Moon Knight' Villain Arthur Harrow Are Haunting
Disney Plus released 'Moon Knight' at the perfect time when the world is obsessed with cults. Is villain Arthur Harrow based on a real cult leader?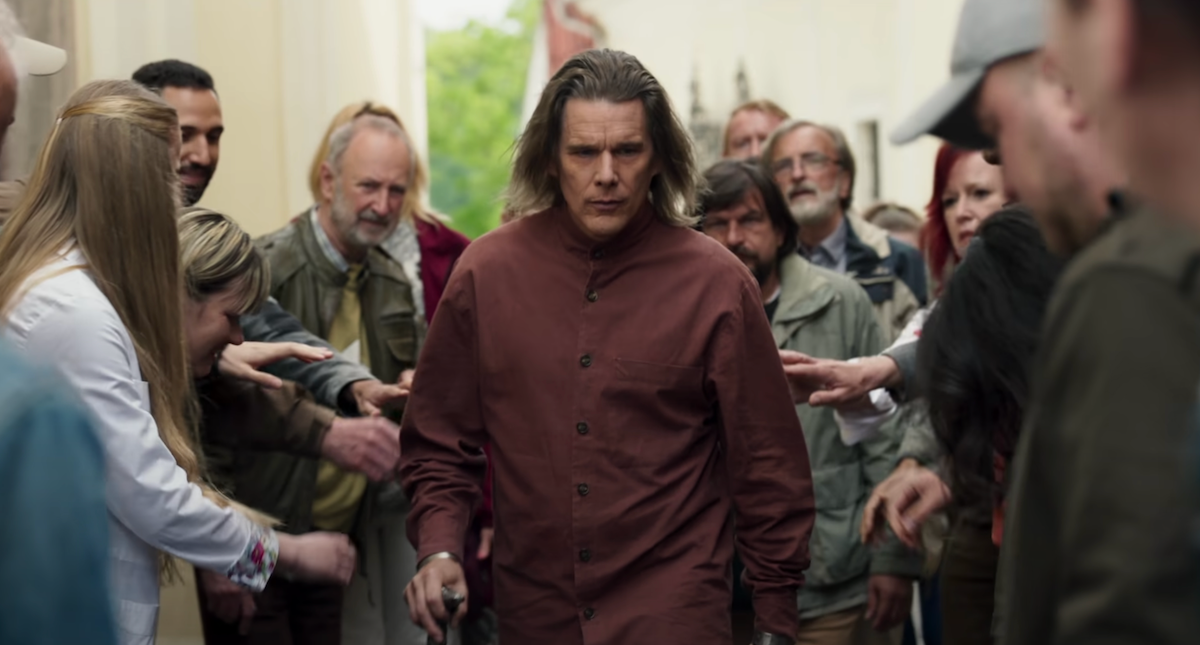 One of the more fascinating developments to come out of the first episode of Moon Knight is how much of a cult leader Arthur Harrow is. In trailers, we expected him to have some sort of following, but we didn't think he would map quite as directly to real-life cult leaders, considering the fact that Moon Knight is Marvel, and therefore Disney, property.
Article continues below advertisement
While we still don't expect any sort of sex crimes in the Disney series, which tend to be a common pattern in many cults, Arthur Harrow definitely exhibits some of the characteristics of a true cult leader. Plus, Ethan Hawke, who plays Arthur, revealed that he was "inspired" by one very well-known real cult leader.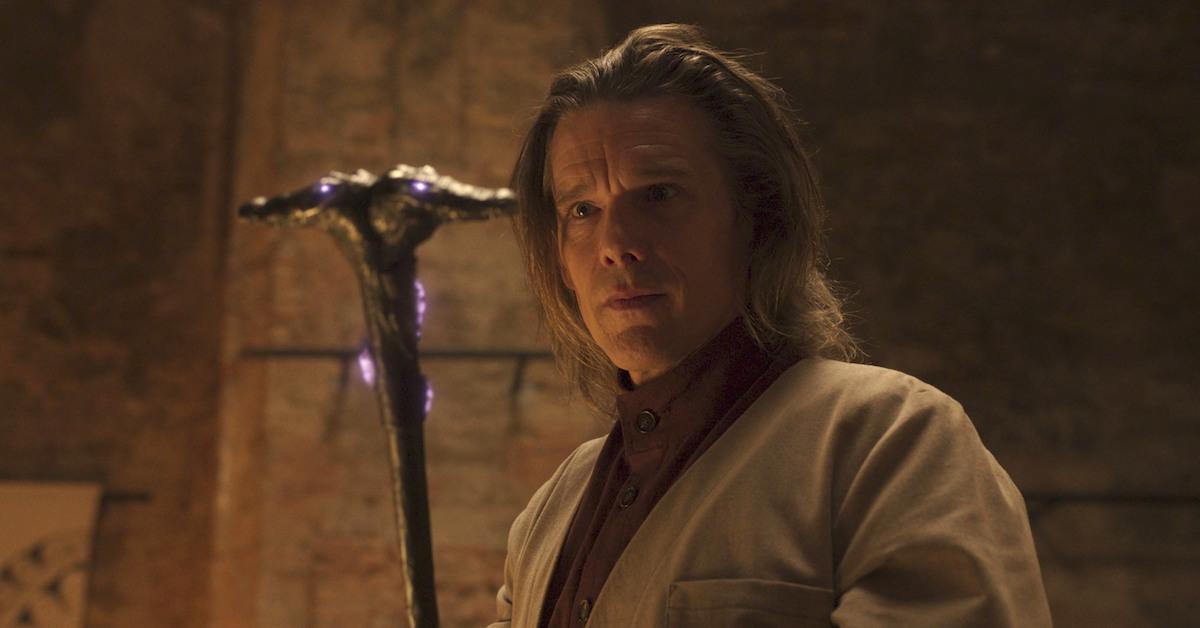 Article continues below advertisement
Ethan Hawke based his 'Moon Knight' character on real-life cult leader David Koresh.
In an interview on Late Night with Seth Meyers, Ethan shared that he based his portrayal of Arthur Harrow on David Koresh, the leader of the Branch Davidians. Seth joked in the interview, "By the way, I should note that with those glasses, your long hair, and those candles, you're giving off a real David Koresh vibe." Ethan looked bewildered as he shared, "I've based my character on David Koresh!"
Article continues below advertisement
"I guess it's working," Ethan continued joking. "I wanted to ride in in a Camaro. You're good, Seth, or maybe I'm not out of character yet." While Seth joked that, to be fair, he was a "huge fan of Mr. Koresh," Ethan explained on a serious note, "I don't know if we want to be on record saying that. I will say that he's the basis of great character inspiration, however."
David Koresh and Arthur Harrow do share some similarities.
For those who aren't familiar with David Koresh's work, he led the cult that resulted in the 51-day siege on a Waco compound in 1993. Arthur and David do share a similar look, and clearly came to lead their respective cults by claiming to be a prophet for some sort of religious sect. In the case of David, he claimed to be the final prophet of the Branch Davidians, which was an offshoot of the Davidian Seventh-day Adventists.
Article continues below advertisement
David's main focus was on the impending apocalypse, another common pattern among 20th century cults. His apocalyptic teaching instilled fear into his followers, who began following his every command to the point of allowing him to dictate marriages and relationships within the cult, including those with underage girls.
Article continues below advertisement
While we don't yet know the extent of Arthur's control over his cult, it is possible that he'll also have some sort of end goal that deals with an impending apocalypse, although we doubt that Marvel will dig into cultist sex crimes.
The biggest similarity between the two leaders is their claim to prophecy. But while we know that David had no legitimacy to his claim, magic exists in the MCU, and Arthur clearly does have some divine power and divine right. In the first Moon Knight episode, Arthur is the vessel through which his followers' virtues are judged. He sees himself as morally superior, even though he has no problem essentially killing those deemed unfit to live by his goddess, Ammit.
Article continues below advertisement
Arthur Harrow draws inspiration from several real-life cult leaders, in addition to his comic book iteration.
One of the most exciting things about Moon Knight is its ability to really veer off-book and do anything. Many Marvel fans are unfamiliar with Moon Knight's run in the comic books, and even less are familiar with Arthur Harrow, who only appeared in one issue of Moon Knight. The original comic book figure was a pain management scientist, who would do anything to rid the world of pain. In the television series, Arthur similarly wants to rid the world of all evil, and will kill to do it.
The main reason Arthur became a cult leader, though, is his claim to prophecy. Many infamous cult leaders, such as Charles Manson of the Manson Family and Amy Carlson of Love Has Won, claimed to be prophets. According to cult specialist Rachel Bernstein, these cult leaders know exactly what they are doing when they use these claims to manipulate followers.
Article continues below advertisement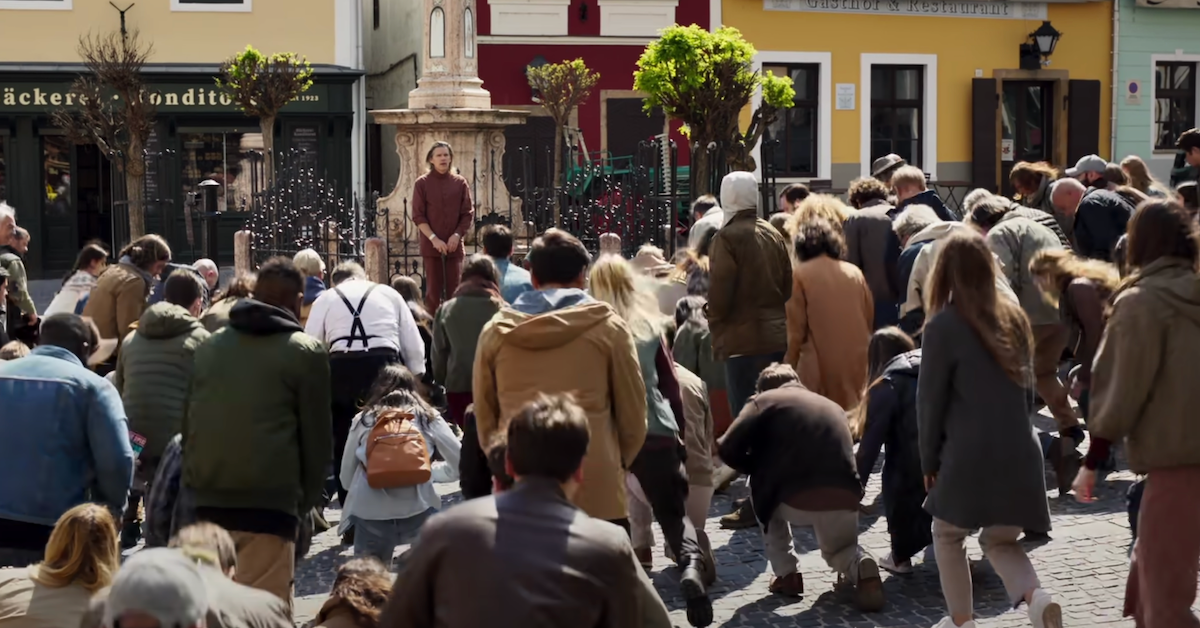 "Most cult leaders know what they're doing, love the power, love watching what people will sacrifice for them," she explained exclusively to Distractify. "It feeds their ego to an alarming degree." Whether or not the leaders actually believed they were prophets is often up for debate, but what makes Arthur unique is the fact that he does have some sort of mystical "power."
But does that justify him leading a cult? Perhaps his self-punishment by putting broken glass in his shoes gives us a clue that there's even more darkness behind him.
New episodes of Moon Knight drop every Wednesday on Disney Plus.