Kamala Harris' Parents Are Both Immigrants, and One Is Still Alive Today
Kamala Harris is Joe Biden's pick for vice president, but there are holes in her personal history for some, including if her parents are still alive.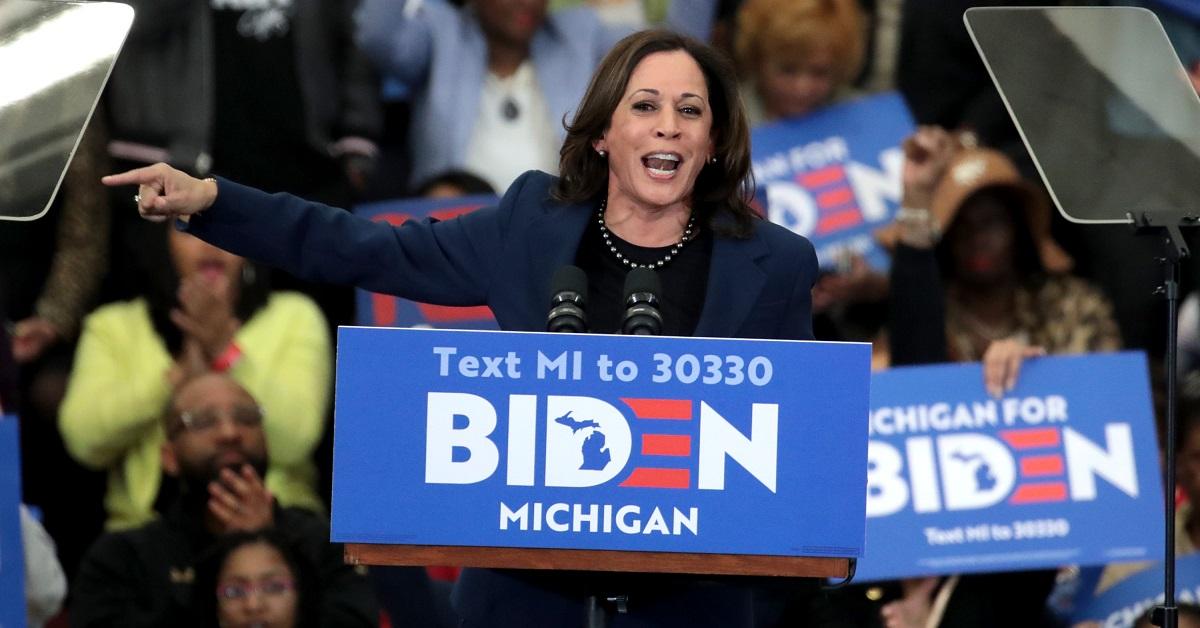 On Aug. 11, Joe Biden made history when he announced that Kamala Harris was his selection for vice president. Kamala is the first woman of color in U.S. history to be on a major party ticket, but there is still plenty that people may not know about the junior senator from California. Her parents, who are both immigrants, have a quintessentially American story, and now their daughter may be vice president.
Article continues below advertisement
Are Kamala Harris' parents alive?
Kamala's parents are Donald Harris and Shyamala Gopalan. Donald is still alive, but Shyamala died of colon cancer in 2009. In the past, Kamala has said that hearing the news of her mother's diagnosis was one of the worst days of her life.
"She got sick before the Affordable Care Act became law, back when it was still legal for health insurance companies to deny coverage for pre-existing conditions. I remember thanking God she had Medicare," Kamala told The New York Times.
Article continues below advertisement
"As I continue the battle for a better health care system, I do so in her name," she continued. Before Shyamala got sick, she immigrated to the U.S. from India to pursue a Ph.D. in endocrinology at UC Berkeley. She and Donald divorced when Kamala was 7. Donald, who's still alive, is a British Jamaican-born man who also immigrated to the U.S. to pursue a Ph.D. in economics from the university.
Is Kamala Harris Asian?
Because her mother is of Indian descent, Kamala is partially Asian. When she's asked to define her race, however, Kamala typically says that she is just "American," meaning that her ancestry speaks to the diversity that's possible in this country. Kamala and her sister Maya both have names that connect them to their Indian ancestry, in large part because Shyamala did not want them to lose touch with it in America.
Article continues below advertisement
Even as she encouraged them to connect with their Indian roots, Kamala has written that her mother was also aware of how she and her sister would be perceived in America.
"My mother understood very well she was raising two Black daughters," she wrote in her autobiography. "She knew that her adopted homeland would see Maya and me as Black girls, and she was determined to make sure we would grow into confident Black women."
Article continues below advertisement
Where was Kamala Harris born?
Kamala was born in Oakland, Calf. in 1964. She entered kindergarten during the second year of Berkeley's school desegregation busing program, and eventually went on to attend Howard University in Washington, D.C. She returned to California to get her law degree, and eventually began working in the San Francisco District Attorney's office. She had that position through much of the '90s before entering the public sphere.
People began to learn who Kamala was as she campaigned to be the district attorney for the city of San Francisco. She won that race, and served in that position from 2004 to 2011. Then, she ran for state Attorney General, and then for the senate in 2016. Just four years later, she was sharing a debate stage with Joe Biden as a candidate for president of the United States.