The 11 Best Sitcoms of the 1990s — From Dysfunctional Families to Wacky Friends
Many famous sitcoms came out of the 1990s. If the golden age of the sitcom started in the '50s, then the silver age started in the '90s.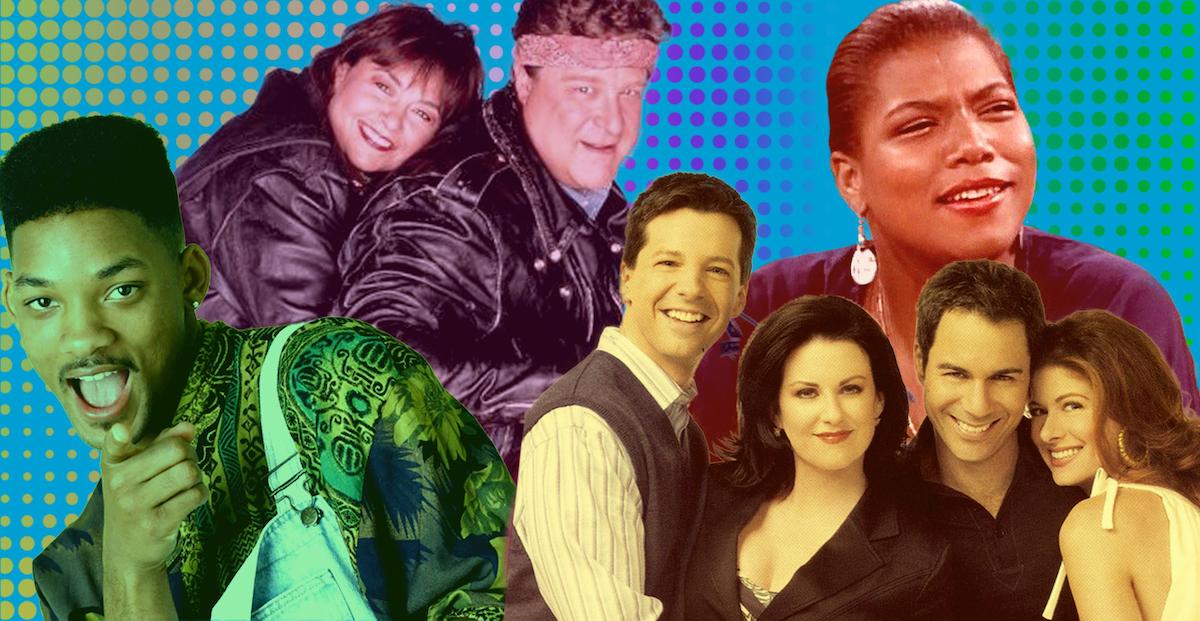 If the golden age of sitcoms was from 1950 through the 1960s (boasting hits like I Love Lucy and The Honeymooners), then the silver age was definitely the 1990s, which arguably reinvented the sitcom formula. From the shift to more diverse programming (Fresh Prince and Martin) to the rise of the single-cam format, the '90s gave audiences new depictions of best friends, family structures, spouses, and more.
Here is our list of the 11 best sitcoms to come out of the 1990s. (All the sitcoms listed aired at least one season between 1990 and 1999.)
Article continues below advertisement
'Friends' (1994 – 2004)
Friends may be one of the most quotable sitcoms to come out of the 1990s. Whether it has you singing along to Phoebe's inventive melodies (a la "Smelly Cat" and "Grandma's song") or quoting Joey's catchphrase ("How you doin'?"), Friends is a masterclass in consistent and cackle-inducing characterizations.
Each character boasts a clear-cut identity and "sticky" quirks: Monica the meticulous, Phoebe the free spirit, Joey the flirt, etc. It is a perfect recipe for sitcom gold, as the characters remain recognizable while growing across the show's 10-year run.
Article continues below advertisement
The show follows six friends who live in Manhattan and face dating crises, career dilemmas, family hardships, and more. With equal parts heart and humor, Friends captures the 20-something experience (albeit taking liberties with reality, as not a single person boasts a job that could grant access to such a marvelous Manhattan lifestyle).
Over 52 million Americans tuned in to watch the Friends finale, making it the fifth most-watched TV finale of all time. It falls behind M*A*S*H, Cheers, The Fugitive, and Seinfeld.
Cast: Jennifer Aniston, Matt LeBlanc, David Schwimmer, Lisa Kudrow, Courteney Cox, Matthew Perry
Creators: David Crane and Marta Kauffman
Article continues below advertisement
'Will & Grace' (Original Run: 1998 – 2006)
It's a now tried-and-true formula: The spunky girl and her gay best friend take on the world. Yet, when Will & Grace premiered, positive on-screen representations of LGBTQ individuals were almost non-existent. Most LGBTQ characters were stereotyped or reduced to secondary plot lines that almost always included an AIDS narrative.
Will & Grace was a pioneer, paving the way for shows with queer characters at the center.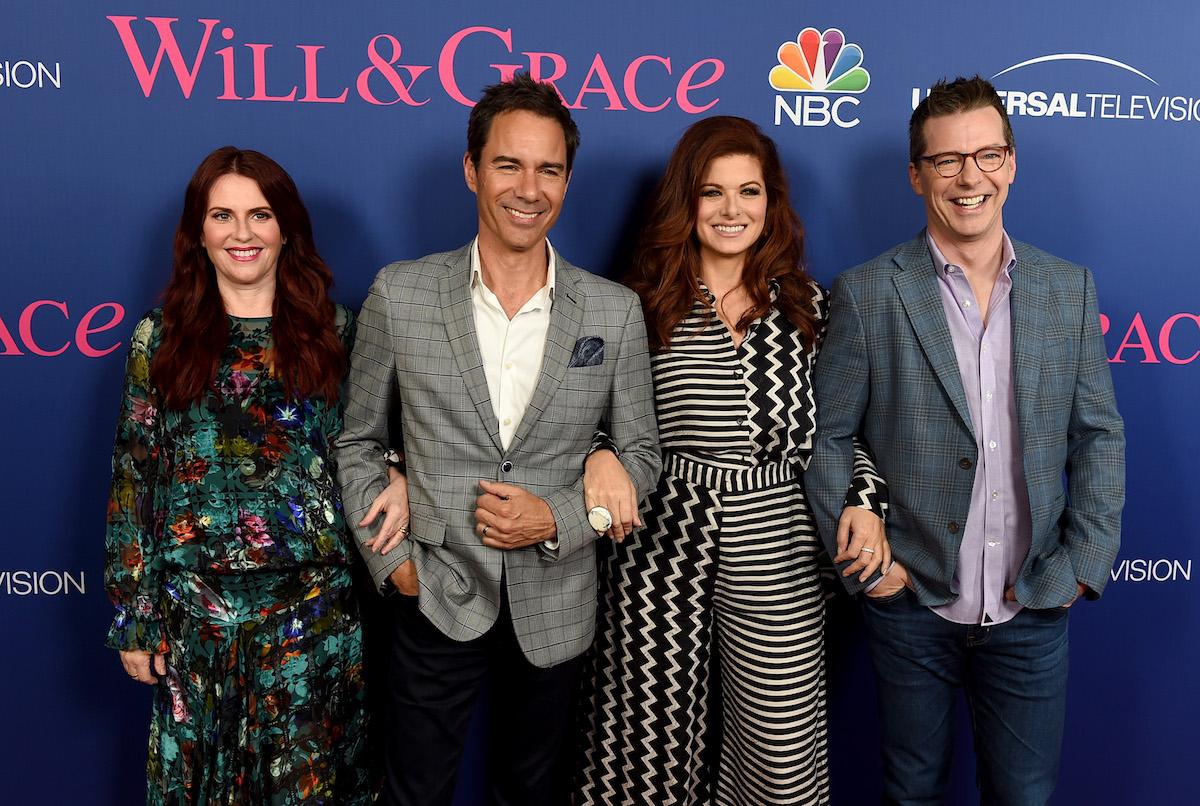 Article continues below advertisement
Yet, more than anything, Will and Grace is a show about best friends who become family. Best friends who you fight with like siblings. Best friends who you can be so mad at but still jump in front of a bus for. It's a show about the love between Will and Grace, as well as their kooky sidekicks, Karen and Jack (who deserved a spinoff!).
Will and Grace may poke fun at the main protagonists. It may run with some stereotypes that could be deemed "problematic." But the show always celebrates its characters; it celebrates their individuality — in all its messy glory — and, in doing so, makes us laugh until we cry.
Article continues below advertisement
Cast: Debra Messing, Eric McCormack, Sean Hayes, Megan Mullally, Shellie Morrison, Leslie Jordan
Creators: Max Mutchnick and David Kohan
'The Nanny' (1993 – 1999)
"Mr. Sheffield!" Fran Fine utters with her famous nasally intonation to summon the man of the house (whom she also happens to be in love with).
The Nanny follows a woman who comes to care for a wealthy Broadway producer's children after his wife passes away. While the previous nannies just couldn't cut it, Fran's playful disposition, top-tier fashion sense, street smarts, and warm heart make her irresistible. The three children and their father slowly fall in love with her over the course of the show (as do viewers at home).
Article continues below advertisement
The Nanny is filled with quippy remarks, perfectly timed insults, an exaggerated facial expression (or two), and solid physical comedy. It's got all you want in a sitcom. And, for all my fellow Jewish viewers, you can't help but appreciate the heaping doses of Yiddish terminology and traditional Jewish family dynamics (did someone say yenta?).
Article continues below advertisement
Cast: Fran Drescher, Charles Shaughnessy, Lauren Lane, Daniel Davis, Benjamin Salisbury, Madeline Zima, Nicholle Tom, Renée Taylor, Ann Morgan Guilbert
Creators: Peter Marc Jacobson and Fran Drescher
'The Fresh Prince of Bel-Air' (1990 – 1996)
The Fresh Prince of Bel-Air was (and still is) a powerhouse sitcom worthy of the legacy it has left behind.
The sitcom highlights the struggles Black Americans face in the world while challenging stereotypes that had previously come to define Black characters on television (the "angry black man," the "black jezebel," the "mammy," "the sassy black woman," etc.). The show demonstrates that Black characters on TV could be more than the two-dimensional relegations that white creators had previously presented.
Article continues below advertisement
The Fresh Prince of Bel-Air tackles racism, classism, and more through a comedic lens. However, the show never downplays the horrors associated with society's pervasive shortcomings but rather remains at once educational and comedic.
Using quippy one-liners, contemporary fashion, and an enigmatic Will Smith, the show cements its legacy in the '90s pop culture fabric. Just because it's funny doesn't mean it doesn't have something important to say. It just says it with humor, heart, and honesty.
Article continues below advertisement
The show has even received a contemporary reboot, Bel-Air, which premiered in 2022 with Jabari Banks in the role Will Smith originated. And, unlike many ill-advised reboots, this one is worth a watch, as it reinvents its source material — paying homage to the original while furthering its dramatic undertones.
Cast: Will Smith, Alfonso Ribeiro, James Avery, Karyn Parsons, Joseph Marcell, Janet Hubert, Tatyana Ali, Daphne Maxwell Reid, DJ Jazzy Jeff
Creators: Andy and Susan Borowitz
Article continues below advertisement
'Everybody Loves Raymond' (1996 – 2005)
Who didn't fall in love with the Barones in the late '90s? They're the perfect loving family with just enough dysfunction to make them relatable.
The interactions between the primary characters are based on everyday situations that families face — sibling rivalries, ceaselessly unsatisfied in-laws, health concerns, and work-life balance. Everybody Loves Raymond had a penchant for finding humor in the everydayness of life.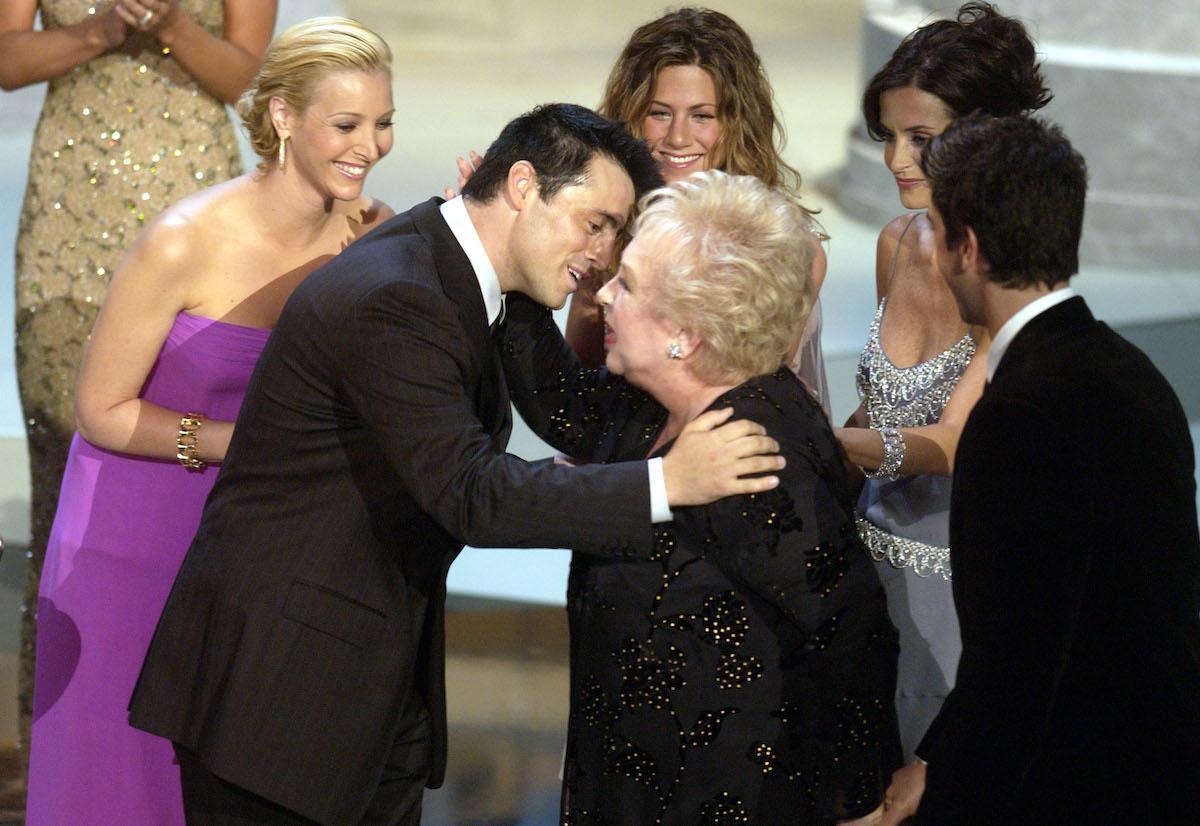 Article continues below advertisement
And who could forget Debra's (Patricia Heaton) quippy personality and epic memorable zingers, like "You know what? I'm tired. Could you just call yourself an idiot?" or "When you're on the Titanic ... you don't stop to yell at the iceberg."
Debra and Frank (Peter Boyle) were masters of deadpan — with stoic expression and unparalleled wit, they always had an insult up their sleeve and a follow-up wisecrack tucked away even further.
Cast: Ray Romano, Patricia Heaton, Brad Garrett, Madylin Sweeten, Doris Roberts, Peter Boyle, Sullivan Sweeten, Sawyer Sweeten
Creator: Phil Rosenthal
Article continues below advertisement
'The King of Queens' (1998 – 2007)
It's a tale as old as time: The everyday guy with a good heart (who's a little oblivious) winds up with the beautiful woman who's so far out of his league that it's laughable. Yet, somehow, the chemistry between Doug (Kevin James) and Carrie (Leah Remini) makes this marriage tangible. They feel like a couple who have been together forever — who have the same fight every week like clockwork.
Article continues below advertisement
The King of Queens often leans toward slapstick and clever banter — as is customary in a sitcom. However, the family dynamics — which were far from perfect and often fraught with conflict — make the show special. The Spooners and Heffernans may not always get along, but the love and respect are there, resting beneath several layers of festering aggravation.
Cast: Kevin James, Victor Williams, Leah Remini, Jerry Stiller, Patton Oswalt, Gary Valentine, Nicole Sullivan, Larry Romano
Creators: Michael J. Weithorn and David Litt
Article continues below advertisement
'Living Single' (1993 – 1998)
Living Single was one of the first sitcoms to boast an all-Black cast, but it specifically highlighted the interpersonal, professional, and social struggles that Black women face (which was exceedingly rare on television at the time).
The show tells its narrative from a female perspective and places strong and independent characters at the forefront. From the rising cost of living in urban areas to interracial dating and the HIV/AIDS pandemic, Living Single tackles multiple contemporary issues and has paved the way for future sitcoms.
Article continues below advertisement
The show broke the mold concerning Black female characters on television and helped to prove that nuanced and authentic storytelling around POC characters can and does draw viewership.
Not to mention the show had its fair share of memorable catchphrases, such as "Whose house? Run's house!" and, of course, "We are living single."
Article continues below advertisement
Cast: Queen Latifah, Kim Coles, Kim Fields, Erika Alexander, John Henton, Terrence C. Carson, Shaun Baker
Creator: Yvette Lee Bowser
'Roseanne' (Original Run: 1988 – 1997)
Roseanne — unlike Leave It to Beaver, The Brady Brunch, The Andy Griffith Show, and endless mid-century sitcoms — betrays the typical representation of middle-class America that had previously defined family-centric shows. From the mom always in an apron to the dad always in a suit, such representations grew to feel like an advertisement for some picturesque life that felt a bit ridiculous and antiquated to contemporary viewers.
Article continues below advertisement
Then came Roseanne Conner with her cackling laugh, quick wit, and sharp tongue. She has a knack for teasing her family — yet love characterizes every wisecrack that slips from her mouth. She, unlike the father, was the center of the family. It was a matriarchal dynamic — and a hysterical one at that.
Article continues below advertisement
She, as well as her three kids and husband, fight like crazy, which is normal! The kids actually hate each other … except when it matters. It is real. It is relatable. Roseanne spotlights a family that does not frequent the country club, but instead frequents the local diner and bowling alley.
Cast: Roseanne Barr, Sara Gilbert, John Goodman, Laurie Metcalf, Johnny Galecki, Lecy Goranson, Sarah Chalke
Creator: Matt Williams and Roseanne Barr
Article continues below advertisement
'Murphy Brown' (1988 – 1998)
Unlike many women on television (who are written by men and hyperfixated on love, family, and friends), Murphy Brown is a career-driven and strong-willed woman. The series broke '80s gender norms on TV, highlighting a character defined by ambition and intelligence over her relationships or beauty.
Article continues below advertisement
The show broke barriers to entry that had previously defined the TV landscape, bringing a magnifying glass to then-contemporary sociopolitical issues surrounding feminism, the LGBTQ population, the Gulf War, abortion, and more. Murphy Brown also notably has characters break the fourth wall, which has since been seen in sitcoms like Modern Family, Parks and Rec, Fleabag, and more.
Cast: Candice Bergen, Faith Ford, Joe Regalbuto, Charles Kimbrough, Grant Shaud, Pat Corley, Jake McDorman
Creator: Diane English
Article continues below advertisement
'Seinfeld' (1989 – 1998)
Often described as a "show about nothing," Seinfeld remains famous for its unique sense of humor, as it eschews traditional sitcom mechanisms like punchlines and episodic narrative dilemmas. Instead, it finds humor in the most trivial aspects of our daily lives. The mundane was the show's bread and butter, as a group of New York Friends quickly sunk into our hearts and stayed there for nine seasons.
Article continues below advertisement
The show also boasts quite an irreverent attitude concerning social norms and what polite society would deem "acceptable behavior." In other words, the characters couldn't be bothered with such nonsense. The way the show comedically attacks our notions of common courtesy helped define the '90s TV landscape and inspired many future sitcoms, including (but not limited to) Curb Your Enthusiasm (created by Seinfeld co-creator Larry David), It's Always Sunny in Philadelphia, The League, and Letterkenny.
Cast: Jerry Seinfeld, Julia Louis-Dreyfus, Jason Alexander, Michael Richards, Jerry Stiller, Patrick Warburton
Creator: Larry David and Jerry Seinfeld
Article continues below advertisement
'Frasier' (Original Run: 1993 – 2004)
Frasier, unlike many ill-fated spinoffs, managed to shine just as bright as its predecessor Cheers. The show follows a successful psychiatrist and radio host as he manages his relationships with family and friends.
Frasier's brand of humor often falls under the "sophisticated" umbrella, as the show relies on clever wordplay and a deep understanding of human behavior to create a series that speaks to all those who yearn to understand just what makes us tick. The family dynamics at play kept the show on the air for so many years, as each relationship is relatable, yet oh so complex.
Article continues below advertisement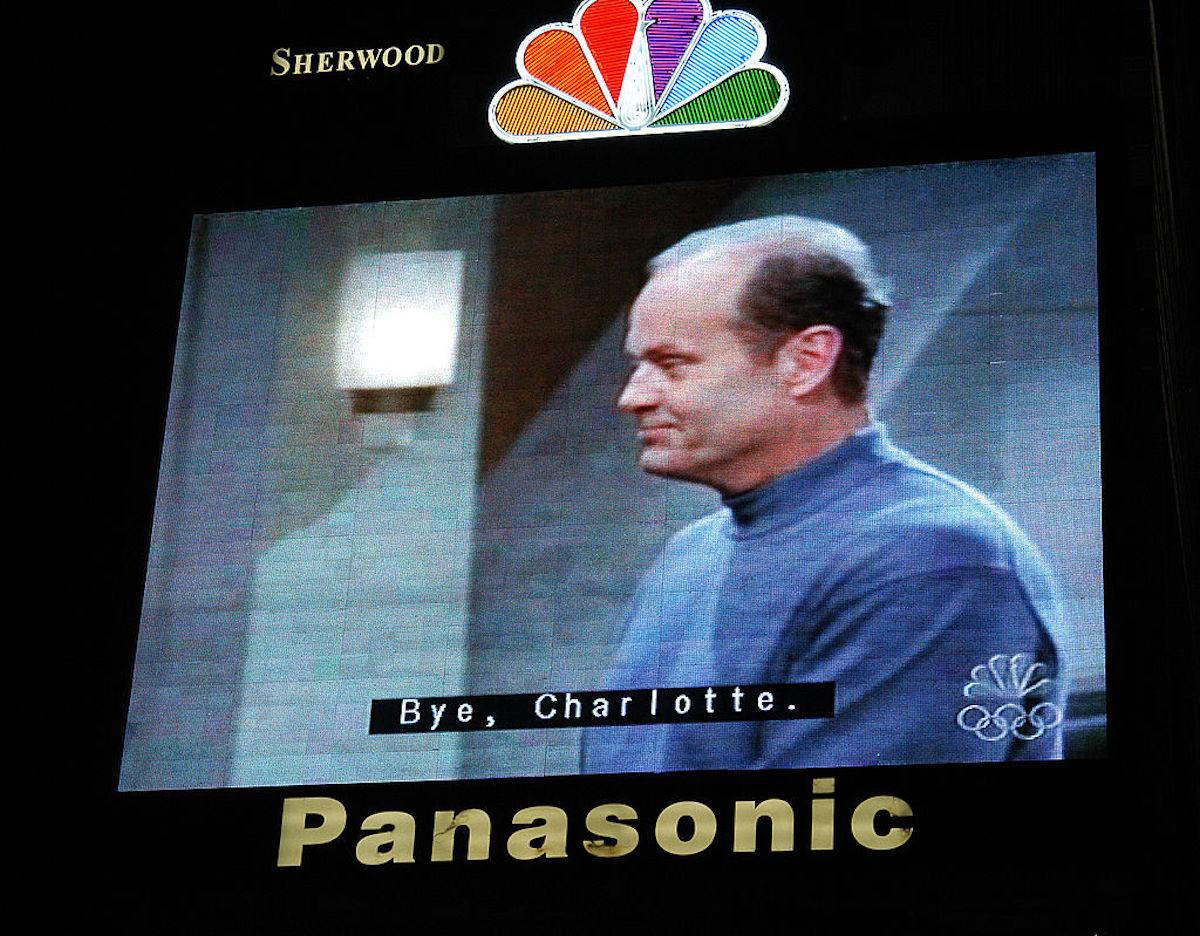 Frasier, though the description rubs some the wrong way, has often been labeled the "sitcom for intellectuals"; however, the humor is relatable to all those who know what it is like to struggle with a neurotic friend, a nosey parent, or an intrusive friend or two.
A Frasier reboot is even set to premiere on Paramount in late 2023.
Article continues below advertisement
Cast: Kelsey Grammer, David Hyde Pierce, Jane Leeves, John Mahoney, Peri Gilpin, Bebe Neuwirth, Jean Smart, Trevoe Einhorn
Creators: David Angell, Peter Casey, and David Lee
Honorable Mentions
Step by Step (1991 – 1998): A blended family sitcom reminiscent of The Brady Bunch with a modern twist.
NewsRadio (1995 – 1999): Portrays the hilarious antics of staffers at WNYX — a fictional No. 2 news radio station broadcasting to New York.
Sabrina the Teenage Witch (1996 – 2003): Follows the life of a teenage girl struggling to balance her witchy existence with her day-to-day teenage life. Will spellcasting help or hinder her friendships and romantic life?
Blossom (1990 – 1995): A spunky teenager lives with a dysfunctional family, including her divorced musician father, recovering substance abuser brother, and not-the-sharpest-tool-in-the-shed brother Joey.
That '70s Show (1998 – 2006): A motley crew of teens hang out in a basement, get high, and grow up together — with the supervision of a happy-go-lucky mom and a cantankerous dad.
Boy Meets World (1993 – 2000): Prepubescent Cory Matthews juggles school, friends, family, and (eventually) romantic relationships in this coming-of-age sitcom.
Grace Under Fire (1993 – 1998): Grace is a recovering alcoholic who struggles with supporting her family following her recent divorce.
Martin (1992 – 1997): Stand-up comedian Martin Lawrence leads this irreverent sitcom about a sexist and wisecracking radio station talk show host.