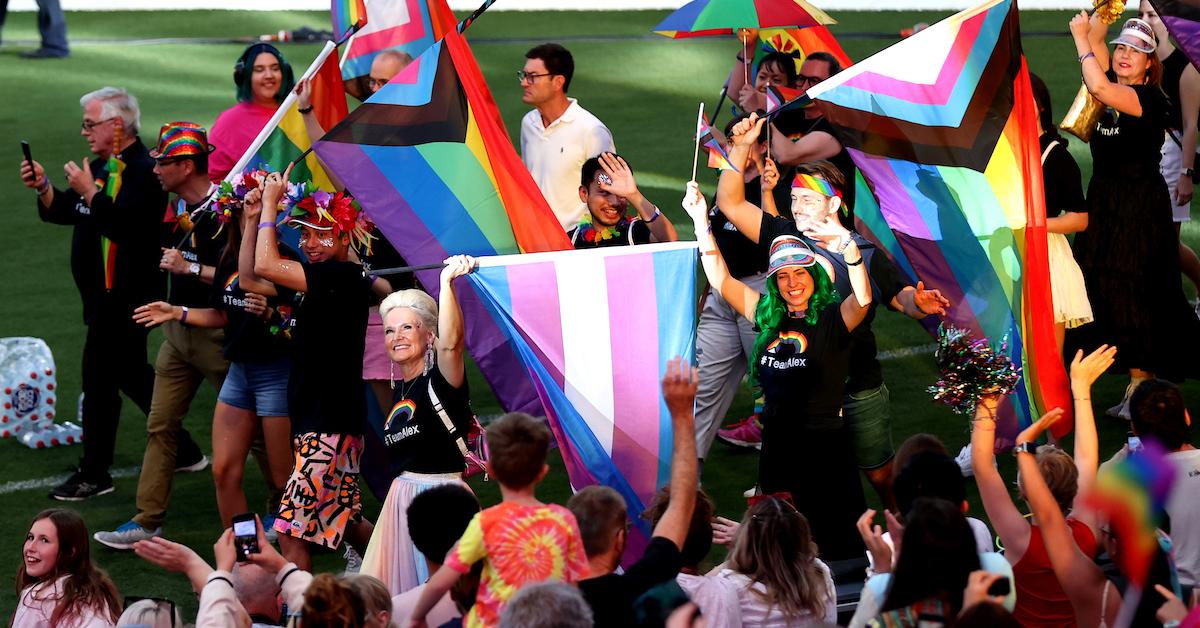 The Best LGBTQ Podcasts That Will Make You Laugh Until You Cry
This Pride Month, LGBTQ culture is front and center, and for important reasons! Not only is it fun to dress up in rainbow and glitter for pride parades, but between Florida's antiquated "Don't Say Gay" law and Texas's new ban on drag shows, LGBTQ rights are still at risk. This means that it's more important than ever to support LGBTQ creators.
Article continues below advertisement
There are tons of great LGBTQ comedians, actors, writers, influencers, and more … But what about podcasters? Summer is the season of long walks and explorations, so now is the time to listen to some LGBTQ comedy podcasts. Here are some of our favorites that will leave us rolling on the floor, laughing out loud.
'Gay Future'
This is a fictional narrative six-episode series, but that doesn't make it any less funny than the non-scripted pods. Gay Future takes place in 2062, when everyone is Gay, except for Mikey, who sets off on a journey to find the Lost City of Straight. Featuring an incredible cast and creative team, headlined by Connor Wright, Christina Friel, and Ben Lapidus, this story is not one to miss.
Article continues below advertisement
'We're Having Gay Sex'
New York-based comedian Ashley Gavin takes listeners on a ride as she discusses her newfound queer sexual adventures on We're Having Gay Sex. Each week, she and her "queerest friends," Kate Sisk and Gara Lonning, interview different LGBTQ folks, most recently Rae Williams from The Ultimatum, who came out on national television!
Article continues below advertisement
'Peak Trans'
Trans British comedian Jen Ives becomes our "cool trans friend" in Peak Trans as she discusses "trans issues" each week in her "trademark cheeky way." So far, she's discussed "Icky Gervais" and whether or not the Queen of England is a TERF. Peak Trans is still in its early days, so get in early to be Jen's No. 1 fan.
Article continues below advertisement
'Las Culturistas'
If you haven't yet listened to an episode of Las Culturistas, you are not up on today's culture. Every episode, SNL favorite Bowen Yang and co-host Matt Rogers go in-depth on cultural content of the moment, such as Survivor and "Driver's License." Every year, they present the "Culture Awards," where the year's top 100 moments each win their own unique category.
The 2021 live Culture Awards are set for June 18. 100 lucky winners will take home awards in categories such as "Little Mix Award for Being Absolutely Fierce Boots" and "Biggest Jester Flop in the Clown Square."
Article continues below advertisement
'Sloppy Seconds'
Drag star and motivational speaker Meatball hosts Sloppy Seconds alongside rapper/comedian and "gay bear" Big Dipper. They interview queer celebrities and talk about everything under the sun from sex to food with guests such as Max Adonis and Derry Queen.
Article continues below advertisement
'Inside the Closet'
In Inside the Closet, gay mainstream comics Matteo Lane and Emma Willman talk about everything gay and everything funny. Recently, they try to figure out "where the penis goes." They also interview guests every so often, such as Ted Lasso writer and The Wedding Coach host Jamie Lee.