Here Are Some Celebrities Getting Their Joy-Con on in Nintendo Switch Commercials
Gaming is for everybody, even famous people! Check out some of the celebrities featured in Nintendo Switch commercials playing just about anything.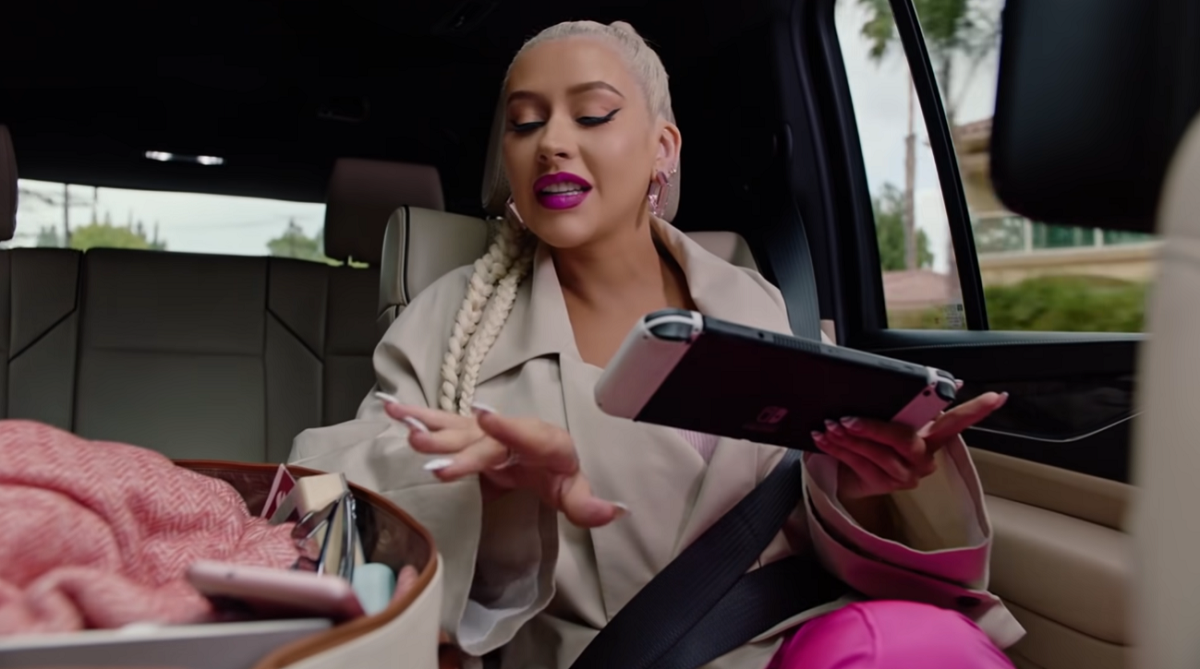 Believe it or not, it's not too uncommon for celebrities to be involved in gaming. Ice T from SVU is a known gamer, Giancarlo Esposito played the major antagonist of Far Cry 6, and even an Oscar-winning actor like Rami Malek starred in 2015's horror game Until Dawn. So it shouldn't be surprising that some of our favorite famous faces have been playing on the Nintendo Switch too.
Article continues below advertisement
The Nintendo Switch was first released in 2017 and was met with enormous commercial success thanks to its multiple play modes and accessibility. An updated model, the Nintendo Switch OLED, was released in October 2021 and is already extremely hard to get. The popularity of the Nintendo Switch can't be overstated, and plenty of celebrities have found themselves on the hype train in charming and fun commercials showing off these famous people getting their game on.
Here are the celebrities who have appeared in Nintendo Switch commercials.
Christina Aguilera
The most recent celebrity Switch commercial shows pop star Christina Aguilera playing the new OLED model. As a famous singer and former judge on The Voice, Christina hardly needs an introduction. Her commercial shows Christina playing games like Super Mario 3D World, Animal Crossing: New Horizons, and Big Brain Academy: Brain vs. Brain with her kids both online and in person. If anyone's ever waited on her during a live performance, she might have been building houses on her New Horizons island.
Serena Williams
The world-famous tennis player doesn't just serve on the court. She also makes excellent trick shots while maining Rosalina in Mario Tennis Aces. Serena's commercial has her playing several of the Switch's fitness-related games like Just Dance and Fitness Boxing 2.
Article continues below advertisement
Neil Patrick Harris
Even celebrities can get a little too competitive in games. Take Neil Patrick Harris, for example. In his Switch commercial, he trains diligently to beat his kids at Big Brain Academy: Brain vs. Brain while his husband watches in amusement. When he eventually does win, he can't help but boast and bust a move.
Article continues below advertisement
Annie Murphy
The Schitt's Creek star seems to enjoy rainy days as long as they give her an excuse to play some Switch games. As a jack-of-all-trades gamer, she enjoys playing a variety of games from Ring Fit Adventure to virtual board games to Mario Kart 8. What game night wouldn't be improved with "a little bit Alexis"?
Article continues below advertisement
Brie Larson
Between Captain Marvel and Room, it's a wonder how Brie Larson has time to go this hard on her Switch games. If she's not making the drop in Fortnite, she's exercising in Ring Fit. She's even invested so much time in New Horizons that she has a video on her YouTube channel dedicated to showing off her island.
Article continues below advertisement
Jimmy Fallon
While not technically a commercial, Jimmy Fallon once hosted Reggie Fils-Aimé, the former president of Nintendo of America, and debuted the Switch on his show. The debut showed off gameplay for the first Breath of the Wild. He would go on to show off an early copy of Super Mario Odyssey.