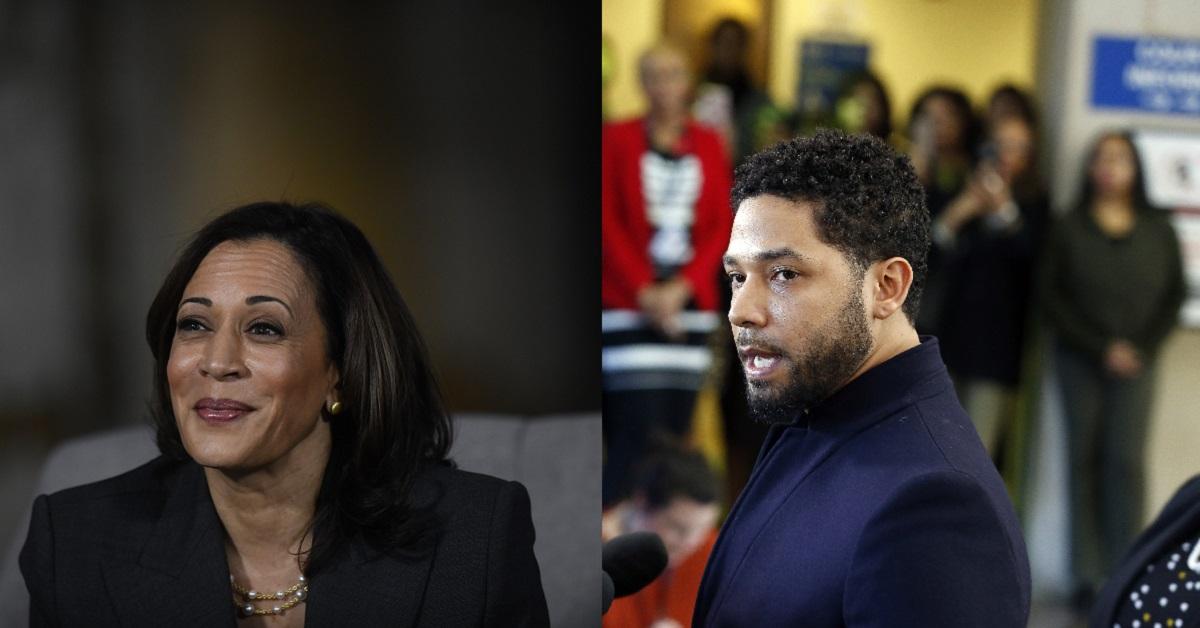 Kamala Harris' Old Tweets About Jussie Smollett Are a Pointless Attack Against Her
Now that Kamala Harris has been selected as Joe Biden's vice president, people are going to comb over her record and her online media presence looking for anything they can use against her. One of the most recent examples of this comes with resurfaced tweets that Kamala posted after news of Jussie Smollett's alleged fake attack first surfaced on social media.
Article continues below advertisement
Is Kamala Harris Jussie Smollett's aunt?
Kamala is not related to Smollett, but she did express horror when she believed the attack against him was real. "@JussieSmollett is one of the kindest, most gentle human beings I know. I'm praying for his quick recovery. This was an attempted modern day lynching. No one should have to fear for their life because of their sexuality or color of their skin. We must confront this hate," she wrote at the time.
Article continues below advertisement
Following reports weeks later that the attack against Smollett had been faked, Kamala recanted, saying that she was "sad, frustrated, and disappointed" by the news. She said that, whether Smollett's case was real or not, hate crimes are on the rise in America.
"Part of the tragedy of this situation is that it distracts from that truth, and has been seized by some who would like to dismiss and downplay the very real problems that we must address," she wrote.
Smollett is accused of working with two friends to stage a hate crime against him because he was unhappy with his salary on Empire. Smollett claimed that he was attacked at 2 a.m. and that his attackers used racial slurs and threw chemicals on him and said he was in "MAGA country." In her statement, Kamala said that this kind of fake operation only makes prosecuting hate crimes harder.
Article continues below advertisement
"When anyone makes false claims to police, it not only diverts resources away from serious investigations but it makes it more difficult for other victims of crime to come forward," she wrote. She vowed to continue fighting for victims of actual hate crimes, and said that hate must always be confronted head-on.
Article continues below advertisement
What is the relationship between Jussie Smollett and Kamala Harris?
Other than those tweets, there doesn't seem to be much of a relationship between the actor and the senator. Thanks to a few headlines, though, some are suggesting that there is more to the relationship than there actually is. Like many people, Kamala was horrified by what Smollett said he went through, and then upset to discover that it wasn't true. Those who tie her to Smollett likely do so in order to achieve an unrelated political benefit.
Jussie Smollett has been indicted on six counts.
Since news broke that the attack was probably staged, Smollett has been charged in a six-count indictment for making multiple false claims to Chicago police. The charges came in February of this year, and Jussie pleaded not guilty to all of them. To this day, Smollett still claims that he did nothing wrong. He told TMZ in February that he was innocent of what he's being accused of.
Election Day is Nov. 3. Register to vote at vote.gov and head to your state's board of elections for details on requesting a mail-in or absentee ballot.