The Tres Amigas Are Back on 'RHOC'! Why Did They Ever Fall Apart?
Tamra Judge, Vicki Gunvalson, and Shannon Storms Beador were the "Tres Amigas." Their friendship changed after two of them left 'RHOC.' What happened?
Article continues below advertisement
The Tres Amigas reunion comes after years of ups and downs for the blond BFFs. Let's dive into what happened to the Tres Amigas and where they stand on RHOC.
Article continues below advertisement
What happened to Tres Amigas? The friend group fell out over Bravo's 'RHOC' casting choices.
For the most part, the Tres Amigas seemingly had a solid friendship that none of their other RHOC co-stars could break. While not even Kelly Dodd could demolish Shannon, Vicki, and Tamra, Bravo came close to doing so after a cast shakeup in 2020.
In January 2020, Vicki announced she was leaving Housewives after 14 years of being an OG cast member. One day later, Tamra followed suit and announced on Instagram that she would also be exiting RHOC after 12 seasons. Shannon, however, kept her spot right where it was at.
Vicki and Tamra's exits ultimately affected the Tres Amigas's dynamic. In March 2020, fans discovered just how bad things became when Tamra seemingly responded to Shannon's budding friendship with their former co-star Kelly Dodd.
Article continues below advertisement
Days after Shannon posted a photo with her, Kelly, Shannon's boyfriend, John Janssen, and Kelly's husband, Rick Leventhal, Tamra reacted on Instagram in what seemed like a shady message towards Shannon before she and Vicki ultimately unfollowed their friend on Instagram.
"Fake friends are like shadows. They follow you in the sun but leave you in the dark," the Vena CBD founder posted in March 2020 (via People).
Article continues below advertisement
In April 2020, Tamra addressed her and Shannon's issues on Entertainment Tonight. The fitness guru accused Shannon of treating her like she was no longer "important to her" once she was no longer on RHOC.
During a separate interview with the outlet in October 2020, Shannon denied ignoring Tamra and Vicki because of the change in their Real Housewives status. When asked why she remained mum about the drama, Shannon said she refused to "sink down" to their level.
Article continues below advertisement
"I'm not going to sink down to a level and argue with people I consider close friends in the press," Shannon told ET. "That's not who I am. That's not what I'm made of."
"I have a little more decorum than they do," she added of her former pals' "lies." "So I don't want to engage."
Article continues below advertisement
Tamra and Shannon's 'RHOC' reunion became messy in Season 17.
Tamra and Shannon's issues continued during Tamra's two-year hiatus from RHOC. In multiple interviews, the amigas stated they were still on bad terms and didn't think they would ever get back to the friendship fans saw over the years. However, when Tamra announced she was returning to the show in Season 17, they were forced to coexist for the cameras.
During the Season 17 premiere, Tamra shared she was nervous about being around Shannon for the first time since their public fallout. But, despite an awkward moment, in which Tamra inadvertently discusses the drama with Shannon to her co-stars Emily Simpson and Gina Kirschenheiter behind Shannon's back (literally) at newcomer Jennifer Pedranti's yoga event, Tamra and Shannon agreed to speak one on one and sort out their issues.
"I miss my best friend," Tamra tells Shannon in the scene.
Article continues below advertisement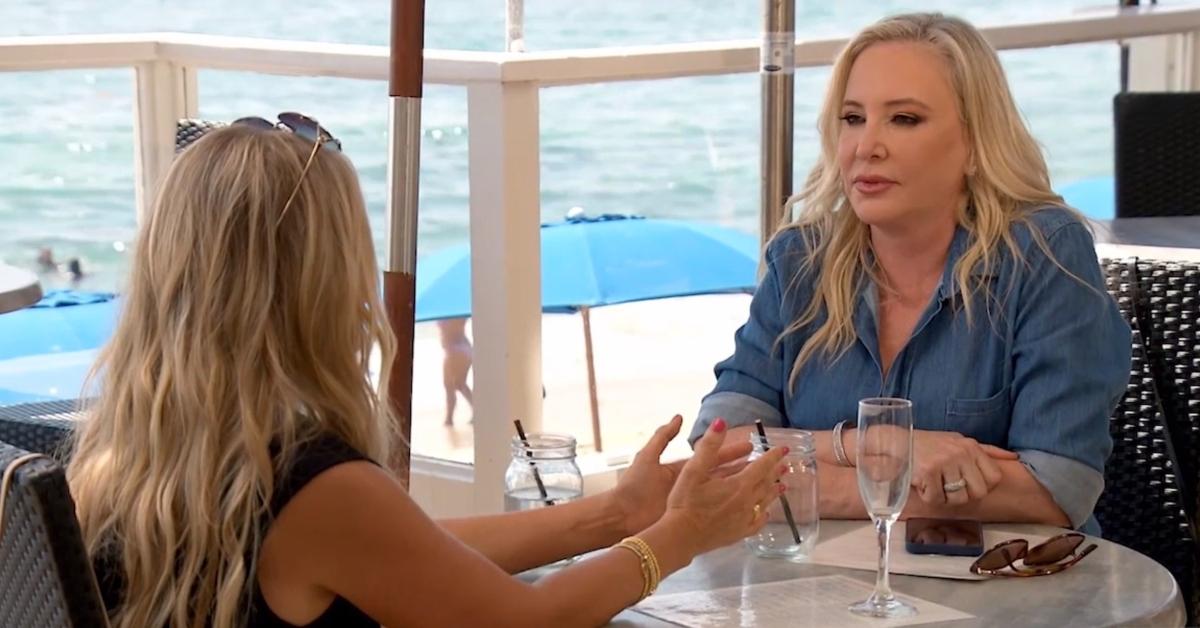 In the following episode, Tamra and Shannon have their much-needed talk at lunch. Unfortunately, the luncheon soon went south, as Shannon refused to agree that she ghosted Tamra. Tamra doubled down on the claim, said Shannon was a "fake friend" during that time, and told her friend could've called her at any time to end their drama.
Article continues below advertisement
While the friends agreed to "move on" and try to see if they could be friends again, the positivity ended in the same episode. During Gina's "fla-mingle party" on her boat (which she herself didn't attend due to being sick), the ladies gathered in hot pink outfits for food and alcohol.
After a few hours on the boat and likely too much wine, Tamra took offense when Shannon ignored Jennifer's story about how she adopted her youngest child, Dominic. Tamra said Shannon's dismissive attitude was why they fell out and also said Shannon "failed her" as a friend.
The argument got even nastier when Tamra mentioned Shannon's drinking and called her an "f--king liar" and a "drunk." Shannon calmly disagreed with Tamra and shared in a confessional that it was Tamra, not her, who behaved like she was intoxicated at the event.
Article continues below advertisement
Shannon also told Tamra in front of the group that she was "unhinged" as Tamra continued yelling and, at one point, threatened to "jump overboard" to avoid listening to Shannon's "lies" and told her longtime friend to "f--k a duck," before they parted ways for the evening. Oof!
Article continues below advertisement
Tamra, Shannon, and Vicki settled their issues before 'RHOC' Season 17.
Despite their public spats on the show and online, Vicki, Shannon, and Tamra are back and better than ever since filming Season 17 of RHOC.
In July 2022, Tamra shared on Watch What Happens Live that she was coming back to RHOC after a two-year hiatus. Several months later, her day-one BFF, Vicki, confirmed she filmed several scenes for the season, although she isn't back on full-time. Additionally, the iconic trio announced that fans would see more of them when Bravo's cameras aren't rolling.
Article continues below advertisement
In May 2023, Vicki, Tamra, and Shannon launched Instagram and Twitter accounts for Tres Amigas (@tresamigasoc). Although many fans initially thought the collaboration was a podcast starring the ladies, they used the platforms to promote a live show in Irvine, Calif., that will allow fans to connect with them in person.
As they say: Friends who get the influencer bags together; stay together (don't quote us!).
The Real Housewives of Orange County airs Wednesdays at 8 p.m. EST on Bravo and streaming the following day on Peacock.