'Tall Girl 2' Offers a Surprising Cameo That Has Viewers Excited
Since the release of Netflix's 'Tall Girl 2,' viewers can't stop talking about Jake from State Farm's supposed cameo. Is it really him in the movie?
Spoiler alert: This article contains spoilers for the Netflix original film, Tall Girl 2.
Over the years, Netflix has drawn in massive viewership numbers due to its teen movies; from The Kissing Booth trilogy to the To All the Boys I've Loved Before franchise, there is plenty for the younger generations to enjoy. The latest contribution to Netflix's coming-of-age catalog is none other than Tall Girl 2, the long-awaited sequel to 2019's Tall Girl.
Article continues below advertisement
Directed by Emily Ting, the 2022 film continues the story of Jodi Kreyman (Ava Michelle) as she navigates her newfound popularity and identity outside of just being known as the "tall girl."
Though the flick brings back beloved familiar faces, there are also new additions to elevate the drama and show Jodi's growth as an individual. In fact, there is a cameo from a specific khaki-wearing "good neighbor" that no one expected — who is it? Wait, is it Jake from State Farm? Keep reading find out!
Article continues below advertisement
Is Jake from State Farm in 'Tall Girl 2'?
No, your eyes aren't deceiving you — Jake from State Farm does appear in Tall Girl 2. It's a brief role, but his presence was enough to set off Jodi's boyfriend, Jack Dunkleman (Griffin Gluck).
Following Jodi's successful musical audition, Jack takes his girl out for ice cream; once he pays for their sweet treat, Jack notices the couple in line behind them and offers to pay for their ice cream (toppings included, of course). This generous act prompts the four to exchange in further conversation until the man — played by Jake from State Farm — asks Jodi how tall she is in a mocking, insensitive tone.
Article continues below advertisement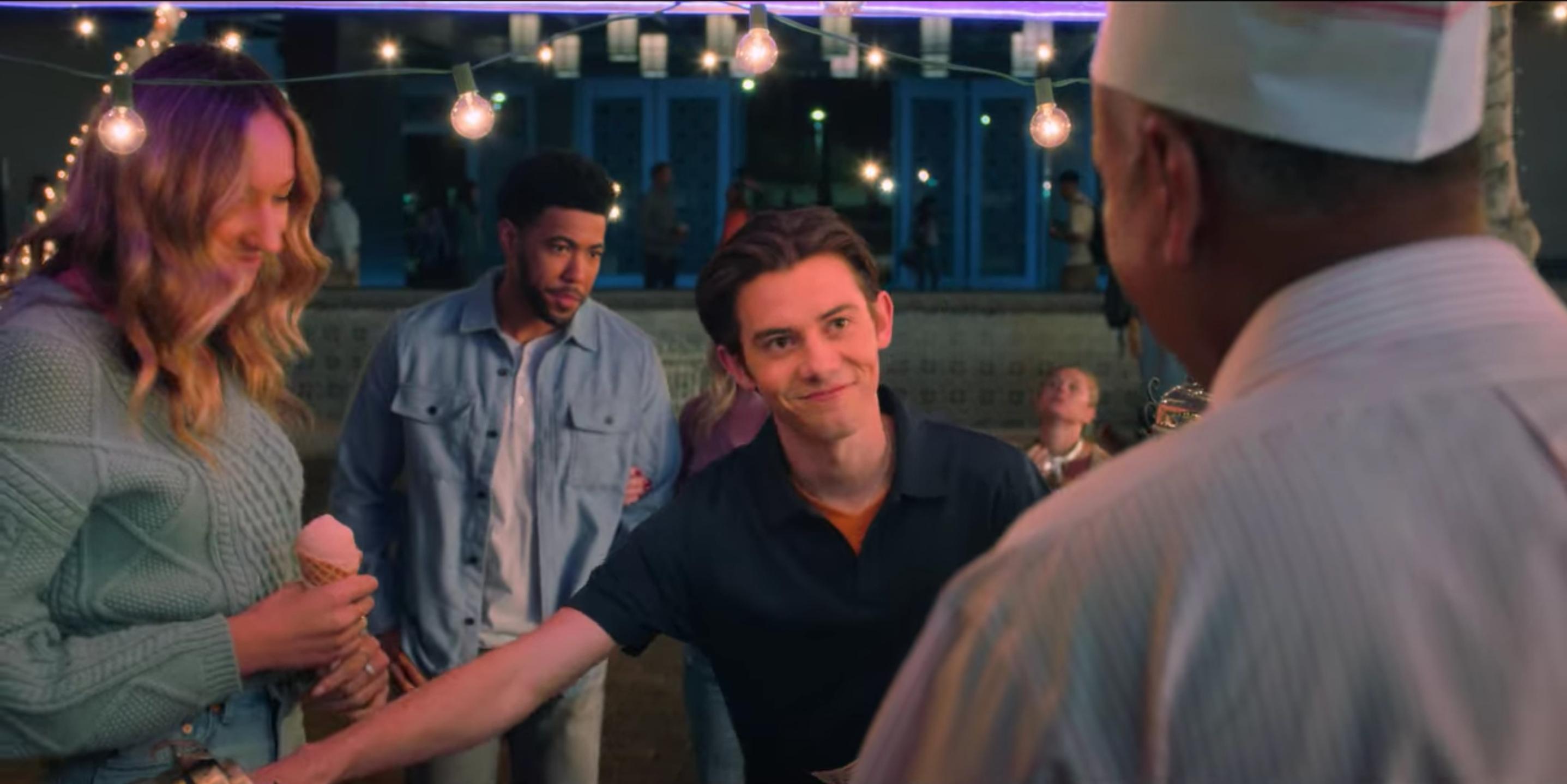 If you've seen Tall Girl, then you know that whenever someone pointed out Jodi's height, she would grow upset. However, it seems Jodi's done a complete 180 because the man's comment doesn't affect her in the slightest.
On the other hand, Jack becomes visibly upset and confronts the man for his comment. Eventually, he cools off once Jodi tells him it doesn't bother her. The scene cuts back to Jake from State Farm and his girlfriend, who looks ready to scold him.
Article continues below advertisement
Is this Jake from State Farm's first official acting gig?
If you're unaware, Jake from State Farm is an actual actor; he's no longer just a guy named Jake working for the insurance company. The man behind the rebranded character is Kevin Miles, and according to his IMDB page, he's held brief stints in countless television shows, including S.W.A.T., Criminal Minds, and the Netflix sitcom Pretty Smart.
Article continues below advertisement
One of Kevin's upcoming projects includes Uglies, a film adaptation of Scott Westerfield's 2015 best-selling young adult novel of the same name. Per Deadline, the dystopian fantasy story "is set in a world in which a compulsory operation at 16 wipes out physical differences and makes everyone pretty by conforming to an ideal standard of beauty."