Juan Dixon Was Cheating on Ex-Wife and Current Partner Robyn for Years
Juan Dixon was cheating on his wife and high school sweetheart, Robyn, for the last few years of their marriage. She recently confirmed Juan cheated again.
In Season 7 of The Real Housewives of Potomac, one of Robyn Dixon's castmates once again challenges Robyn Dixon's relationship with Juan Dixon.
Juan and Robyn's love story has been a roller-coaster ride filled with the births of their sons Carter and Corey, career highs and lows, infidelity, and, ultimately, divorce. While the pair made their way back to each other and got engaged for the second time in 2019, Juan's old habits reportedly haven't completely vanished.
Article continues below advertisement
In a recent Season 7 episode, Karen Huger commented about Robyn and Juan's arrangement, and the Grande Dame spilled tea on Juan's alleged activities behind Robyn's back.
So, is Juan Dixon cheating on Robyn? Here's what the couple has said about the situation.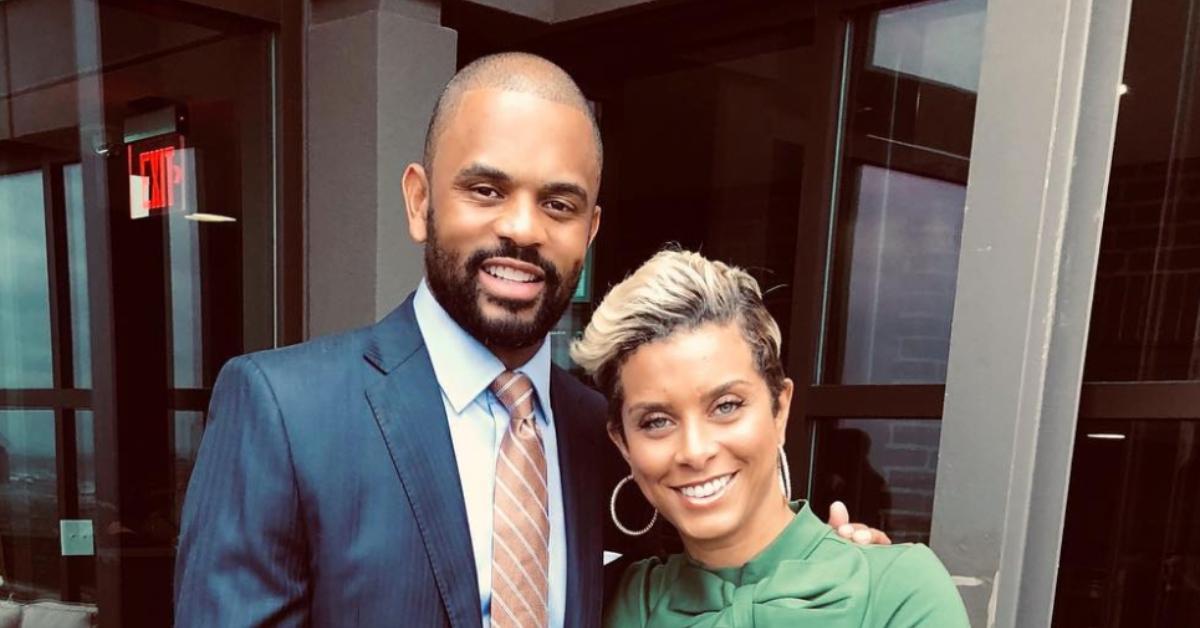 Article continues below advertisement
Juan Dixon threatened to "cuss one of them f---ing women out" amid 'RHOP' cheating rumors.
On RHOP Season 7, Episode 15, "Indecent Disclosure," Ashley Darby and Karen sat down to chat about Juan and Robyn. During the discussion, Karen told Ashley that Juan was secretly dating another woman who looked like Karen. The accusation led to a hilarious drawing of how the Karen lookalike might look, courtesy of the producers.
However, things got slightly more severe after Ashley met up with Robyn to inform her about Karen's gossip.
While they were shopping later that day, Ashley repeated to Robyn what Karen told her. Initially, Robyn thought the accusations were a joke, but when Ashley said Karen told her not to repeat the rumor to Robyn, Robyn decided to phone Juan to hear his side of the story.
Article continues below advertisement
When she told her fiancé what Karen said, the former Washington Wizards player vehemently denied cheating on her with another woman.
"Karen don't know me!" Juan said. "You know me, I don't go out! I'm nowhere in f---ing DC! Tell them to cut that bulls--t out! I'm going to cuss one of them f----ing women out, Robyn!'
Article continues below advertisement
Ashley then chimed in and asked Juan to stop yelling at Robyn. Juan responded by hanging up on his ex-wife and partner, which some fans enjoyed seeing live. However, Robyn seemed to believe Karen is the one in trouble, as she said Karen "shouldn't have opened that can of worms."
Article continues below advertisement
Juan Dixon admittedly cheated on Robyn Dixon when they were married.
Although many aren't buying that Juan isn't cheating on Robyn, we'll play devil's advocate for a bit. Juan and Robyn have never shied away from sharing their issues on RHOP, from their financial woes to their 2012 divorce.
Article continues below advertisement
After nine years of marriage, Robyn filed for divorce when she discovered Juan was unfaithful. In 2009, he began a relationship with Cris Sanchez, a woman he described as the "love of my life," per The Diamondback.
On Potomac, Juan said Cris provided something gravely missing from his and Robyn's marriage. "I think Robyn eventually put a wall up and then just didn't give what I felt like I needed from [marriage], so, therefore, I got it elsewhere," Juan said on the show in 2020.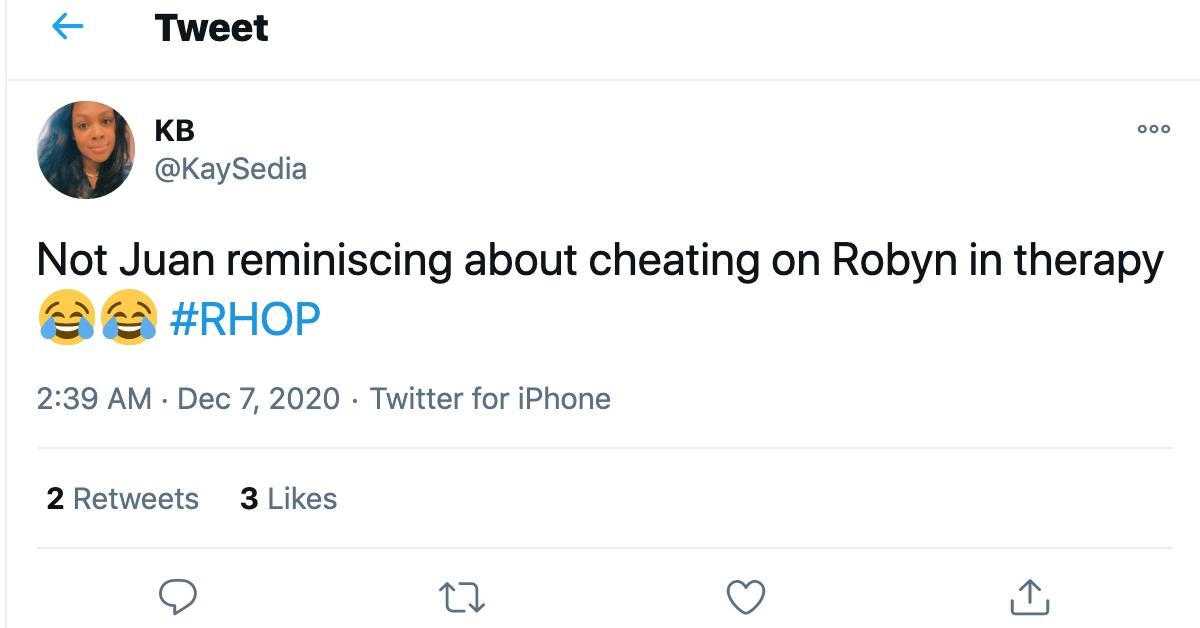 Article continues below advertisement
Robyn Dixon admitted Juan cheated on her after filming wrapped for Season 7.
After arguing with Karen in Mexico over Juan's fidelity, Robyn was seemingly ready to move on with the trip. She continued denying that Juan cheated on her, but the rumors about him continued when the cameras stopped rolling.
In January 2023, Maryland-based TikTok influencer ​​@georgiosays claimed a woman DM'd him and said she and Juan "​​dated [Juan] during the end of COVID for over a year," per Page Six. The woman also reportedly had receipts about the affair (no, really), including a text message from Juan and a hotel receipt from a night out together.
Article continues below advertisement
Robyn kept quiet about the ordeal until she and Gizelle Bryant aired an episode of their podcast, Reasonably Shady. During their Jan. 30 episode, Robyn revealed a hint of truth to the cheating gossip. The Bravo star admitted Juan cheated on her with the woman in 2020.
"What I will say is, yes, Juan was an idiot and communicated with this woman on Instagram," Robyn shared with her audience. "Because he's bored, he needs attention, it's a pandemic, blah, blah, blah, whatever."
Article continues below advertisement
Robyn added that Juan and the woman's relationship was not as serious as she made it out to be on TikTok. While they did text back and forth, Robyn claimed her partner never took the woman on a romantic getaway.
"They did not date. He did not fly her anywhere, and there is a reason why his name is on a hotel receipt."
Article continues below advertisement
Fans looking for the "reason" Juan signed off on another woman's hotel room were encouraged to sign up for the podcast's Patreon account. She further added the woman told both her and Gizelle about the situation, which was why she didn't bring it up on the show. Robyn said she spent the season waiting for someone to ask her about it and was prepared to share her story when someone dropped the bomb.
'RHOP' fans are furious with Robyn Dixon for lying about Juan Dixon cheating.
Unsurprisingly, Bravo fans were shocked to hear Robyn admit she knew about Juan's affair and didn't share it with the group. The omission was a fireable offense to some, and many don't want to see her back next season.
"Production needs to FIRE Robyn Dixon; she has played and continues to play in our faces," one user tweeted. Her and Juan #RHOPotomac."
Others slammed Robyn for choosing to share the full story of her and Juan on Patreon instead of on the show or even her podcast. Several fans hilariously stated they had no intentions of paying for Robyn's tea.
Article continues below advertisement
Article continues below advertisement
The 'Real Housewives of Potomac' cast is also fed up with one half of the Green-Eyed Bandits.
Like the fans, the RHOP cast had plenty to say about Robyn's admission. While Karen Huger, Wendy Osefo, and Candiace Dillard-Bassett never addressed her directly, the ladies' shade was clear enough for their followers to get the message.
Article continues below advertisement
Article continues below advertisement
On Monday, Wendy tweeted "clown behavior" shortly after Reasonably Shady dropped, causing an uproar from agreeable fans. Then, Karen tweeted, "Well, you don't say…" proving she felt vindicated for what she said about Juan on RHOP. However, Robyn and Juan's most significant read came from Candiace.
Candiace took to Twitter on Tuesday with a thread about why Robyn was wrong for keeping Juan's cheating a secret all season. The former pageant queen shamed her co-star for not showing up to film her actual reality and jeopardizing her husband Chris Bassett's credibility.
Article continues below advertisement
"Wow: A Thread: Our boss's (Andy Cohen) favorite clap back when we're playing coy about certain aspects of our lives is: 'you're on a reality show about your life.' There is an expectation that – doing no harm – we show up to this platform as our authentic selves," Candiace tweeted. "And while we 'reserve the right to be judicious about what we share,' there is a special brand of audacity attached to individuals who will knowingly bury the lede in exchange for damning and salacious lies that stand to cause irreparable harm to innocent people."
Candiace added that hiding parts of yourself on RHOP "tarnishes the integrity of the premise of our show." She also seemingly called Robyn "wack" for her actions.
Article continues below advertisement
Robyn and Juan Dixon reportedly got married for the second time.
Robyn has yet to respond to any of her castmates, but we can likely count on Juan's infidelity as part of the RHOP reunion. Hopefully, we will also hear the truth about Robyn and Juan's secret wedding.
In January 2023, People reported the couple tied the knot after getting engaged again in 2019. The ceremony reportedly didn't include any of Robyn's castmates, but Bravo's cameras were there to film their special day. According to multiple sources, the wedding will air on the RHOP Season 7 finale.
The Real Housewives of Potomac airs new episodes Sundays at 8 p.m. EST on Bravo. You can also stream the series exclusively on Peacock.