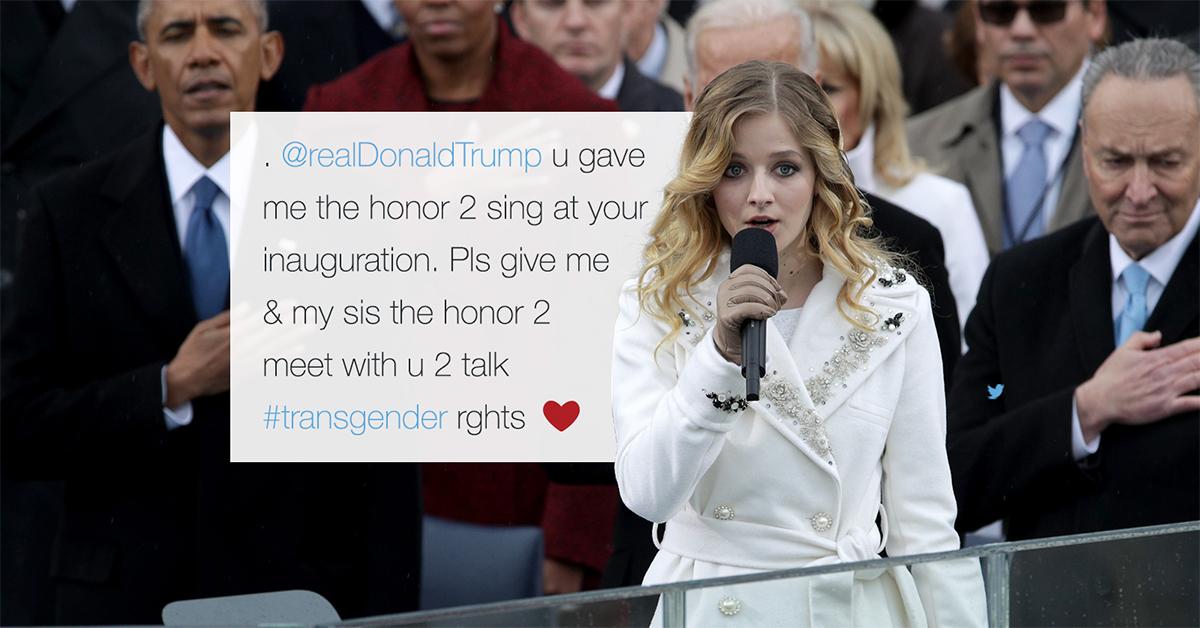 Trump's Inauguration Singer Calls Him Out On Twitter After He Steps Backwards On Trans Rights
By Mark Pygas
During the Republican primaries, Donald Trump said that transgender people should be allowed to use whatever bathroom they want to. He went on to say that if Caitlyn Jenner walked into Trump Towers, she'd be able to use any bathroom — which she did during a Facebook Live stream.
But as President, he seems to have gone back on his words after he decided to roll back federal protection for transgender students granted under the Obama administration. In short, he's leaving it to the states to decided whether students should have to use the bathroom of the sex on their birth certificate, regardless of their gender identity.
As you can imagine, people aren't very happy about Trump going back on his promises and have been voicing their displeasure on Twitter. Jackie Evancho is the 16-year-old America's Got Talent runner-up who sung the national anthem during Trump's inauguration. Her sister is transgender, and she's disappointed that Trump has given states the choice. She took to Twitter to ask Trump to meet with the two of them and discuss the issue.
Evancho later told Good Morning America that she hasn't heard back from the President yet, but hopes she can "enlighten" him as to what her sister and other transgender students go through every day.
Other celebrities and social media users have also taken to Twitter.