That Southwest Airlines Scam Is Circulating on Facebook Again
The 'ole Southwest Airlines Facebook scam is back at it again. Much like the Tiny House giveaway, however, this one is easy to avoid.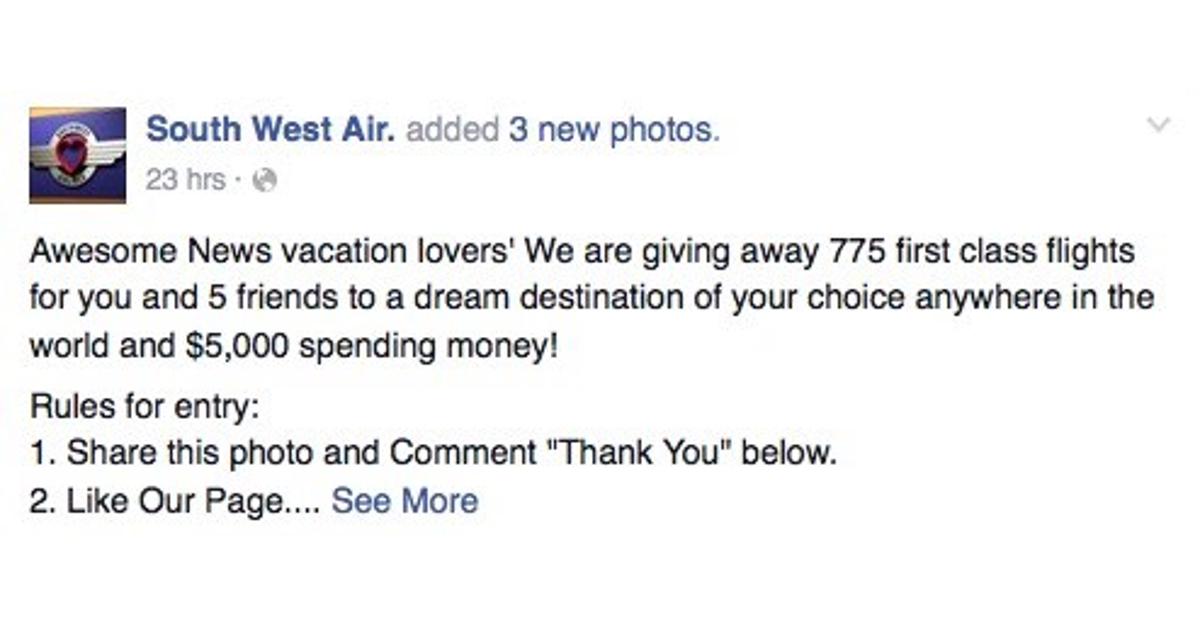 Back in the "good" old days of the internet, it seemed like the only way to scam someone was to offer them millions of dollars in an undisclosed bank account at the behest of royalty from an obscure country. And no, I'm not saying Nigeria is obscure; anyone who is anyone knew those messages were fishy from day one.
And now a lot of dirty rotten scams have found their ways on social media, especially Facebook, like this one involving Southwest Airlines.
Article continues below advertisement
How does the Southwest Air Facebook scam work?
Like most scams, connivers try to capture your attention with the allure of a free prize. We all have those Facebook friends who forward us messages they should know really aren't from Mark Zuckerberg offering those who share it an extra $1,000 but only the first 30,000 people will get it or yadda yadda yadda.
This little trick operates a bit differently than that, however.
The hustle thankfully doesn't involve tricking the less savvy of us into clicking on a link that'll fill our consumer technology software with viruses, or take us to a legit-seeming page that prompts us to input our personal information. These scams revolve around fake business pages on Facebook filled with very fake giveaway posts.
Article continues below advertisement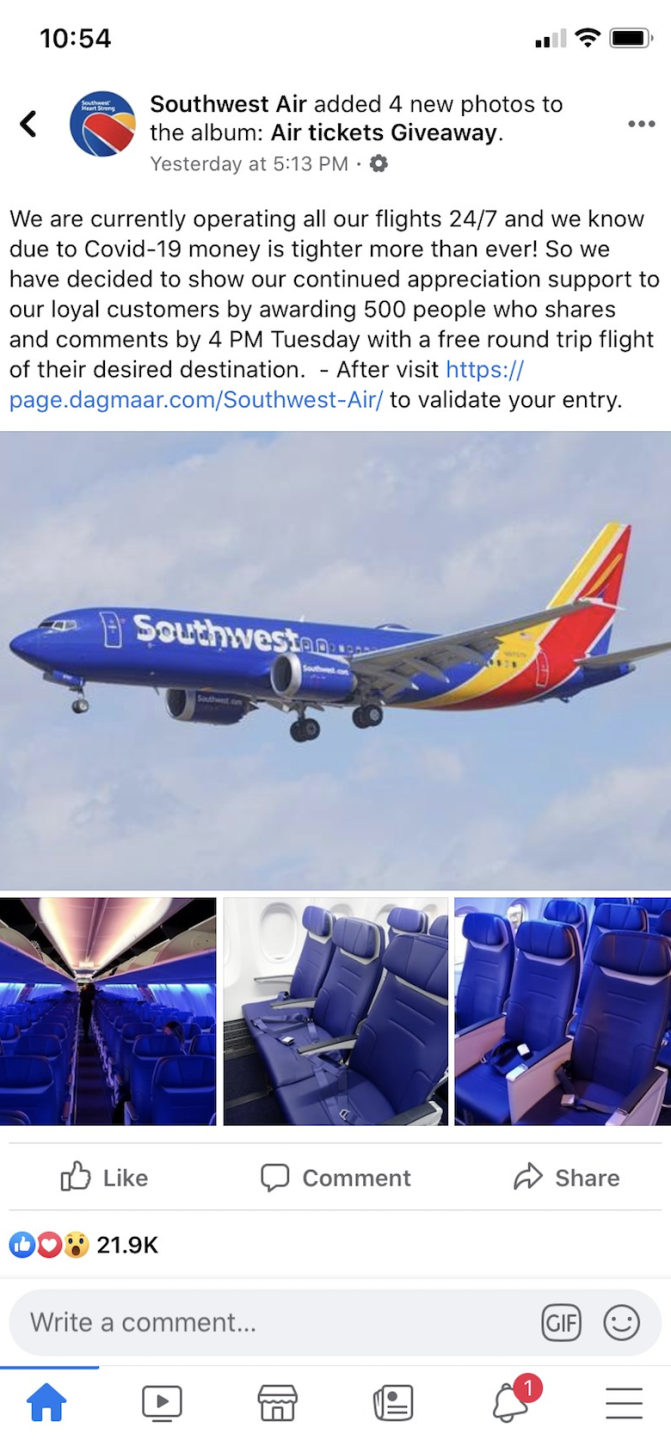 The post will probably read something like, "In honor of Southwest Airlines' 50th anniversary, we are providing 2 free tickets to everyone!"
All right, so this vague promise of 2 free tix "for all" should already be a dead giveaway that there's something highly un-kosher about this post.
Article continues below advertisement
And if you've browsed Facebook enough, you've probably come across your fair share of Southwest Airlines posts promising this year after year. In fact, in 2017, Politifact did a write-up on a similar scam that's now making the social media rounds.
Article continues below advertisement
How does the Southwest Air Facebook scam work?
It's taken on several different iterations over the years. Sometimes, all scammers want you to do is "like" the Southwest Page that they're posting the ticket giveaway from. Usually, this is a fake page, and whoever created it is just trying to accrue as many likes as possible on it so they can go and sell a highly-liked page to a business that's looking for a built-in audience. Pages with 100,000 likes can sell for $1,000.
Then, other scams redirect users to a survey that is in no way, shape, or form affiliated with Southwest Airlines. Sites that run these surveys get paid from companies for every survey completed, usually a few cents each. Once the survey is completed, you'll be prompted with a message that reads:
"Congratulations! You won 2 free tickets at Southwest Airlines!"
Article continues below advertisement
Here's the thing though: you'll never see those tickets and you just lost a few minutes of your life filling out a survey for some dirty scammer who probably made a couple of nickels off of your gullibility.
Dan Landson, a spokesperson for Southwest Airlines, has warned users that these messages on Facebook are categorically phony.
Article continues below advertisement
"A good rule of thumb is that if something sounds too good to be true, it generally is," he told Politifact. "And, we never just give out free tickets."
Security analyst Graham Cluley also spoke about this common social media phenomenon: "The end result of all these shenanigans, of course, is to trick Facebook users into poor decisions."
Article continues below advertisement
"Whether it be taking online surveys which earn affiliate cash for the scammers, signing up for expensive premium rate mobile services, or spamming the unwary with unwanted (and sometimes malicious) messages. .... If you are ever in any doubt as to whether a special offer on Facebook is genuine or not, visit the company's real website to see if they mention the competition there – or whether they are warning of a scam," he continued.
If you ever want to check the validity of a "giveaway" online, the best way to do that is to check with the company, in this case, Southwest, through its official social media pages, website, or phone number.