Who Is Cooper on 'Station 19' and Why Does He Look So Familiar?
Fans want to know: Who is Cooper on 'Station 19'? Here's what we know about the character played by Johnny Wactor — and his pivotal storyline.
Spoiler alert: This article contains spoilers for Season 6, Episode 10 of Station 19.
Fans of Station 19 meet a new character on Season 6, Episode 10 of the ABC drama, which is entitled "Even Better Than the Real Thing." The episode, which aired on March 16, 2023, introduced the lieutenant — and he promptly met the worst possible fate for a fireman.
Article continues below advertisement
So, what happened to Lt. Cooper in the episode? And how does the tragic event play into the ongoing storyline of Station 19? Here's the 9-1-1 — actually the 4-1-1 — on Cooper on Station 19 and more about the actor who played him, Johnny Wactor, including why you probably recognize the star.
So, who is Cooper on 'Station 19'?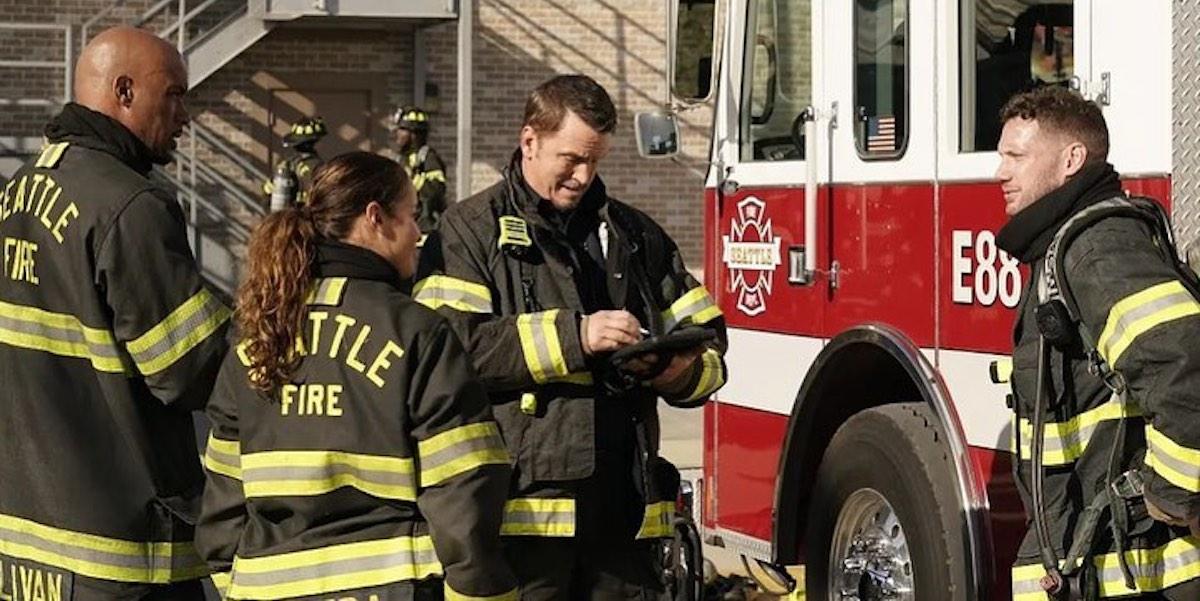 The better question might be: Who was Cooper on Station 19? Sadly, the character, played by Johnny Wactor, didn't make it through Episode 10 of Season 6.
Indeed, Cooper died during a training exercise that should have been safe. But as fans well know, there has been a looming liability at the fire station — and his name is Sean Beckett (Josh Randall).
Article continues below advertisement
Sean's drinking on the job has been getting out of hand, and in the episode that ended Cooper's quick story arc, an explosion during a training drill killed Cooper. Presumably, the situation wouldn't have played out in such tragic fashion if Sean had been sober.
Fans were understandably shaken by the episode. They took to Twitter to vent their frustrations about Cooper's death as well as about the escalating issues with Sean. Many called for the Seattle fire chief to finally be held accountable for his unacceptable actions and fired.
Article continues below advertisement
Article continues below advertisement
Some Station 19 viewers are still holding out hope that Cooper makes it despite strong evidence to the contrary. Many fans couldn't help but suggest theories that the character actually lives through the horrible explosion.
Article continues below advertisement
We'll have to wait and see exactly what happens on the next episode of Station 19, but in the meantime, let's meet Johnny, who played Cooper. It must be said, Johnny was very excited to appear on the ABC show.
Johnny Wactor may look familiar and here's why.
Johnny was clearly pumped to do an episode of Station 19 and took to his Instagram to promote his appearance.
Meanwhile, fans may have recognized the actor from his many other TV stints. He's appeared on numerous hit shows including Westworld, The OA, NCIS, Criminal Minds, Animal Kingdom, and Army Wives.
But the most likely reason you're thinking he looks familiar is because Johnny played Brando Corbin on General Hospital for two years.
Article continues below advertisement
Coincidentally, Brando was killed on the soap opera as well, ending his time on the screen on the daytime show.
Johnny has also appeared in a smattering of commercials and shorts, and he does a fair amount of voice-over work. He has several upcoming projects in the pipeline, including a movie everyone will be talking about.
Indeed, Supercell not only stars Johnny, but also features two actors who have been in the headlines a lot lately, for very tragic reasons. Yes, we speak of Alec Baldwin, who stands accused of accidentally shooting cinematographer Halyna Hutchins, and Anne Heche, who died in a fiery car wreck in 2022.
The film was reportedly a low-budget project that comes out in limited release on March 17, 2023.
You can watch new episodes of Station 19 every Thursday at 8 p.m. EST on ABC. You can also stream the show on Hulu.