Teresa Giudice "Got Butterflies" When She Kissed Louie Ruelas for the First Time
Teresa Giudice and Louie Ruelas married in August 2022, and the 'RHONJ' OG hopes this one is her last. Let's look at the couple's relationship timeline!
Article continues below advertisement
After ending her long-term marriage to Joe Giudice, Teresa and Louie began a courtship that resulted in them becoming husband and wife. However, their relationship hit a few roadblocks on the way there, as many of Teresa's loved ones had plenty to say about her second groom.
Let's dive into Teresa and Louie's relationship timeline!
November 2020 — Teresa and Louie start dating amid her separation from Joe Giudice.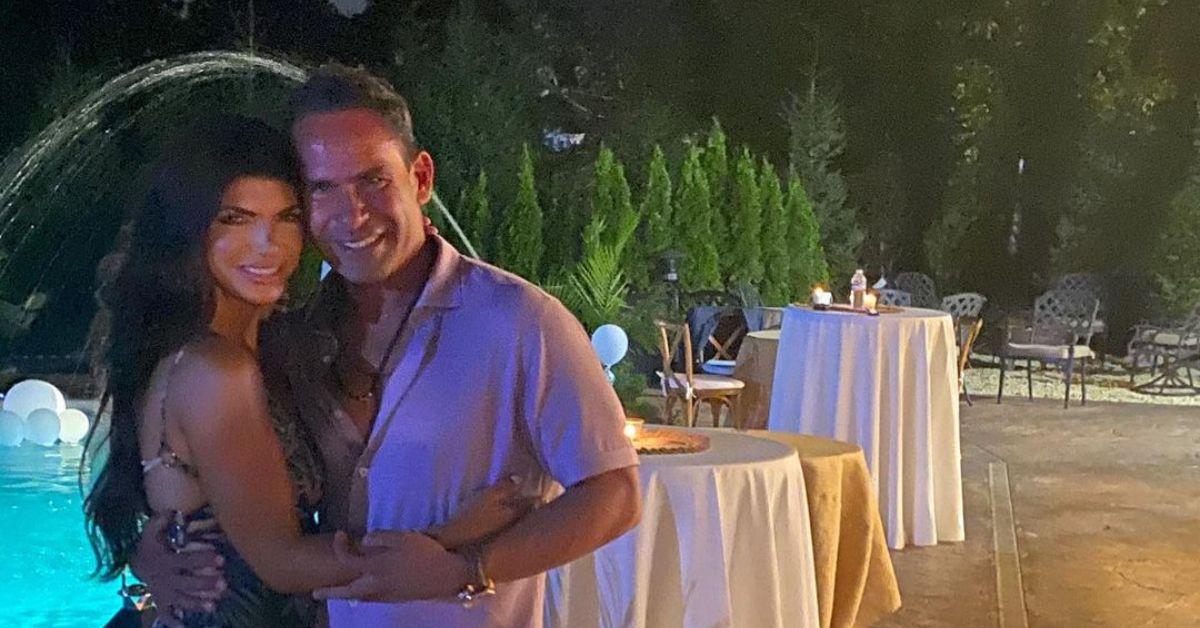 There was a time when day-one RHONJ watchers couldn't imagine Teresa without Joe. During their 20-year marriage, the couple had four children — Gia, Gabriella, Milania, and Audriana — and had a highly publicized prison conviction for fraud in 2014. However, while Teresa and Joe survived their prison stays, the marriage fizzled when Joe was deported to Italy following his 41-month sentence.
Article continues below advertisement
In December 2019, Teresa and Joe separated, and it was finalized in September 2020. During their separation, she met Louie while vacationing at the Jersey Shore. By November 2020, Teresa and Louie went social media official when she shared a photo on her Facebook of them watching a football game while his hand was on her side, captioning the picture, "Excited to reveal my new boyfriend."
Article continues below advertisement
December 2020 — Teresa said Louie was "the best thing that came out of 2020."
Although Tre didn't mind calling Louie her "boyfriend" on Facebook, everyone knows the title hits differently on Instagram. In December 2020, the pair finally went IG official when Teresa posted a snap of them together for the first time and captioned it: "The BEST thing that came out of 2020."
Later that month, the lovebirds celebrated their first Christmas with Teresa's daughters and several other guests, like Joe and Melissa Gorga. Melissa even snapped a photo of her, Teresa, Louie, and Joe, signaling that they approved the new addition to their family.
Article continues below advertisement
"We haven't been able to post a couples pic in a while," Melissa wrote, adding, "Merry Christmas."
Article continues below advertisement
March 2021 — Louie met Teresa's ex-husband, and no tables were flipped.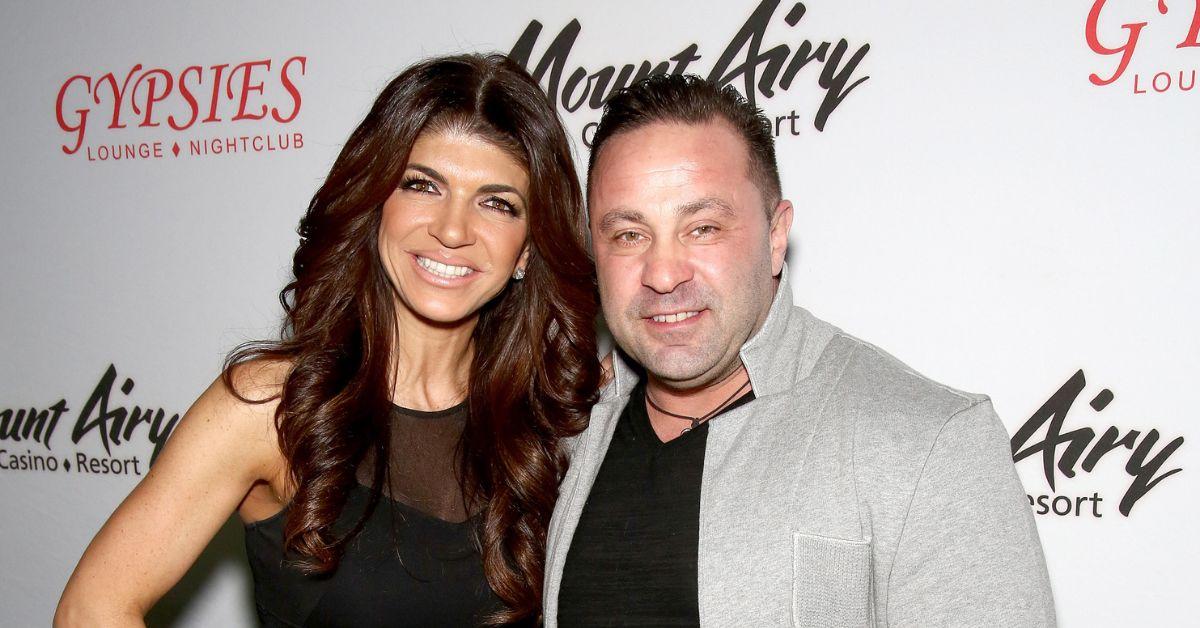 Soon after Teresa confirmed she and Louie were dating, many fans wanted to know how her ex-husband handled her having a new man. Thankfully, Teresa said Joe was unbothered by Louie's presence after they had a heart-to-heart about his intentions for Tre and their daughters.
In a March 2021 episode of Watch What Happens Live with Andy Cohen, Teresa shared that Louie spoke to Joe alone during a family trip to the Bahamas. During the trip, Louie told Joe he wasn't "trying to take his place or anything," even though Joe and Teresa were apart.
Article continues below advertisement
May 2021 — Teresa admitted to taking "baby steps" with Louie on 'RHONJ.'
In the Season 11 finale of RHONJ, Teresa introduced fans to Louie during one of their dinner dates. After her and Joe's divorce, the somewhat private reality star also opened up about dating for the first time in two decades.
"Getting back out in the dating world is really hard for me," Teresa stated, per People. "I was married for almost 20 years. So when I first met Louie, I was nervous, and it was like, very slow, baby steps. "[On] our third date, he gave me a kiss goodbye, and that's when I was like, 'Mmm, that was nice.' I got butterflies."
Article continues below advertisement
July-October 2021 — Teresa and Louie became engaged after one year of dating.
In July 2021, Louie and Teresa reached their first relationship milestone — their first anniversary! The Namaste B---ches Podcast host celebrated the day by sharing two of her and Louie's first photos as a couple.
Several months after their anniversary, Louie surprised Teresa with a decadent proposal during their trip to Greece. While gathered with several of Teresa's friends, including Dina Manzo, Teresa said "yes" to a stunning display at the Amanzoe Resort in Porto Heli as she and Louie wore white on the beach.
Article continues below advertisement
March-May 2022 — Louie's past haunts him on 'RHONJ' as Teresa's friends try to protect her.
Amid their engagement, Louie and Teresa began filming more episodes for RHONJ Season 12. During Season 12, Teresa's daughter, Gia, fears the couple is moving too fast after moving in with her children and sons from his relationship with his ex-wife Marisa DiMartino.
Article continues below advertisement
Tre's cast members, primarily Margaret Josephs, also became suspicious about Louie. Margaret shared on the show that rumors regarding Louie's past surfaced behind the scenes, including allegations that he physically assaulted Marisa in front of their kids. According to Page Six, Louie's ex-fiancee, Paula Sanchez, accused him of having an "insatiable appetite" for sex and demanded they have it "four times a day."
Article continues below advertisement
Then, a video surfaced of Louie with a group of people at a warrior camp, negatively affecting the group's opinion of him even more. The allegations caused an ongoing rift between Margaret and Teresa, and at the Season 12 reunion, Teresa accused Marge of giving "bloggers" information about Louie behind their backs.
Article continues below advertisement
August 2022 — Teresa Giudice marries Louie Ruelas in a lavish ceremony.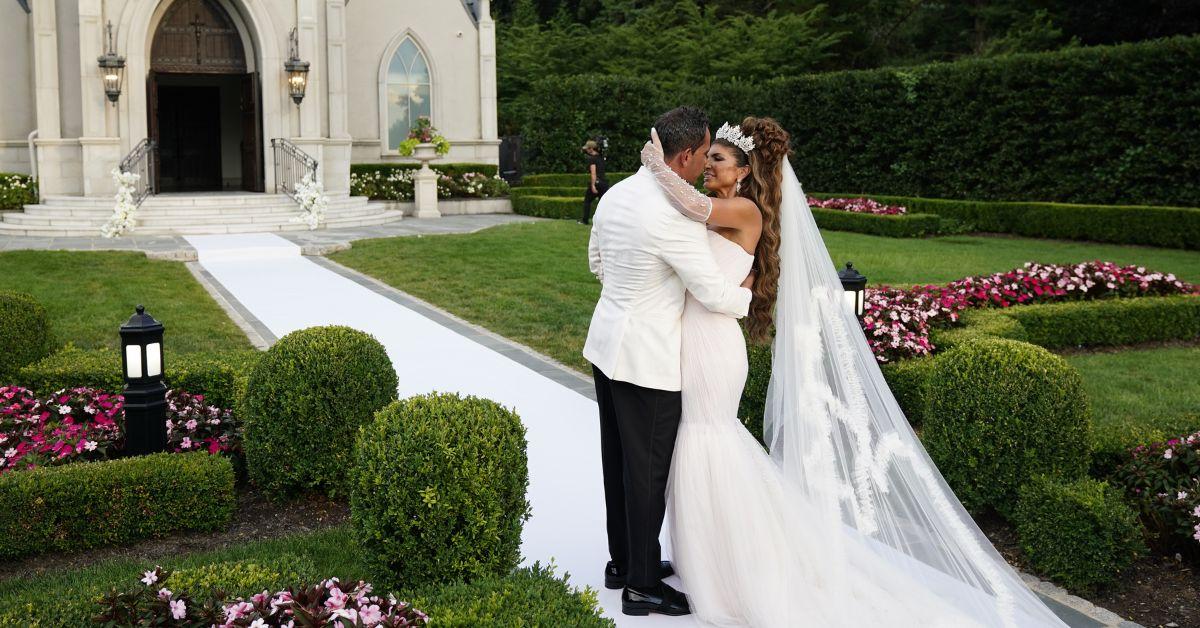 Despite their tumultuous season, Teresa and Louie went forward with their wedding. The couple wed on Aug. 6, 2022 at the Park Chateau Estate & Gardens in East Brunswick, New Jersey. Teresa's bridal party included her four daughters and RHONJ stars Dolores Catania and Jennifer Aydin. However, while many Bravolebrities attended the 220-guest event, Teresa's brother, Joe, and sister-in-law, Melissa, skipped the OG's big day.
In August 2022, Melissa confirmed on her podcast that she and Joe weren't attending the wedding due to ongoing conflicts that escalated during RHONJ Season 13.
Article continues below advertisement
February-May 2023 — 'RHONJ' fans discovered why Melissa and Joe weren't at Teresa's wedding.
After Melissa and Joe opted not to attend Teresa and Louie's wedding, the answers to why they missed her momentous event surfaced. In February 2023, RHONJ returned to Bravo for Season 13. While Tre and Louie started the season off on good terms with Joe and Melissa, the dynamics shifted after a business deal gone wrong occurred.
Article continues below advertisement
During the season, Louie, Joe, and Teresa decided to make a pizza oven in honor of Joe and Tre's father, Giacinto "Nonno" Gorga, who died in April 2020. The deal was that Joe and Teresa would split "Nonno's Pizza" 50/50 and manufacture the ovens with Melissa's nephew's manufacturer in China.
However, the partnership abruptly stopped when Teresa and Louie organized a photo shoot for the pizza oven without informing Joe. Joe also claimed Teresa changed the name of their business to "Skinny Pizza," a play on Teresa's cookbook, The Skinny Italian.
Article continues below advertisement
In a Season 13 episode, Joe accused Louie and Teresa of "screwing him out of" his money, though Teresa claimed it was actually Joe who cost Louie to lose out of "a quarter of a million dollars." While we're still not sure who was right or wrong in the situation, "Pizza Gate" was the catalyst of Joe and Louie's feud and ultimately why Joe and Melissa felt it was best not to attend the couple's wedding.
Article continues below advertisement
May 2023 — Teresa and Louie's wedding special airs on Bravo.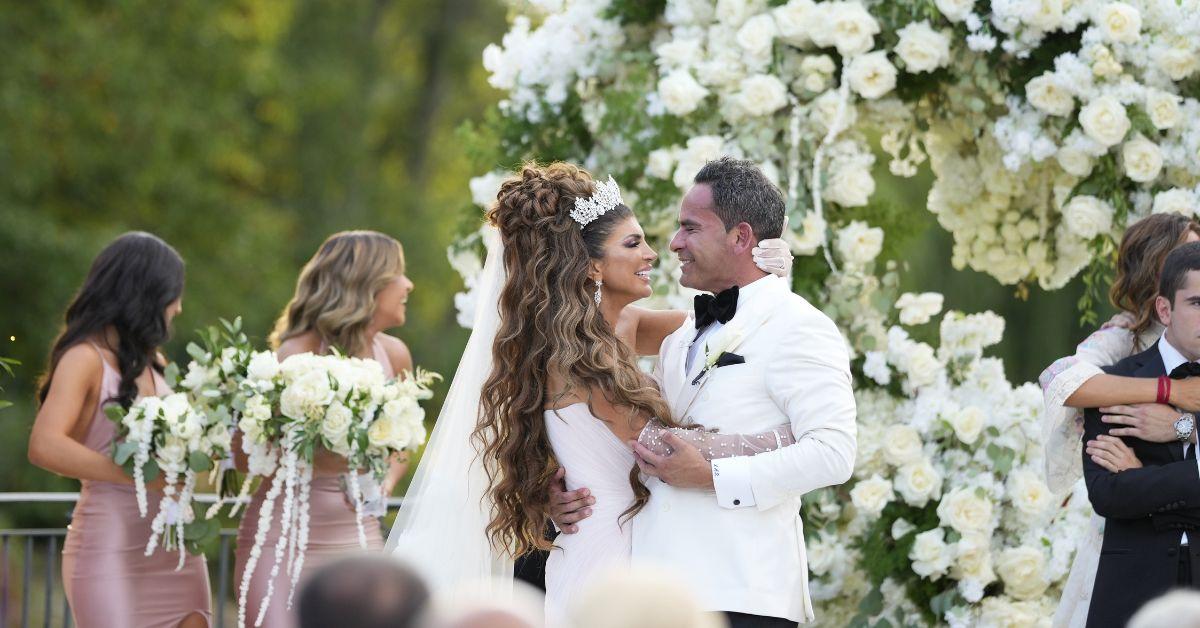 With the drama between Teresa and her family before her wedding, it's understandable why she hesitated to put her and Louie's lavish event on TV. However, in 2023, the couple debuted their wedding special, Teresa Gets Married.
The wedding special showed much behind-the-scenes chaos leading up to Teresa and Louie's big day, which cost the couple well over $100,000. Fans also witnessed the hilarious reactions to Teresa's $10,000 wedding hair and other decadent details she had for the event.
Article continues below advertisement
While Teresa's wedding certainly wasn't cheap, she said before the special that she intentionally wanted her ceremony to be one her loved ones, and Bravo stans everywhere would remember for years to come.
"I wanted everybody to walk in and be wowed, like, 'Oh my God, this is spectacular,'" Teresa shared with New Jersey Bride in May 2023. "And that's what they did when they walked in, and they were wowed."