Here's a Sneak Peak of the 'RHOA' "Jawdropping" Season 15 Reunion
'The Real Housewives of Atlanta' Season 15 reunion trailer dropped in August 2023. Here's what to expect for the conclusion of the controversial season.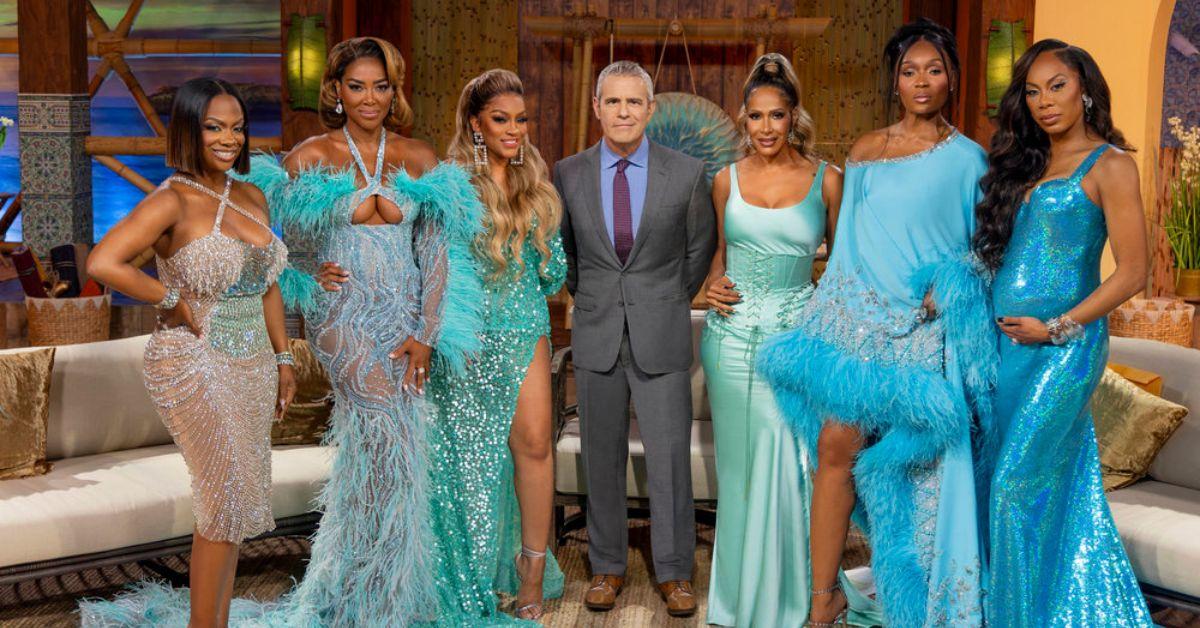 After a season of twists, turns, and enough shade to stay cool all day in the summer heat, The Real Housewives of Atlanta is winding down for Season 15. The 16-episode season starring Kandi Burruss, Sheree Whitfield, Kenya Moore, Marlo Hampton, Drew Sidora, and Sanya Richards-Ross ends on Sunday, Aug. 27, 2023.
Article continues below advertisement
While there won't be any new episodes of Season 15 after Sunday's finale, the ending means that the RHOA reunion is near. And, based on its teaser trailer, the reunion will keep fans talking, much like they have done all season long.
Here's everything to know about the RHOA Season 15 reunion!
When is the 'RHOA' Season 15 reunion?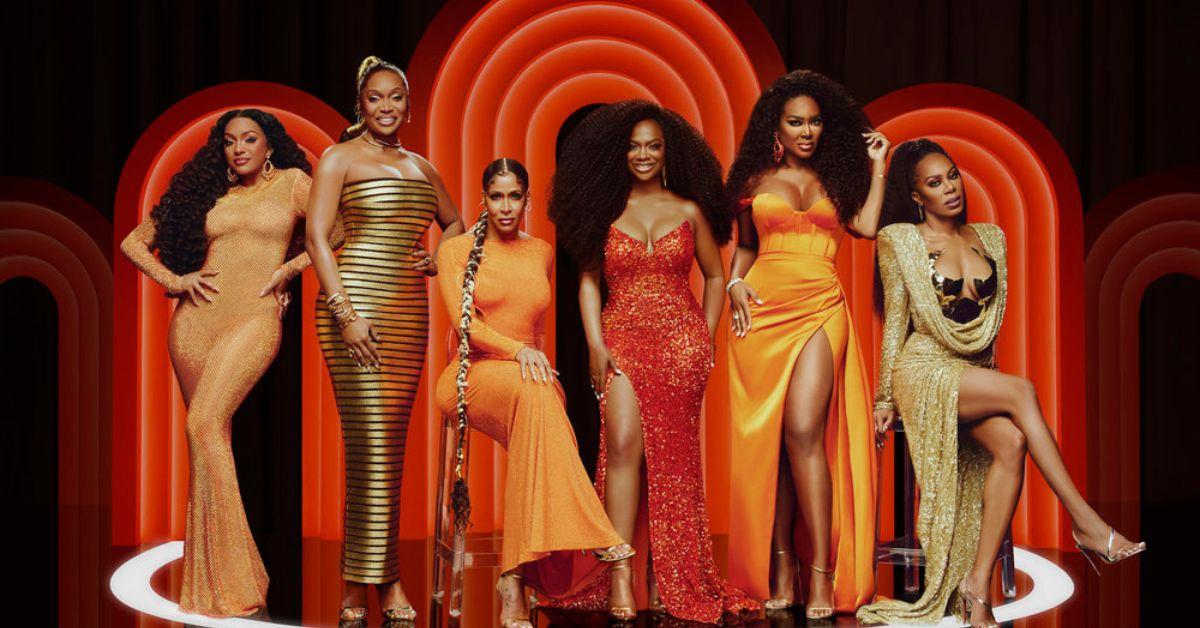 RHOA's two-part reunion begins on Sunday, September 2023, and will be hosted by none other than Andy Cohen. The first part will air on Sept. 3, followed by the second and final installment on Sept. 10.
Ahead of the reunion, Bravo released photos of all of the reunion's attendees rocking gorgeous dresses in various shades of blue. The images included the main cast — Kandi, Sheree, Marlo, Drew, Kenya, and Sanya — as well as the friends of the show this season: Monyetta Shaw-Carter and Courtney Rhodes.
Article continues below advertisement
The group gathered in New York City in July 2023 to discuss the season's "jaw-dropping" and "shadiest moments." And chile, there were plenty of shady moments to choose from, including Kandi's ongoing feuds with Marlo and Drew, Kenya and Marlo's mess, and Courtney's fighting with just about everyone in the cast.
Article continues below advertisement
Although the reunion promises to have tons of drama, the teaser began on a lighter note. The teaser opened with Marlo telling Andy, "The best sex I ever had was with a Gemini." Andy, whose birthday is June 2, 1968, joked that he asked Marlo to "please be private" about him being the Gemini she was referring to.
The Season 15 reunion will also be filled with props.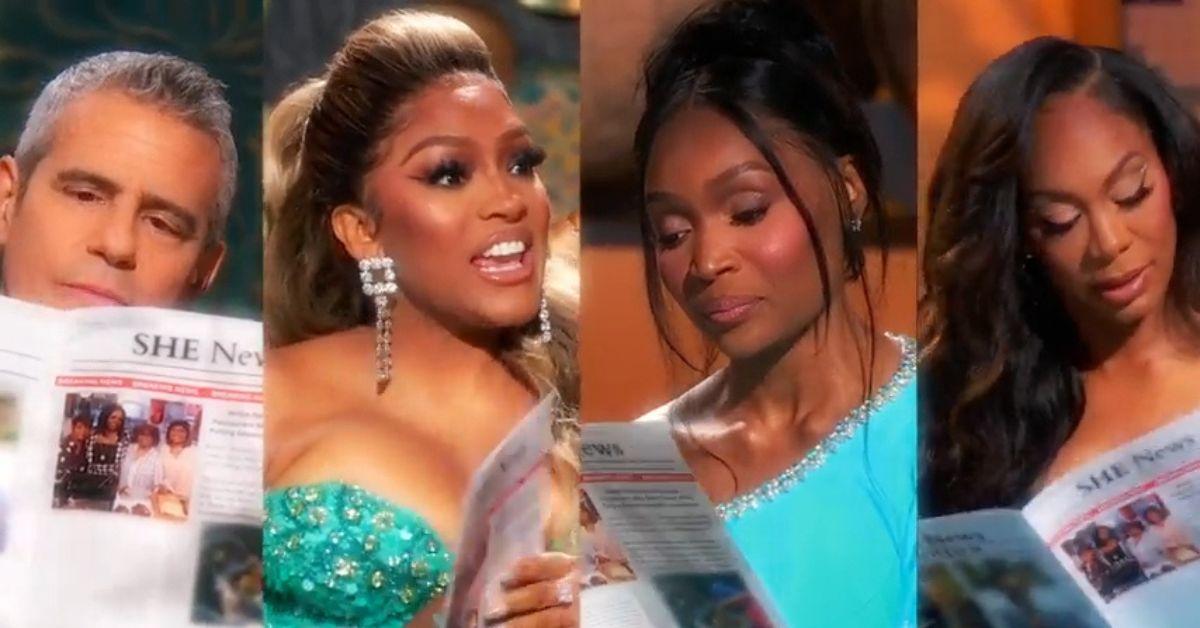 Despite starting off on a positive note, this is RHOA. So, "everybody knows" that drama about these ladies and reunions is always afoot.
The reunion's teaser trailer showed that the sitdown gets spicier the longer the cast and Andy are together. And, of course, in between the drama were several shady props.
One prop came from Sheree, who crafted a "She News" newspaper filled with all of the cast's shady moments of the season. The OG also finally gave Drew a She by Sheree tote bag after she complained about having to give hers back on the show and in multiple interviews.
Article continues below advertisement
Sheree added a bit more shade when she had Kandi pull out a clapperboard for Kandi to hold and say "and scene," which she told Drew on the show to imply that Drew loves bringing her acting career to the show.
The shady remarks continued as Kenya accused her longtime adversary, Marlo, of trying to call her estranged husband, Marc Daly. Kenya also pulled out a subpoena and told her, "You will have to appear in court," as the camera turned to a stunned Marlo.
Additionally, Kenya made sure to slam Marlo's reunion look, stating she looked like "Mrs. Roper from Three's Company."
Article continues below advertisement
The 'RHOA' reunion trailer showed us why Drew is in the hot seat this season.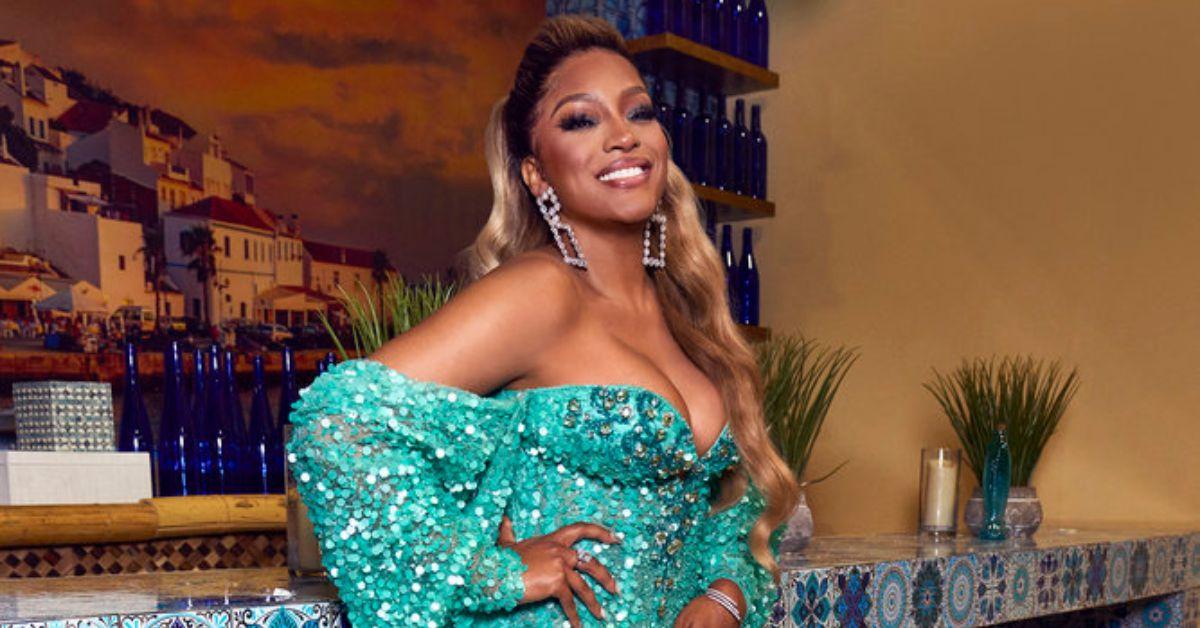 Yes, the RHOA reunion will have the messiness we love from the Atlanta girls. But one question on everyone's mind will hopefully get answered this season: What happened between Drew Sidora and her soon-to-be ex-husband, Ralph Pittman?
Ahead of RHOA Season 15, Drew and Ralph filed for divorce 61 minutes apart after nine years of marriage. However, the divorce details haven't been discussed much in the season, though the reunion is set to change that.
While sitting next to Andy, a position that Kandi has dubbed the "hot seat," Drew addressed rumors that her marriage ended due to an affair with former basketball player and Love and Hip-Hop: Atlanta star Ty Young.
Article continues below advertisement
Rumors swirled that Drew and Ty were together soon after her plans to divorce Ralph went public. Drew denied dating Ty and said at the reunion that she only attended one of Ty's games. However, Sheree's receipts of Drew and Ty's text were, in Andy's words, "incriminating" and suggested there was something else between them.
Article continues below advertisement
Drew's affair allegations continued once the trailer showed her and Ralph speaking about their divorce for the first time publicly. The reunion wasn't joyous, as Drew accused Ralph of telling her he's getting fellatio "all over the world" after he said he would like to reconcile the marriage. The "Already Know" singer also shared a text from another woman who reportedly asked Ralph, "Are you gonna bring me back that d—?"
Ralph doesn't back down and tells the group that the "streets" have been saying Drew was the one who has been unfaithful to him with Ty and other people. Drew becomes visibly upset and says Ralph is "constantly throwing dirt on my name." Ralph fires back by saying Drew is "acting," which is Drew's final straw as she walks off the stage.
Article continues below advertisement
"F–-k this s--t, I'm out, I'm not doing this," Drew says as she walks away. "I don't take this at home, and I'm not gonna take it here. You can't even come here and act f---ing right."
Whew! This year's reunion is sure to be a wild ride! And thankfully, in addition to the reunion airing on Bravo, Peacock will release the uncensored episodes of it the following day.
The Real Housewives of Atlanta airs new episodes on Sundays at 8 pm EST on Bravo.