Black-ish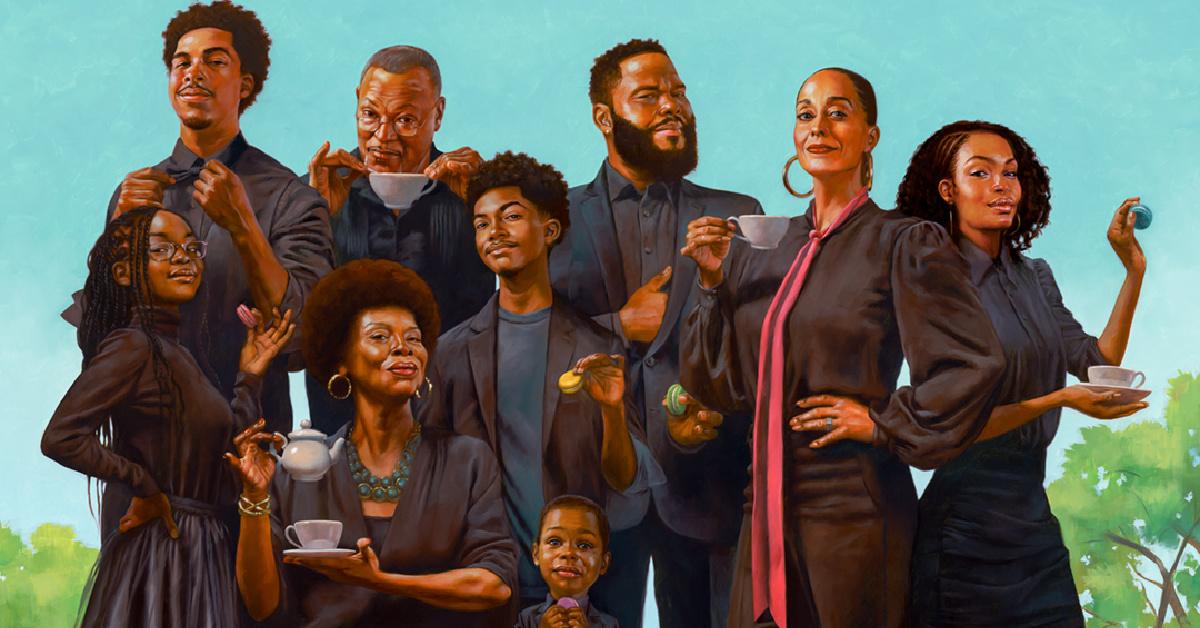 On ABC's Black-ish, parents Dre and Rainbow Johnson just want the best life possible for their children. But while most of the family enjoys their upper-middle-class lifestyle, Dre starts to worry about whether it might have resulted in too much cultural assimilation for his family. The show sees the family deal with several sociopolitical and personal issues while also managing to be downright hilarious.
Meet the cast of Black-ish:
Anthony Anderson as Andrew "Dre" Johnson Sr. — A wealthy advertising executive who tries to ensure his children's upper-middle-class upbringing in the suburbs is also infused with Black culture. Dr. Rainbow Johnson's husband.
Tracee Ellis Ross as Dr. Rainbow "Bow" Johnson — An anesthesiologist and Dre's wife. Bow is biracial, with a white father and a Black mother.
Yara Shahidi as Zoey Johnson — Dre and Bow's oldest child. Yara currently stars in the spinoff series Grown-ish.
Marcus Scribner as Andre "Junior" Johnson Jr. — Dre and Bow's second child, known for being super nerdy.
Miles Brown as Jack Johnson — Diane's twin brother. Jack is always up for a harebrained scheme or stunt for social media.
Marsai Martin as Diane Johnson — Jack's twin sister. Diane is slightly vengeful — you definitely don't want to be on her bad side.
August and Berlin Gross as Devante Johnson — Dre and Bow's youngest child (born at the start of Season 4).
What happened to the baby on Black-ish?
When Dre and Bow's fifth child (Devante) was born during the Season 4 premiere, audiences quickly fell in love with the newest little bundle of joy. However, as time went on, Devante kind of...disappeared. People are now wondering what happened to the baby on Black-ish, and honestly? It's kind of tough to say!
Devante is played by twins August and Berlin Gross. On their IMDb pages, they're credited on episodes through 2020, but don't appear on any 2021 episodes. It seems as though Devante also sort of disappeared from his parents' minds — Junior was basically the Devante's caretaker on the episodes where the baby actually made an appearance.
Here's where to watch Black-ish:
You can stream Black-ish on Hulu, or catch new episodes Tuesdays at 9 p.m./8 p.m. Central on ABC.
Grown-ish
Grown-ish is the first Black-ish spinoff series. It premiered in 2018 and was renewed for a fourth season in January of 2020. Grown-ish follows Dre and Bow's oldest daughter, Zoey, as she leaves the nest and starts attending college. Of course, it's not the easiest transition to make.
Meet the cast of Grown-ish:
Yara Shahidi as Zoey Johnson — Dre and Bow's oldest daughter who had plans of going to college for fashion design before designing her own major: The Sociology of Fashion.
Trevor Jackson as Aaron Jackson — A fellow student at Cal U and friend of Zoey's.
Luka Sabbat as Luca Hall — A fashion design major at Cal U and friend of Zoey's. He's kind of a stoner and has a very relaxed attitude about pretty much everything.
Chloe Bailey as Jazlyn "Jazz" Forster and Halle Bailey as Skylar "Sky" Forster — Twin sisters and track athletes at Cal U, also friends with Zoey. Jazz and Sky are super smart and focused on their goals.
Francia Raisa as Analisa "Ana" Patricia Torres — Another student at Cal U, and Zoey's roommate. Ana was born to Cuban immigrants and is a devout Catholic and a Republican.
Emily Arlook as Nomi Segal — Nomi started out as a student at Cal U, but dropped out in Season 3 after she got pregnant. She is a Jewish American and also is bisexual.
Deon Cole as Professor Charlie Telphy — A friend of Zoey's family (he also appears in Black-ish) and the dean of Cal U.
Where is Grown-ish filmed?
Since so much of the show takes place on a college campus, many people wonder: Where is Grown-ish filmed? As you probably already know, Cal U is a completely fictional university. The show is filmed primarily at Walt Disney Studios in Burbank, Calif.
Here's where to watch Grown-ish:
All three seasons of Grown-ish are currently available to stream on Hulu. Season 4 (covering Zoey's senior year) is slated to start in the summer of 2021.
Mixed-ish
Mixed-ish is the second Grown-ish spinoff, and this one is actually a prequel! It chronicles Rainbow Johnson's childhood years and her experience of growing up in a mixed-race family in the 1980s. At the beginning of the series, Bow's family moves from a hippie commune to the suburbs and struggles with the decision to fully assimilate or stay true to themselves.
Meet the cast of Mixed-ish:
Arica Himmel as Rainbow Sojourner Johnson — The show's protagonist. A preteen who has just moved from a hippie commune to the suburbs and is embracing her biracial heritage. Tracee Ellis Ross narrates the series as the adult version of Bow.
Tika Sumpter as Alicia Johnson — Bow's mother. She works as a lawyer at her father-in-law's practice.
Mark-Paul Gosselaar as Paul Jackson — Bow's father. He's a stay-at-home dad during Season 1 and becomes a teacher in Season 2.
Mykal-Michelle Harris as Santamonica Johnson — Bow's extremely sassy sister. Santamonica is played by Rashida Jones in the show's flash-forward segments.
Ethan William Childress as Johan Johnson — Bow's brother. Portrayed by Daveed Diggs in flash-forward segments.
Is Mixed-ish based on a true story?
Obviously, Mixed-ish is connected to Black-ish — Tracee Ellis Ross even narrates it! But it also has a connection to real life. The series is loosely based on the early life of Rainbow Ellis-Barris — co-creator Kenya Barris' wife!
Here's where to watch Mixed-ish:
You can stream both seasons of Mixed-ish on Hulu. The show has not yet been renewed for a Season 3, but fans are hopeful that it will be!
Latest Black-ish News and Updates