The 'RHOM' Season 6 Cast's Current and Future Spouses Have Incredible Net Worths
'The Real Housewives of Miami' cast loves to live the high life. Thankfully, many of them have spouses who can afford to foot the bill.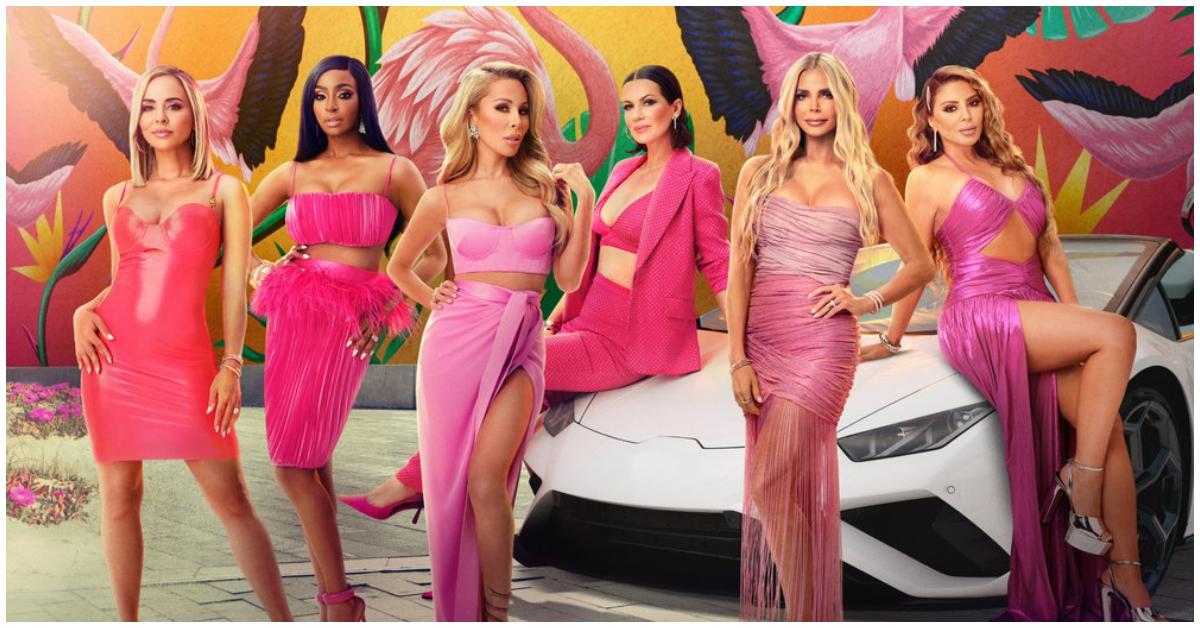 The Gist:
'The Real Housewives of Miami' Season 6 premiered on Nov. 1, 2023
Most of the cast on the show has successful spouses and fiances with impressive net worths.
The cast's spouses also have lucrative jobs
Article continues below advertisement
While Miami lovers were excited to see our girls back on the screen, many are equally pumped to see their significant others. This season, almost all of the 'wives are married or at least thinking about taking the leap.
Although each cast member can afford their own martinis, their boos aren't doing too bad in the financial department. Here's a rundown on the RHOM cast's spouses' net worth and how they can afford to keep their ladies happy!
Russell Abraira — $4 million
Most RHOM fans know that Guerdy met the love of her life, Russell Abraira, in high school. However, the lovebirds have certainly come a long way since exchanging glances in the hallway. Guerdy's hubby is a renowned fire captain in Miami, with a reported net worth of $4 million. In 2014, Miami Herald listed Russell as one of the top earners of that year, and his income has seemingly increased since then.
Article continues below advertisement
Martina Navratilova — $25 million
Julia and her wife, Martina Navratilova, made history in Season 4 when they joined RHOM as Bravo's first LGBTQIA couple. In Season 10, Martina will share her journey of battling two cancers — Stage 0 breast cancer and Stage 1 throat cancer.
According to Celebrity Net Worth, Martina is a renowned tennis player and coach with "18 Grand Slam singles titles, 31 major women's doubles titles, and 10 major mixed doubles titles" under her belt. Her net worth is currently $25 million, and she has reportedly earned ​​$20 million through various tournament prizes.
Article continues below advertisement
Anthony Lopez — $3 million
Dr. Nicole's fiance, Anthony Lopez, is certainly one of the more controversial husbands in the friend group. However, arguing likely comes naturally to him since he's an attorney, after all. Anthony is the CEO of Your Insurance Company in Miami.
According to its website, the company strives to "provide powerful representation from start to finish" by using "our expertise and determination to fight on your behalf to prove what you are entitled to."
Per several reports, Anthony has a net worth of $3 million.
Article continues below advertisement
Steven McNamara — $6 million
Although Marysol retired from her PR and events agency, the Patton firm, her husband, Steven McNamara, is still down to bring home the bacon. Steven, who married Marysol in April 2021, reportedly has a net worth of $6 million and is a contractor and the president of Anzac Contractors, Inc. Steven's LinkedIn shows he launched the civil and highway/heavy construction company in 1983.
Article continues below advertisement
Marcus Jordan — $1.5 million
Larsa's main squeeze, Marcus Jordan, made his RHOM debut in Season 10. However, his ears likely rang when his and Larsa's relationship was a hot topic at the Season 9 reunion. Since then, the couple shared in November 2023 that they've already begun talking about planning a wedding.
Article continues below advertisement
Although the bride's family typically pays for heterosexual weddings, Marcus's family can likely afford the massive event. He's the second oldest child of basketball legend Michael Jordan, and he even tried following in his famous dad's footsteps, playing college basketball for the UCF Knights from 2009-2012.
Article continues below advertisement
These days, Marcus, who has a net worth of $1.5 million, is an entrepreneur and the founder of the Trophy Room, a sneaker boutique celebrating his dad Michael's basketball career, per HotNewHipHop. Marcus and Larsa also host a podcast called Separation Anxiety.
Article continues below advertisement
Todd Thomas Nepola — $10 million
Alexia's husband, Todd Thomas Nepola, is typically the calm one in his and Alexia's relationship. That's probably because he has a lucrative job as the President and Founder of his real estate investment company, Current Capital Group. According to multiple reports, Todd's net worth is $10 million.
Article continues below advertisement
Jody Glidden —$10 million
Amid a messy divorce from her husband of 13 years, Lenny Hochstein, Lisa proved there's always time to love again. In February 2023, Lisa confirmed she was dating Jody Glidden, the founder and chief executive director of IntroHive. According to Market Realist, Jody's company specializes AI-powered SaaS technology to "help companies get their CRM data in order. The company is reportedly doing great, as Jody reportedly has a net worth of $10 million.
Article continues below advertisement
Make sure to check out The Real Housewives of Miami Season 10 Wednesdays at 9 p.m. EST on Bravo.