Woman Wins $43 Million Jackpot At Casino, Gets Offered A Steak Dinner Instead
By Mark Pygas
Katrina Bookman of New York was understandably excited when she started winning money on a penny slot machine at Resorts World Casino in Queens. And when the mother-of-four's machine suddenly said that she'd won $42.9 million, her "whole body just got numb" and she decided to take a selfie.
She was quickly surrounded by fellow gamblers and casino security, who told her to print off the receipt and come back the next day.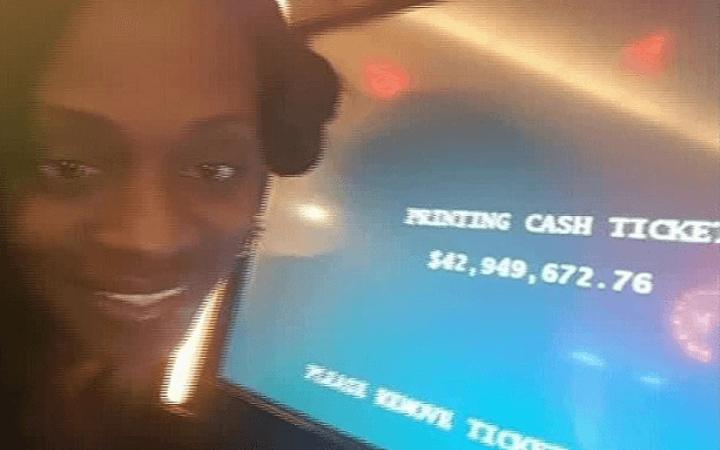 Bookman had already made plans on how to spend the money, wanting to buy a barber shop for her son and earmarking some to help out her local community.
But the euphoria was short-lived, and Bookman was told when she returned that the machine had malfunctioned, and was offered a free steak dinner instead.
Bookman explained that when she went back to the casino to pick up her winnings an employee told her: "You win nothing."
According to the member of staff, Bookman had actually won just $2.25 and the casino says the faulty machine was immediately taken out or service.The machine at the casino also had a disclaimer which said: "Malfunctions void all pays and plays."The single mother, who grew up in a foster home, says she was heartbroken:
"All I could think about was my family… the struggle I've been through, it's hard to cope."
A spokesperson for the casino told CNN:
"Upon being notified of the situation, casino personnel were able to determine that the figure displayed on the penny slot was the result of an obvious malfunction – a fact later confirmed by the New York Gaming Commission."
Bookman's lawyer, Alan Ripka, says that Bookman should, at the very least, win the maximum allowed on the machine - $6,500.
"The machine takes your money when you lose. It ought to pay it when you win."