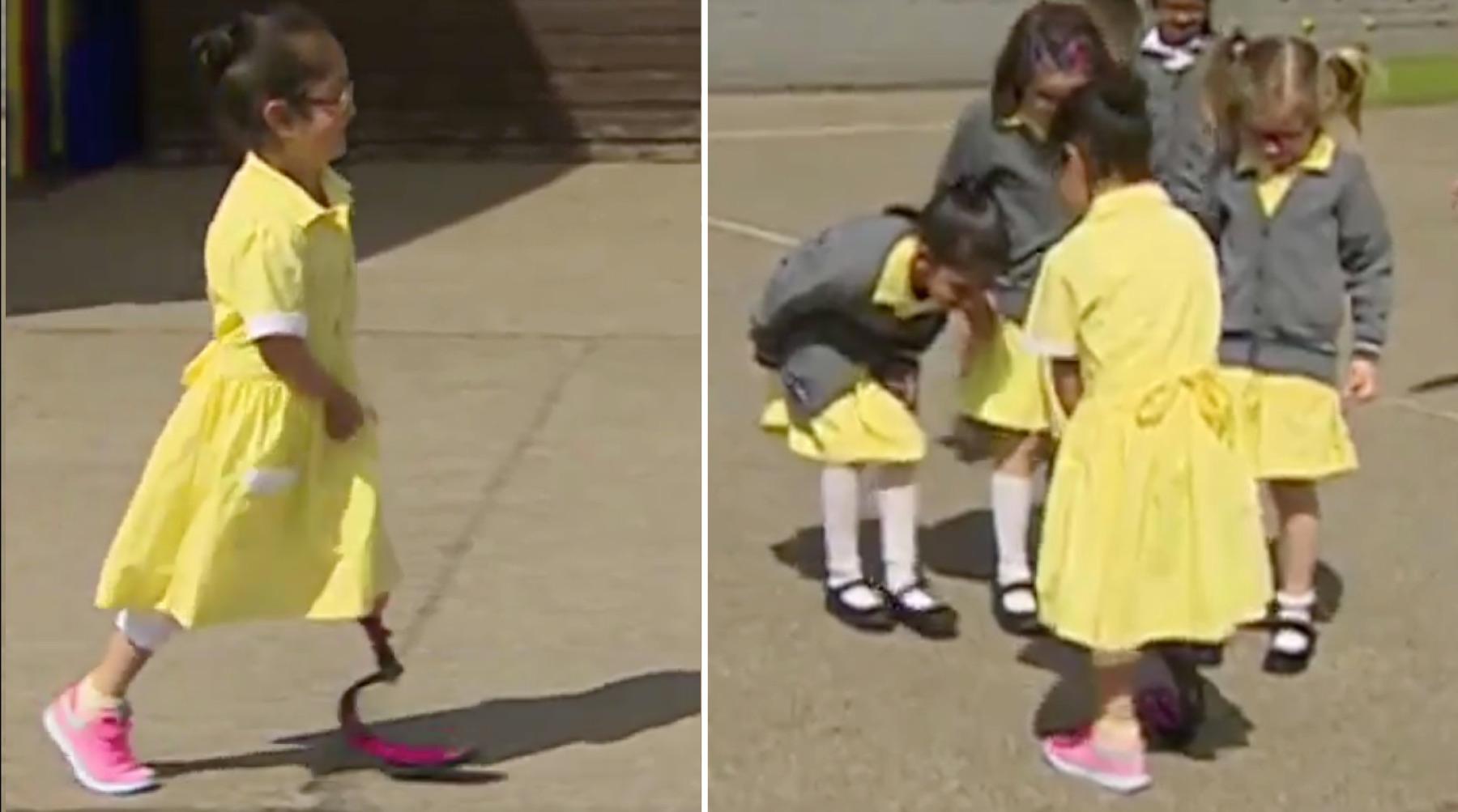 Little Girl Bravely Faces Friends Wearing New Prosthetic Leg In Viral Video
By Aimee Lutkin
Nothing like a good cry in the middle of the week, right? A 7-year-old girl named Anu from the UK walked boldly onto the playground sporting a brand new prosthetic. In the video that's gone viral of Anu's arrival, you can see her friends gather around her and stare at her leg curiously seeing it for the very first time.
"Is that your new pink leg?" asks one friend. After a moment, one of the little girls spontaneously hugs her, and then the awkward moment passes and they start running around and walking hand in hand with her as she explores a familiar area with a new perspective.
Yes, I am sobbing and so are you, admit it. Anu had her right leg amputated soon after she was born, The Telegraph reports, and the new pink blade allows her to jump and run and dance in a way she couldn't before. These sorts of blades got a £1.5 million funding grant in 2016, allowing researchers to develop "child sports prosthetics."
The UK's National Health Service isn't obligated to provide child amputees with prosthetics that allow them to be active in the way that Anu's blade does. In this case, the money provided 500 children with prosthetics of her type.
When he announced the new fun injection, Chancellor George Osborne said, "I am determined that we do all we can to ensure children who have lost a limb experience full and active lives. So through the NHS, we are going to give £1.5million for new prosthetic to help amputee children run and jump when otherwise they have not been able to and build on the 2012 Paralympics legacy."
So will Anu be a Paralympian someday? Maybe, but there's no rush. She's already the queen of the school yard: