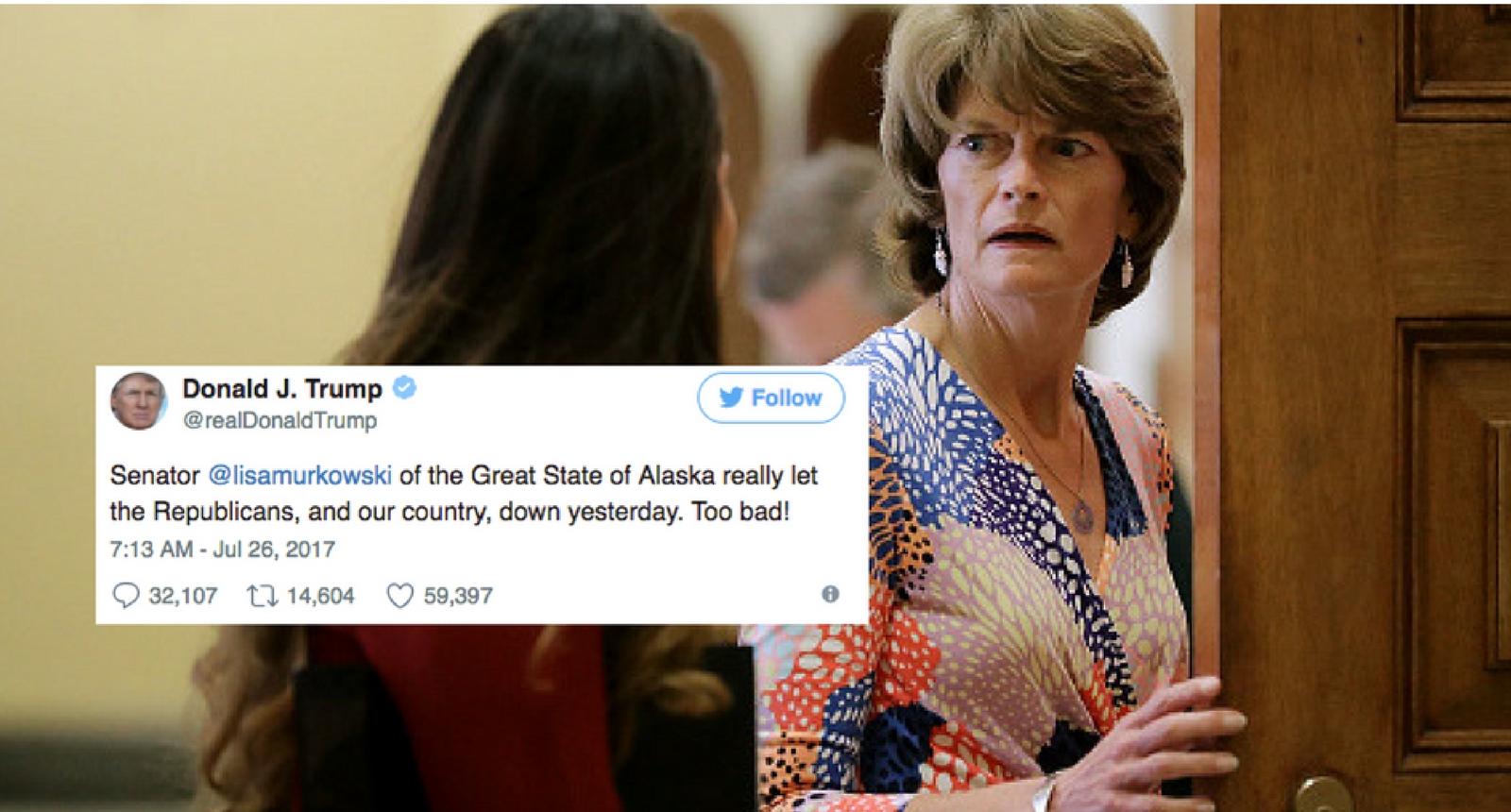 Senator Ironically Gets the Last Word In After Trump Insulted And Threatened Her
By Mike Walsh
Trump loves himself a scapegoat.
Our Tweeter-in-Chief recently took out his anger about the failed Obamacare repeal effort in late July on Republican Senator Lisa Murkowski.
... despite the fact that two other Republican senators also voted down the motion, including Susan Collins (R-ME) and John McCain (R-AZ).
Murkowski responded politely, at first.
She reportedly told CNN: ""My vote yesterday was from my heart for the people that I represent. I'm going to continue working hard for Alaskans and focus on that."
However, just before the Senate went into August recess, Murkowski closed business by Pro-forma sessions are procedural motions that prevent the Executive branch from appointing anyone during the recess month to a position that would require confirmation by the Senate.
This is a pretty solid block imposed by the Senate which will seriously undercut Trump's authority over the next month. Murkowski has denied any vindictive intent:
And it seems like the pro-forma sessions are coming from a fear that Trump will follow through on his plans to fire Jeff Sessions, which the Senate believe will obstruct the Moscow investigation ever further. At minimum most don't expect Sessions to make it to the mid term elections of 2018 which is a ways off.
The sessions mean that, on each of the above dates, one Republican senator will have to show up to preside over himself, and then leave. It's an odd Twitter loss for Trump that, for all his stupidity on the platform, rarely tends to get the last word in on things due to his persistent nature when it comes to Tweeting.
We'll see if it's the last we hear about it from Trump.