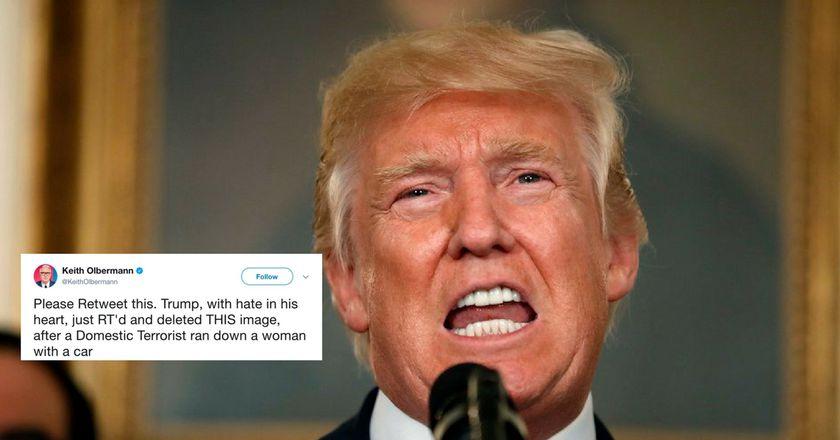 Trump Tries To Delete Violent And Controversial Retweet, But Keith Olbermann Has The Receipts
By Collin Gossel
On Tuesday, August 15th, just three days after a white supremacist drove his car into a crowd of counter-protesters, killing one woman and injuring at least 19 others, President Donald Trump retweeted an image of a train running over a man with the CNN logo superimposed over his face. Now an attack on journalist outlets from the leader of one of the world's most powerful countries would be troubling on any day, not to mention it's just a stupid and childish thing for someone to share.
Perhaps realizing that sharing this cartoon days after such a public tragedy was even more unacceptable than it normally would be (which, in a normal world, would be completely unacceptable,) the President then deleted the re-tweet.
Before he pulled it, however, many of the Trump's critics, including Keith Olbermann, captured the image and are now spreading this glimpse into the President's psyche across the Internet.
Twitter users were disgusted.
One Twitter user noticed an important detail.
Others posed an interesting legal question...
Interestingly, Trump's tweets ARE considered Presidential records, so deleting them is definitely illegal. However, during Barack Obama's presidency, a system was put in place that automatically records all tweets, even the deleted ones, which would fulfill the law's mandate that all of Trump's records are kept in tact. However HOWEVER, if the President tweets things from his personal account rather than his official POTUS account, it's unclear whether the White House system is recording them. So, basically, there's a lot of details that would need to get ironed out before we know whether Trump has committed an illegal act.
Legal or illegal, at the very least Trump's tweet displays his hypocrisy and true callousness in the wake of a terrible American tragedy.