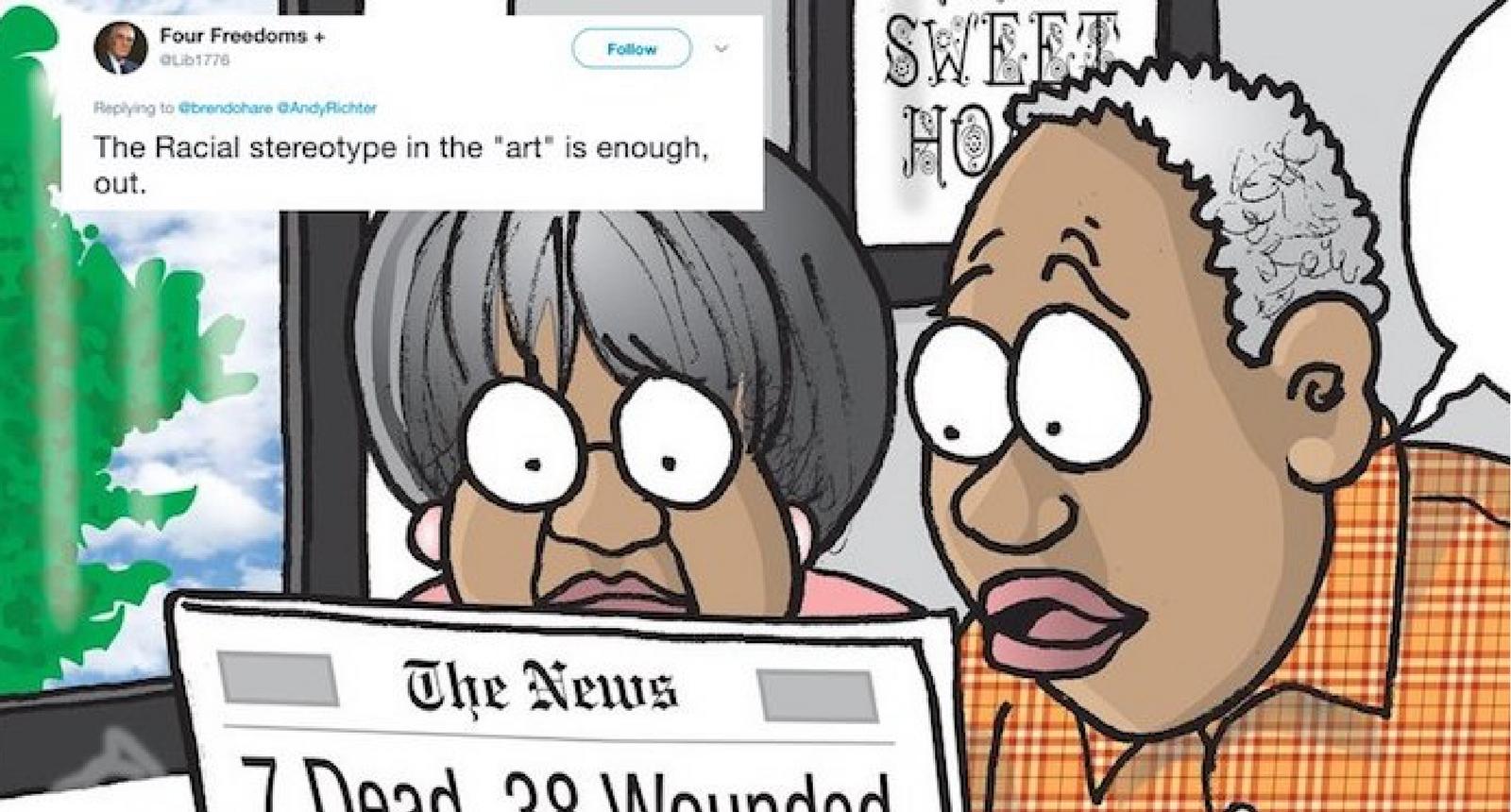 Twitter Tears Apart Political Cartoon Comparing Confederate Statues And Shootings As Racist
By Koh Mochizuki
The "golden" age of cartoons wasn't so golden, unless you count old-school Looney Tunes milking mean-spirited stereotypes for cheap laughs at every turn. You've got wild Texans blasting guns everywhere, African Americans depicted as red-lipped buffoons, Asians as shifty schemers, and rabbits as sarcastic jerkwads. It's just harmful to everyone.
You would think that in this day and age cartoons and mean physical depictions of non-white races would be a thing of the past, but this political cartoon implying we should stop creating a fuss over Confederate statues has many on Twitter up in arms.
Conservative political illustrator Tom Stiglich tweeted his latest cartoon, which portrays an African American couple reading a newspaper with a headline about violence in Chicago, thinking to themselves: "...and we're upset about statues?"
As you might expect, Twitter was not having it.
But looking more closely at the cartoon, many wondered what the couple was actually reading, since they're looking at the opposite side of the paper from the headline.
So, of course, Twitter obliged.
But this Twitter user makes a good point, questioning the very premise of the cartoon:
Do you think that the animation of the cartoon was really that offensive? Or is the fact that the people animated in the cartoon are brown-skinned are making people play up the "badness" of the illustrator's artistic choices?
Or maybe it's because he's a white artist superimposing his own beliefs onto brown-skinned characters that's the real problem? I guess I would find it infuriating if someone from another race was trying to tell me how I should feel about acts of violence and generalizing who I am and what I'm about with harmful stereotypes about my people.