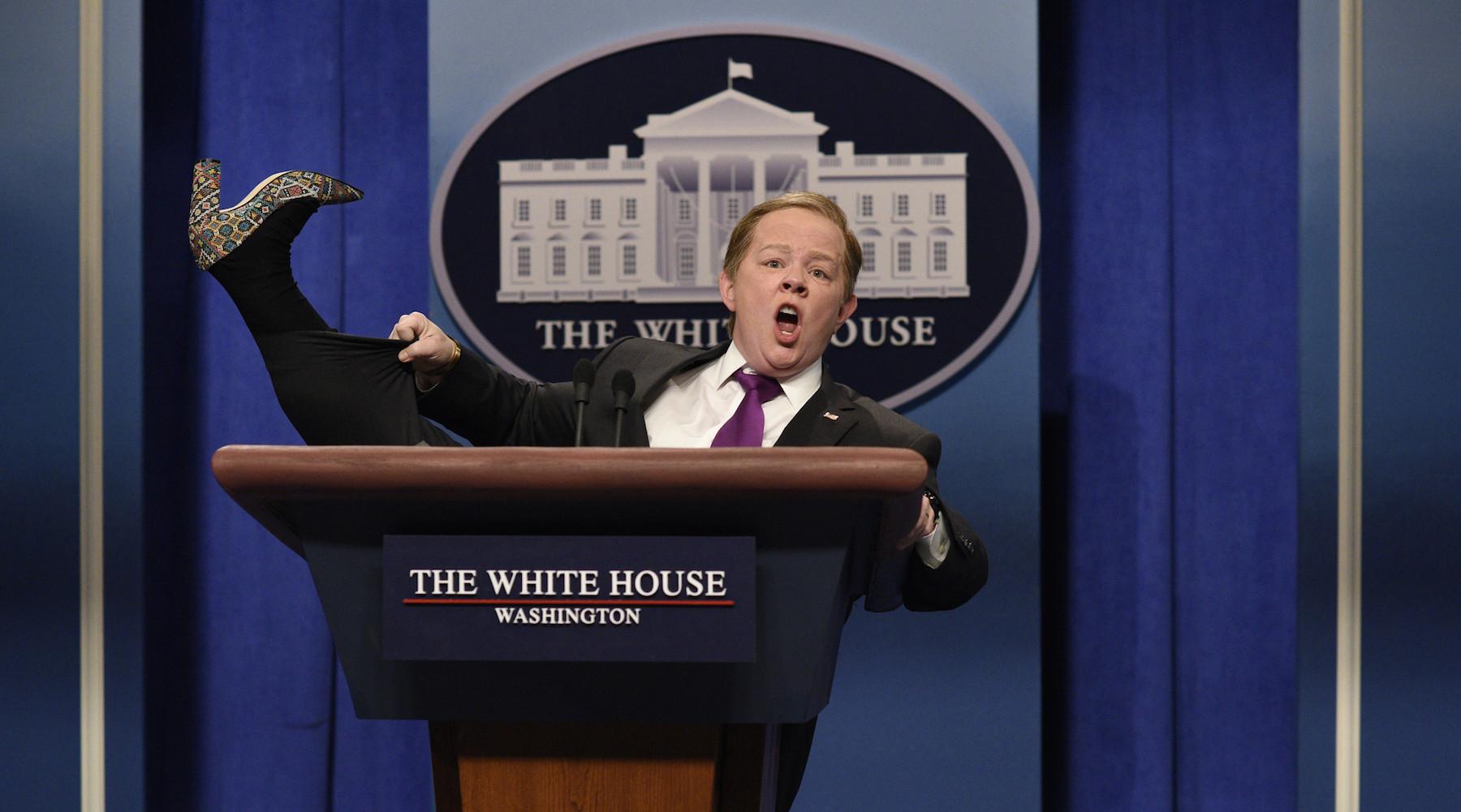 Sean Spicer Claims He Sleeps Through Melissa McCarthy's 'SNL' Impressions
By Aimee Lutkin
You've probably long suspected that the White House Press Secretary is the most humorless man on the planet, which is why Melissa McCarthy's wild impression of him on Saturday Night Live has been such a delight. You just know he's grinding his teeth as he watches her nail his tendency to scream at the press while defending our president's ethically dubious antics and crazy tweeting.
At the Easter Egg Roll on Monday, Spicer was in a surprisingly relaxed mood as he got interviewed by CNN's Jim Acosta. Guess all the candy went to his brain. But things took a turn when Acosta finally asked him what he thought of McCarthy's bald cap:
First of all, Spicer claims he is in bed before SNL airs, saying, "I'm fast asleep by the time that comes on," he explains, continuing, "I'm in bed, get up, go to church the next day and look ahead." Oh, so this is the first he's hearing about it? Or he's praying too hard in church to see the tweets?
Acosta tries to help him out and give him the opportunity to look slightly more human, asking, "But you have fun with it right? You enjoy it?" If you ask me, Spicer's expression indicates he definitely does not.
"My focus is on advancing the president's agenda and his policies," says Spicer, "And you know, we live in a great world, that people can say and do what they want because of the First Amendment, and that's what makes this such a great country." Yes, we do have the First Amendment. For now, though we shall see what Trump says about that after a few more months in office.
Acosta again tried to prompt Spicer to chill the eff out a little, saying, "I mean, I get made fun of too; I mean, it happens all the time." Spicer responds, "All right, well you know, maybe more deserved."
LOL! Keep dreaming, buddy. No one would recognize a Jim Acosta impression when they have you making comments about Hitler for a national audience. In fact, McCarthy reprised her role as Spicer the night before Easter to address those very remarks, dressing up in a bunny costume (as Spicer once did years ago for the White House Easter Egg Roll, under George W. Bush):
It's understandable that Spicer isn't smiling about having all the terrible things he says pointed out to him on live television, but I won't believe for a second that he doesn't watch every Saturday night. Though I guess we'll have to take his word for it!