Aaron Rodgers' 2021 Halloween Costume Has Been a Year in the Making
It's something Packers fans haven't been used to seeing on their favorite quarterback, but now they're all asking: why does Aaron Rodgers have long hair?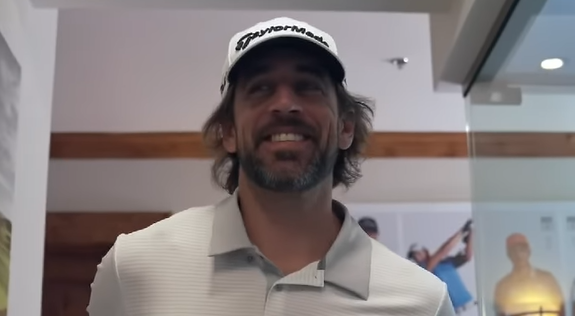 It can be jarring when beloved public figures change their looks, and sometimes those changes can cause quite a ruckus. Like when Billie Eilish ditched her trademark green hair for a blonde 'do. For Green Bay Packers fans, it's seeing Aaron Rodgers with long hair, and folks want to know why he seemingly doesn't want to get haircuts anymore.
Article continues below advertisement
Why does Aaron Rodgers have long hair?
Aaron's most closely associated with neatly cropped hair, so it's been a bit strange for some fans to see him running around the field and tossing the pigskin like some kind of football Jesus.
Most folks got a glimpse of the long-haired Rodgers on Jeopardy! but once the 2021-2022 NFL season was underway, that's when everyone saw Aaron's long hair was here to stay.
CBS reports that while on the Pat McAfee show, Aaron stated he's been growing his hair out for a Halloween costume he'll be rocking on October 31, 2021. As to what the costume will be, Aaron didn't divulge that much information. But if you know a lot about Aaron, you'll probably be able to guess who he's trying to go as.
Article continues below advertisement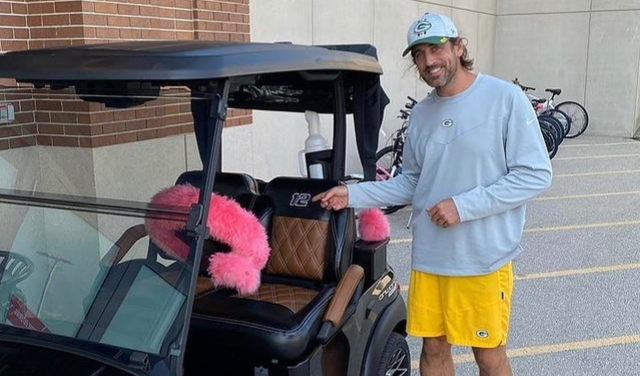 So what's Aaron Rodgers' Halloween costume going to be?
He said on the show: "This has been a year in the making for my costume," when referencing his hair. He continued that he would go as "somebody who is a hero of mine who has longish hair."
Article continues below advertisement
Here's hoping he's trying to pull off an old-school MacGyver cosplay and goes full mullet closer to All Hallow's Eve, but the only way we'll know is if Aaron lets it slip, or it's leaked just who this personal hero of his is with "longish" hair.
Article continues below advertisement
In the past, Aaron's shown a penchant for going all out on the ghoulish holiday, referencing brilliantly off-beat comedies like Napoleon Dynamite (he went as the title character) and Steve Zissou in The Life Aquatic.
Aaron Rodgers stated that he would have taken the 'Jeopardy!' gig if he was offered it.
But it looks like he's just as happy as ever playing for the Green Bay Packers. The QB was instrumental in leading his squad to a last-minute victory over the San Francisco 49ers, nailing two big-time passes with only 37 seconds left. The 49ers led by one point going into the final moments of the game, but Aaron was able to get his team close enough to the goal post so they could cinch the winning field goal if necessary.
Article continues below advertisement
Oddsmakers have placed the Green Bay Packers at a +150 underdog to make it to the Super Bowl for the 2021-2022 season. If they can secure another Super Bowl, Rodgers will have earned his second ring, and while other teams are favored to go all the way this year (the Chiefs), in the game of football, anything can happen.
Article continues below advertisement
There weren't many who thought that the Tampa Bay Buccaneers would've been able to pull out a Super Bowl victory in the 2020-2021 season, but Tom Brady and Rob Gronkowski achieved just that in their first year with the franchise.