Here's How to Remove That Annoying Reading List on Google Chrome
Some Google Chrome users are finding the "Reading List" feature annoying. Want to know how to get rid of it? Find out how in this easy guide.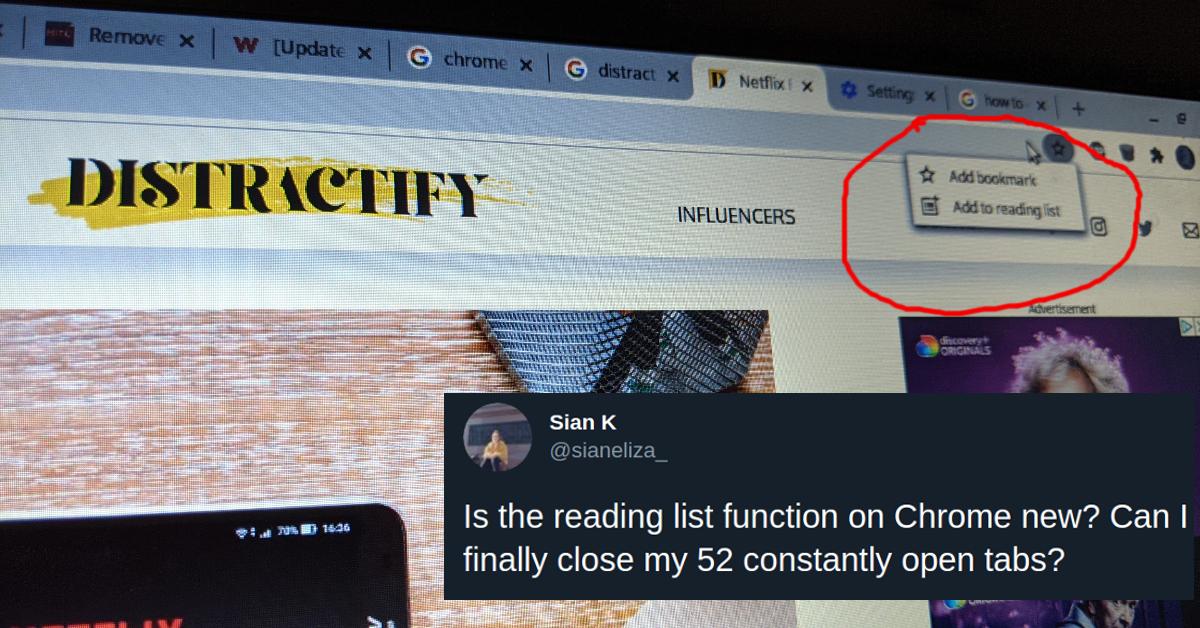 It's always weird whenever an application we've been using for years gets a new feature or undergoes a cosmetic upgrade that befuddles users. Chalk it up to us being creatures of habit and / or being distrustful of new updates. But for whatever reason, people usually aren't too happy with them, especially when said application accounts for a lot of their use. Which is probably why so many people want to know how to remove the reading list option from Google Chrome.
Article continues below advertisement
How do you remove the reading list from Chrome?
Let's just get down to brass tax — you can remove reading list from Google Chrome in a few steps:
Open a new Chrome window/tab.
Enter chrome://flags/#read-later into the empty address bar. Hit enter/return.
Select "Disabled" from the drop-down list placed next to the "Reading List" option.
Restart your Chrome browser. Boom, it's that simple.

Article continues below advertisement
63.59 percent of all internet users rely on the Google Chrome web browser for their experience. That's a massive number and regardless of whether or not you're an iOS or Android user, Apple or PC (or a cheapskate Linux die-hard like me), you're probably using Chrome. Google may have started as a search engine algorithm, but it quickly began developing other web-based software that's literally shaped the internet.
When the Chrome browser first dropped, it didn't take long for people to adopt it for widespread use. Its minimalist design increased screen real estate, and its integrated search / URL bar was a game changer. It didn't hurt that it was notably faster than other popular browsers at the time, not to mention the slew of new features and extensions that the Mountain Valley based tech company was constantly rolling out. It's no wonder that Google Chrome became the most popular web browser in the world.
Article continues below advertisement
What does Google Chrome's Reading List do?
What makes Google such an effective tech company is that they're very, very good at analyzing user needs and integrating said needs into their products. Hence, the Reading List feature on Google Chrome. How many of us have tons of different tabs open, or never close windows for fear of losing out on the myriad of articles or documents we're never quite done with?
Article continues below advertisement
Of course, you could bookmark whatever it is you want to go back to, but that doesn't seem to beat the immediacy of a bunch of open tabs because, in all honesty, when was the last time you actually scrolled through your bookmarks to find something? Well, even if you did, Google certainly thought that there was enough impetus to create a "Reading List" option.
Article continues below advertisement
So what's different between "Bookmarks" and a "Reading List"? Well, Reading List allows you to "x" out items on said list to indicate when you're done with them. This allows users to save themselves the trouble of going through their bookmarks.
This new feature has received mixed reactions from folks on Twitter. Some seem to love the newest extension, while others a little underwhelmed by it.
Article continues below advertisement
Have you tried Google Chrome's "Reading List" feature? Or do you think it's a bit redundant?