An off-Duty Police Officer Claims He Found a Tampon in His Starbucks Frappuccino
After a string of other food-tampering claims by law enforcement, an officer claims he found a tampon in his Starbucks frappuccino.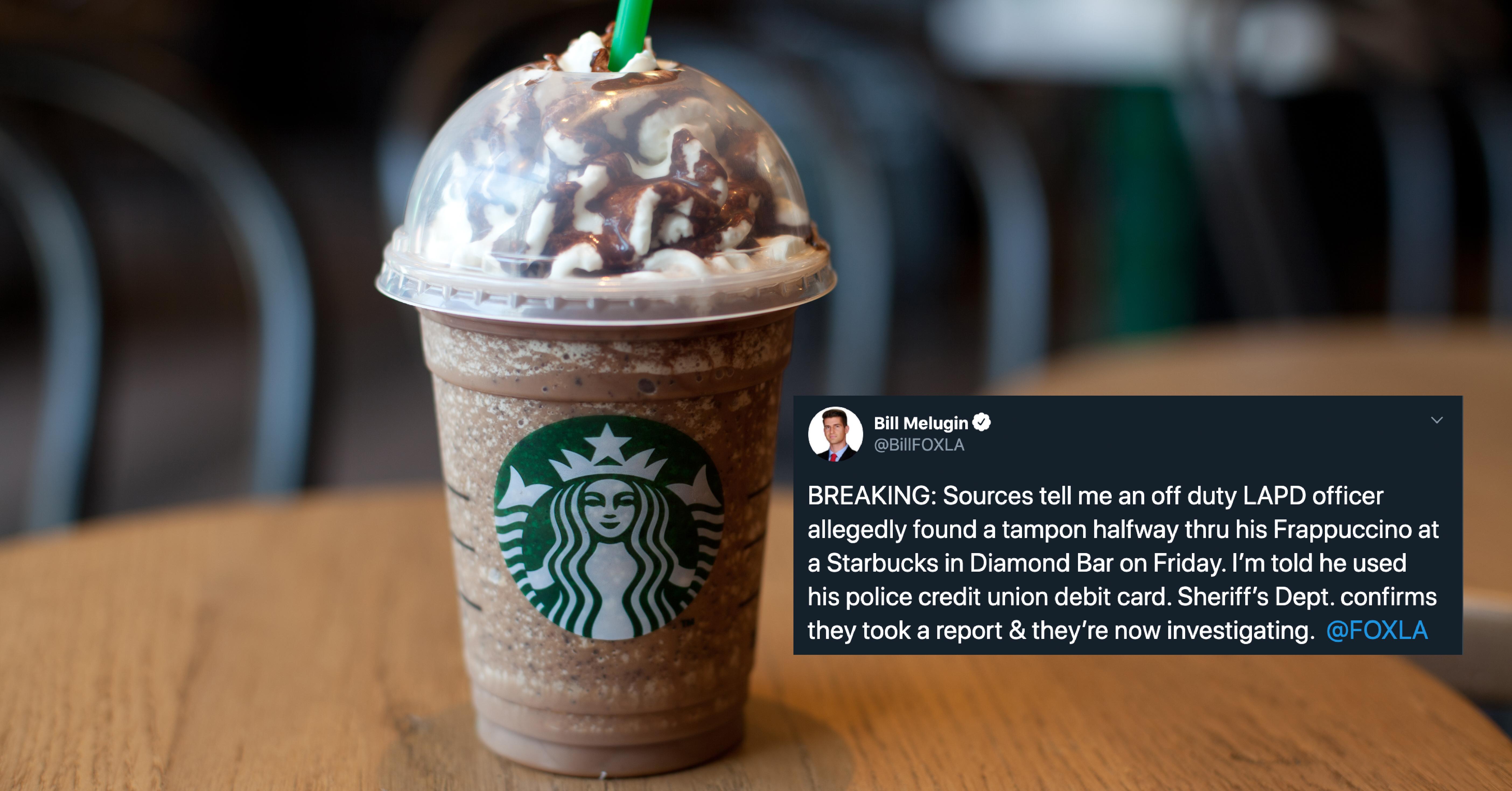 A police officer has claimed that while trying to enjoy a Starbucks frappuccino while off-duty, he found a tampon inside his drink.
The incident, which happened in Los Angeles, is currently being investigated. Tensions have been especially high between law enforcement and those protesting police brutality in support of Black Lives Matter.
Article continues below advertisement
This recent claim comes on the heels of a viral video of "Officer Karen" crying over having to wait for her McMuffin at McDonald's because she feared it was being tampered with.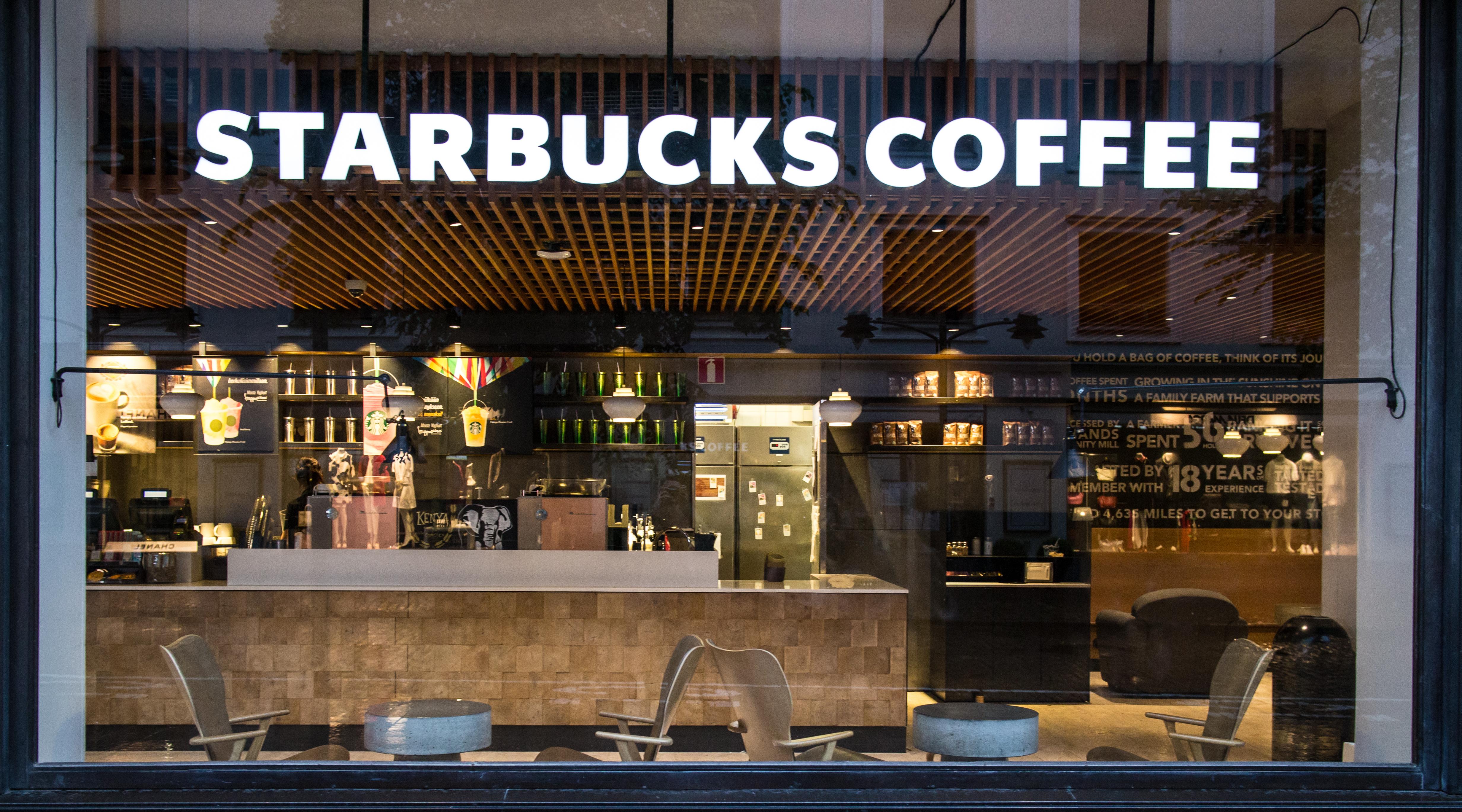 Article continues below advertisement
A police officer claimed he found a tampon in his frappuccino.
According to a tweet from FOXLA reporter Bill Melugin, an off-duty officer claims to have found a tampon in his Starbuck frappuccino.
"BREAKING: Sources tell me an off duty LAPD officer allegedly found a tampon halfway thru his Frappuccino at a Starbucks in Diamond Bar on Friday," he tweeted, including a photo of the alleged tampon. "I'm told he used his police credit union debit card. Sheriff's Dept. confirms they took a report & they're now investigating."
The Los Angeles Police Protective League replied to the incident, telling Bill in a statement,"This disgusting assault on a police officer was carried out by someone with hatred in their heart and who lacks human decency. We hope they are publicly exposed, fired, arrested, and prosecuted for their cowardly and repugnant actions."
Article continues below advertisement
While some immediately responded in outrage, others pointed out the improbability that a Starbucks employee actually put a tampon in the drink.
"The frappuccino blender only goes for 11 seconds i promise we do not have time to whip out a whole ass tampon and put it in your frappuccino in ELEVEN SECONDS," one Twitter user who claims to work at Starbucks said.
Article continues below advertisement
This isn't the first time officers have claimed to have their food tampered with.
This isn't the first time a police officer has claimed their food has been tampered with by fast-food employees.
Just before this incident, three off-duty police officers claimed that Shake Shack employees tampered with their milkshakes, spiking them with what they "believed to be bleach," according to Newsweek.
Article continues below advertisement
"Tonight, three of our brothers in blue were intentionally poisoned by one or more workers," said the DEA statement. "Police in New York City and across the country are under attack by vicious criminals who dislike us simply because of the uniform we wear. Emboldened by pandering elected officials, these cowards will go to great lengths to harm any members of law enforcement."
Article continues below advertisement
After an investigation, it was found that the accusations were false. Before the milkshake incident, an officer claimed a McDonald's employee had bitten into his sandwich after finding a bite taken out of it, only to later remember he was the one who had taken the bite earlier.
This string of claims of food tampering has only worsened officers' relations with the public, but Vice points out that a lot of the claims were false, and some were even fabricated by the officers themselves.
This distrust in law enforcement has led to a lot of distrust around this situation. Twitter users have been vocal about their disbelief, and are calling out previous false claims as evidence of their suspicion.
"Yes, but was the tampon soaked in bleach before they put it in his Frappuccino?" one user tweeted, referring to the Shake Shack incident.