Not Even Bryson DeChambeau's Caddie Can Stand Him, It Seems
Golf fans want to know: what happened between Bryson DeChambeau and Tim Tucker, the caddie who helped him win last year. We have details.
The words "golf" and "drama" might seem like they don't go hand in hand. How could there be any drama in a pastime designed as a leisurely endeavor for the wealthy and privileged?
Any golf fan will tell you that you don't need to watch The Legend of Bagger Vance or Happy Gilmore to get your fill of intrigue and scandal-flavored tea. Just look at what went down between Bryson DeChambeau and caddie Tim Tucker.
Article continues below advertisement
What happened between DeChambeau and the caddie who once helped lead him to victory?
Caddies aren't just donkeys that hold bags for truly great golfers. True, while the best caddie in the world isn't going to make me a competitor for the PGA tour (I don't think I can even name more than two golf clubs if I'm being honest), ABC News did an interesting piece that featured thoughts from pro-golfers on what makes a great caddie.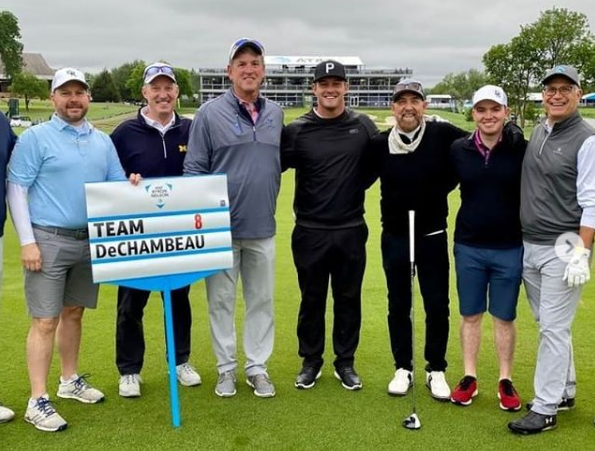 Article continues below advertisement
One unnamed champ said, "Trust, knowledge, and maturity. And thick f--king skin."
And if the stories about Bryson DeChambeau are to be believed, then Tim Tucker must've had a very thick skin to work with the champ. But it doesn't seem like it was enough to keep the pair together for the Rocket Mortgage Classic Bryson's set to compete in.
That's because The Big Lead has reported Bryson and Tim will no longer be working with one another. Instead, Ben Schomin will be replacing him in a move that surprised many, as Tim was seen at Bryson's side during the practice rounds leading up to the big tournament.
Article continues below advertisement
Reports indicate that DeChambeau was forced to get a new caddie because Tim Tucker quit.
Like any good breakup story, everyone wants to know who dumped whom, and in this instance, No Laying Up reported that it was actually Tim Tucker's decision for him and DeChambeau to go their separate ways. Bryson has been known to complain about seemingly minuscule and/or ridiculous "obstacles" on the green. One time, he tried to get a ball drop because of ants.
Article continues below advertisement
Article continues below advertisement
Whatever transpired between the two men, it must have been a huge deal, considering the fact that the two have had a lot of success with one another over the years. Caddies typically make anywhere from five to 10 perfect of the tournament winnings on top of their salaries. This means that Tim is foregoing a potentially huge payday, especially since he and Bryson took home the top prize last year.
Article continues below advertisement
The Rocket Mortgage Classic's top winner will bring home $1,350,000, on top of sponsorship money and other funds. This means that Tim is giving up anywhere from $67,500 to $135,000 if Bryson wins, not to mention that second and third place prize money isn't exactly chopped liver either.
DeChambeau, however, told Michael Collins of ESPN that Tim Tucker didn't quit being his caddie.
Instead, Bryson said that the two are "taking a break." So does this mean that the pro golfer is hoping to patch things up between him and Tim? Or was it really a mutual split?