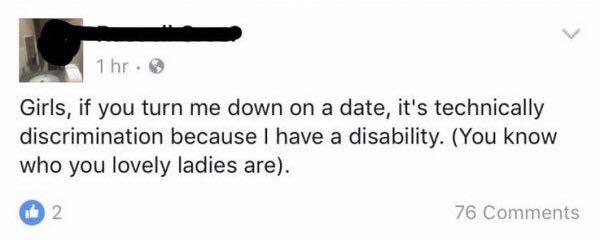 These Insane Facebook Posts Will Make You Want To Go Off The Grid Forever
By Zachary Brenner
One of the best things about social media is that it gives a voice to everyone. One of the worst things is that it gives a voice to everyone. While I am sure that everyone has thoughts and feelings they'd like to express, that doesn't mean they should. The world is already a crazy enough space without people shouting their madness into the world for everyone to see forever.

Here's a tip. Before you post something, ask yourself: Would a crazy person post this? By asking yourself this question, you have already shown a sense of self-awareness that probably means you are fine. If you can't take a moment to ask yourself this, please stoping posting things online.

Oh, who am I kidding? That's never going to happen.
The evidence is right there!
This is just a normal part of being in a relationship, right?
I know it isn't the point, but I hope you aren't a tutor for English.
What are you talking about?
Starts out fine, then gets insane...
The candidate to make burgers more expensive!
Spell check is your friend.
You know Mark Zuckerburg can see this, right?
Yeah, I remember my first time having sex, too.
You know it is legit because it has a watermark.
I know you can't see the name, but I can tell you, he isn't the biggest star in the world.
Ha! All you idiots think the Earth rotates.
Well, that came out of nowhere.
There has to be a better time and place for this.
It's cool. He said "God Bless."
It just keeps going and going and going...
They seem like a good couple.
Even better than liberal tears, right?
So much crazy, so little time.