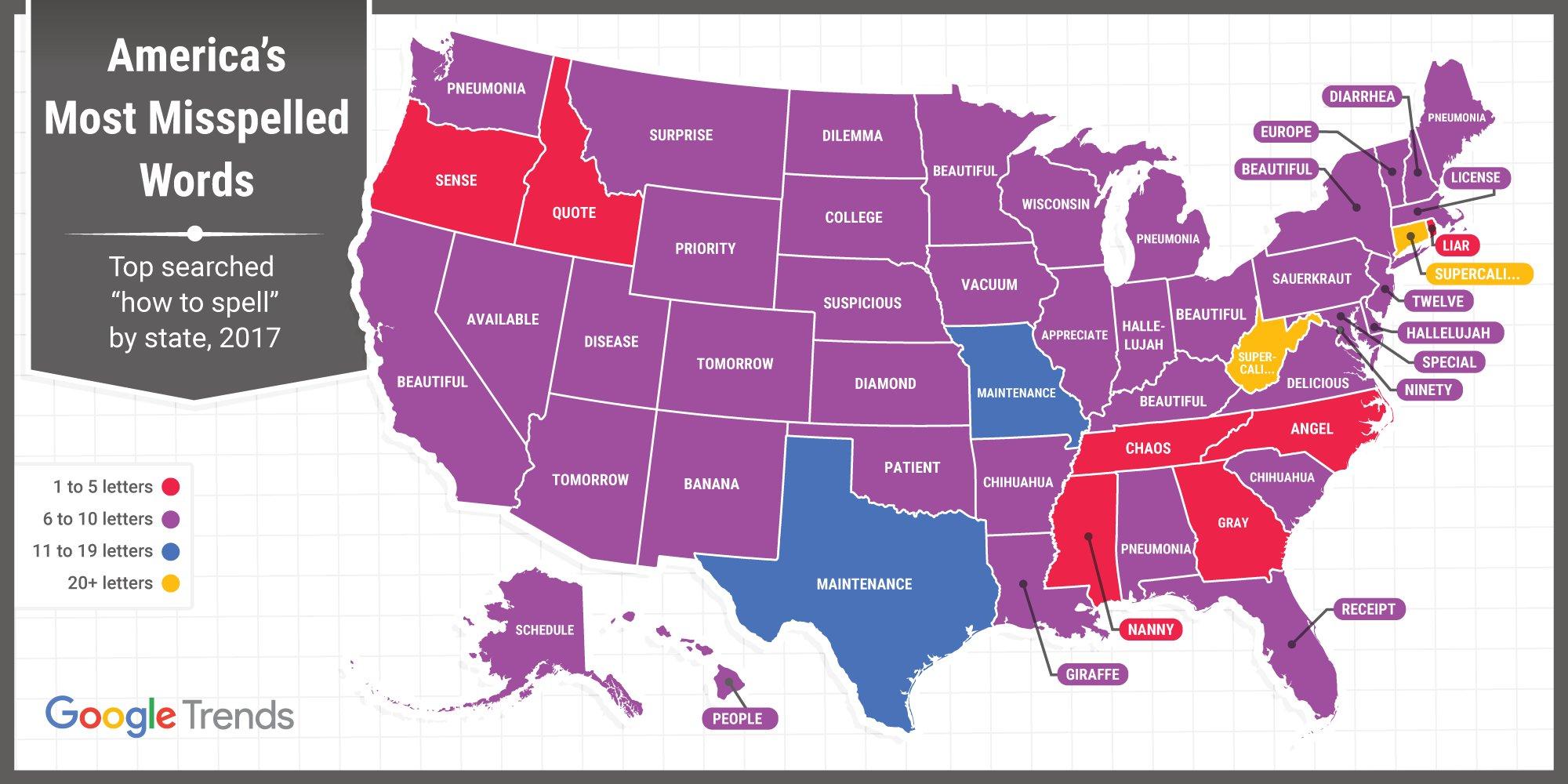 These Are The Most Misspelled Words In Every State, According To Google
By Zachary Brenner
We've all been on the receiving end of internet grammar Nazis at some point, sometimes turning into one ourselves. Spelling something wrong is a little worse than pronouncing something wrong because the physical remnant of your mistake is still there for the world to point and laugh at long after you've realized and sometimes rectified your mistake. It's even worse when you accidentally end up misspelling a word that you've used your whole life like restraunt resturant restaurant and you don't get the red squiggly line or spelling suggestion before your post goes live or you send out that text message to someone who already roasts you for the most trivial of things as it is.
It isn't fun, but the good news I have for you today is that you aren't alone in these terrible experiences. Plenty of people misspell simple words and some brave souls are even unapologetic about it, but that isn't going to stop from self-proclaimed linguists to chime in and tell the person how much of an idiot they are for swapping two letters around on a long post.
The National Spelling Bee is currently underway. In order to celebrate its 90th year, Google Trends has released a map showing every state's most commonly misspelled words using data generated from US searches between January 1st and April 30th.
There is some pretty interesting stuff in there. For example, people in Louisiana have a hard time spelling "giraffe," which makes me think there are so many giraffes in Louisiana that people are constantly Googling them, but not enough for people to know how to spell it.
People in New Hampshire can't spell "diarrhea," which is upsetting on a couple of levels.
Wisconsinites don't know how to spell their own state, which is surprising since Wisconsin is probably one of the easier ones to spell. I mean, you don't see Massachusetts having this problem. They're too busy trying to figure out how to spell "license."
Interestingly, the most commonly misspelled word across the most states is "beautiful." I know there are a lot of vowels in there, but at least it is spelled like how it sounds. It isn't like "pneumonia," which was another one that northern states really seemed to struggle with.
Of course, this is just what stuck out to me. Other people had their own takeaways.
So what's the real lesson here? We would all do terribly at a spelling bee.
[h/t Huffington Post]