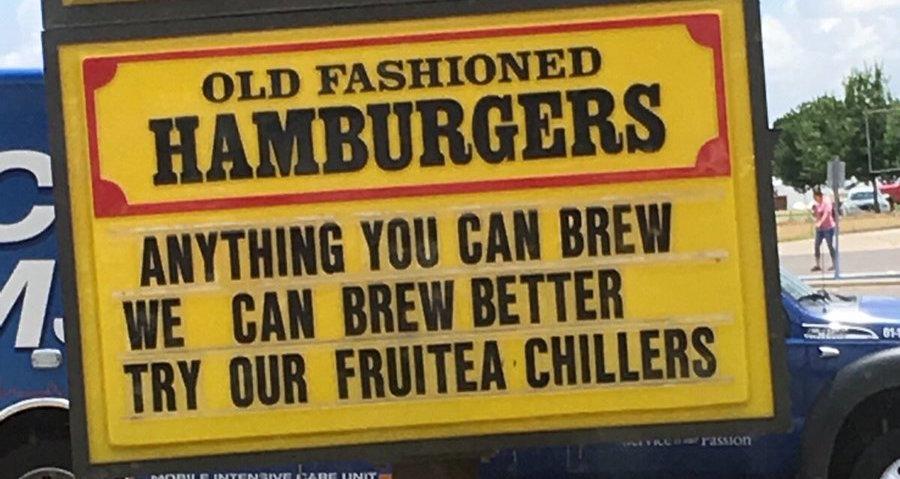 Wendy's And Pure Water Got Into A Sign Fight And Their Town Can't Get Enough
By Zachary Brenner
Wendy's is notorious for having an amazing come back game. Prior to Wendy's decision to up their social media game, you probably never would've equated savage Twitter roasts with fast food before. They're just the masters at going after other places who have something snarky to say, and they always end up winning. We're not sure how they do it but they always push the right buttons when it comes to the savage clapback. It seems now they're taking it to the real world by going after other establishments in towns. Granted, everyone loves a good rivalry. Yankees vs. Red Sox. Batman vs. Superman. A Wendy's in Lubbock, TX vs. a small independent tea house across the street. You might be unfamiliar with that last one. I'll explain.
It started out innocently enough, with Wendy's talking about their fresh beef. Pure Water apparently took that as a threat.
From there, Wendy's began smack talking Pure Water's drinks while promoting their own. Despite seemingly starting this mess, Pure Water responded by asking Wendy's to step down. Not sure that was a good idea cause Wendy's never gives up without a good fight.
Wendy's decided to hold their ground, both because it is a building, and because it has things to say.
And Pure Water was not going to let that insult slide.
It seems like this sign battle has since calmed down, but everyone knows that this is just a temporary cease fire. Especially since the residents of Lubbock, TX are clamoring for more. It's just too good to not want more -- especially when it's probably one of the most exciting things they've seen all week!
Let's all just pray this has a peaceful end. Wendy's isn't known for letting people off easy though.