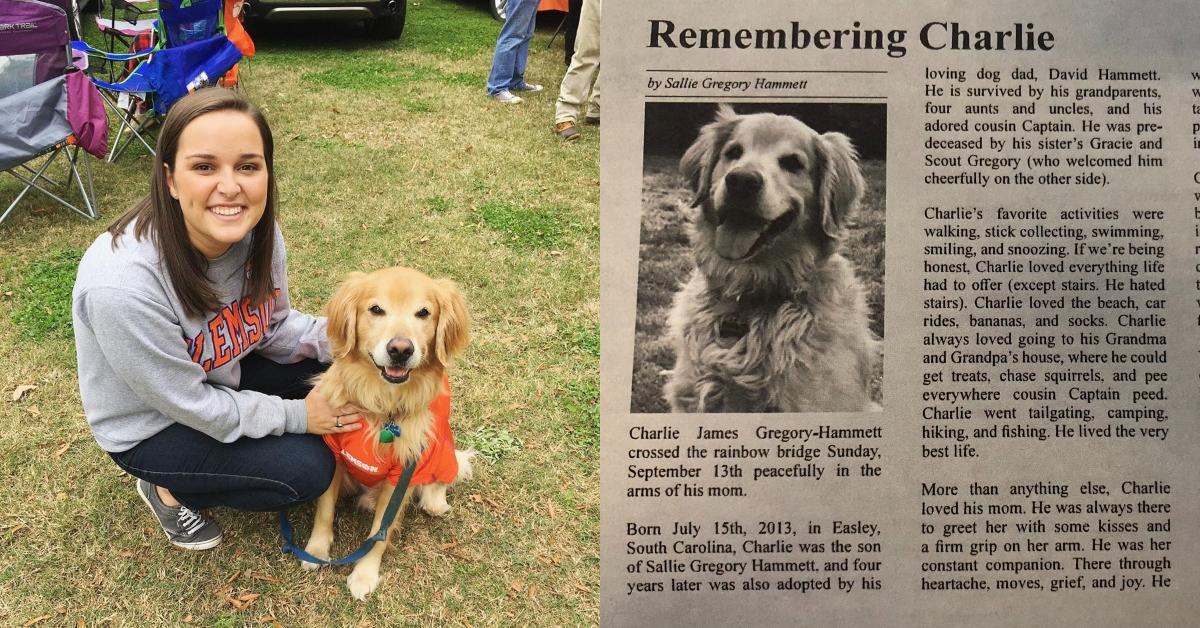 Woman's Touching Obituary for Her Beloved Dog Goes Viral: 'He Was Best At Unconditional Love'
Charlie was the best dog. Sallie Gregory-Hammett loved him so much. And when he sadly lost his battle with lymphoma, she knew he deserved a proper send-off. So, Sallie wrote an obituary for Charlie to share his love with the world.
Article continues below advertisement
Sallie shared the obituary on Twitter, where it went totally viral. If you are a pet owner and animal lover, you know what that very special love is like, and Sallie captures it perfectly in her beautiful tribute to her "best friend."
Article continues below advertisement
Sallie told Huffington Post that she got Charlie, a golden retriever, seven years ago, when she was 23, single, and had just moved to a new place. "I know it's cliché but he was my best friend," she said. "He went with me everywhere — work, hiking, trips to Home Depot. He was just a constant source of comfort and companionship and joy. Everyone that knew me knew Charlie and knew how much I loved him."
When she met her now-husband David, it was a given that Charlie had to like him too. And vice versa. Charlie was there when they got married in a small backyard ceremony in May.
Article continues below advertisement
When Charlie was diagnosed with lymphoma, they were told that he had six to eight weeks to live. Twelve weeks later, they celebrated Charlie's 7th birthday. That was in July. Charlie hung on until September and had a wildly happy last couple of months, filled with trips to the beach, toys, and treats.
Charlie's obituary paints a picture of a good boy who loved life and everything in it. "Charlies favorite activities were walking, stick collecting, swimming, smiling, and snoozing. If we're being honest, Charlie loved everything life had to offer (except stairs. He hated stairs.)," it reads.
Article continues below advertisement
"Charlie loved the beach, car rides, bananas, and socks," it continues. "Charlie always loved going to his Grandma and Grandpa's house, where he could get treats, chase squirrels, and pee everywhere cousin Captain peed.
Article continues below advertisement
"Charlie went tailgating, camping, hiking, and fishing. He lived the very best life ... He was good at a lot of things, but he was best at unconditional love. He taught everyone he met about loving people, and always seeing the good in everyone."
In Charlie's last days, he hung out at the beach, "his favorite place." "He relaxed in Charlie-sized holes he dug himself and dove straight into the oncoming waves," Sallie wrote. "His last days were so happy and will be cherished forever."
Article continues below advertisement
Sallie was absolutely devastated by losing Charlie, and writing this obituary helped her get out all her emotions. "I've always loved writing, and when Charlie passed it was just so overwhelming that I needed to do something cathartic," she said.
Article continues below advertisement
Thanks to Sallie and her obituary, Charlie's memory will live on for her and for so many other people, some who knew Charlie and some who didn't. Pets bring something so special to our lives.
Sallie wrote, "We will think of him every time we open the peanut butter. We will miss him every time we see a sock on the floor or pass a stick on a walk. We will carry him with us everywhere. He will be forever missed and remembered, but he left behind his fierce love, which never wavered. In lieu of flowers, the family asks that you give all your pups some extra love in honor of Charlie."