These Halloween Decorations Prove That 2020 Is the Scariest Year Yet
From pandemics to 12-foot-tall skeletons, 2020 has been quite a year. And people are already making jokes about it with their Halloween decorations.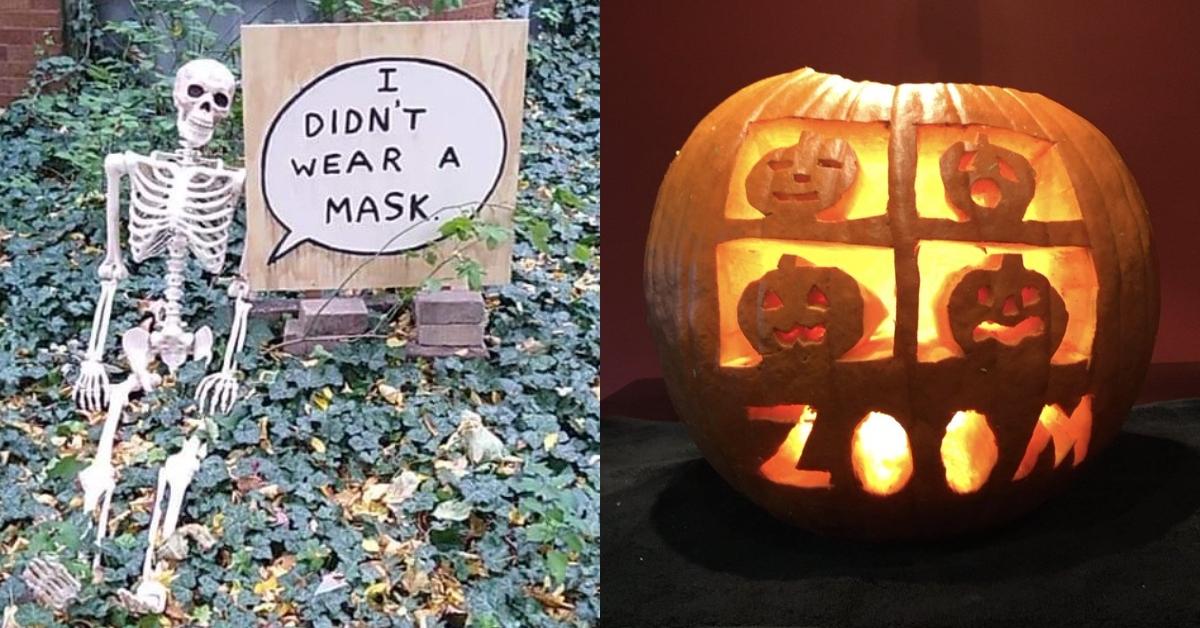 Halloween 2020 is right around the corner, and despite reports that trick-or-treating might be canceled, people are still displaying decorations on their lawn. Hey, we may not be able to go out for Halloween this year, but that doesn't mean we can't bring Halloween to our doorsteps. And the thing about 2020 is that it's just about the scariest year we've faced in a very long time. Some people are using their Halloween decorations to comment on this truly terrifying year we've all been enduring.
Article continues below advertisement
This is genius. I hope it's not realistic, though. I hope we're not still Zooming with each other every night when we're bony old skeletons. Hopefully, by then, we can hug each other again.
This is a Halloween decoration slash dire warning to anyone who doesn't take the pandemic seriously. If you don't wear a mask, you'll end up a skeleton sitting in a patch of ivy, all alone. So wear a mask!
Article continues below advertisement
The carved pumpkin Zoom meeting belongs in a museum. It's so perfect because it's not four people on a Zoom call but four pumpkins. And they all have different expressions. I think the one in the top left just told a story about how they vomited pumpkin guts everywhere.
I mean, this about says it all. 2020 is the scariest thing that happened this year. Yes, the whole year. If you really want to traumatize people with decorations this Halloween, put a giant 2020 on your lawn.
Article continues below advertisement
These pumpkins aren't so much spooky Halloween directions as instructional signs for trick-or-treaters. You better wear your mask and stay two meters (six feet) apart! These might be the most practical pumpkins I've seen this year!
Oh no. Usually funny Halloween lawn tombstone decorations have funny names like Ida B. Dying or something, but this... This is too real. This one lists all the things that have died in 2020, from "office hours in office" to "school" to "sanity." Yikes.
Article continues below advertisement
Wow. I mean, wow. This house meme'd itself in the best way possible. Even though the "This is fine" meme has been around for several years, it has never been as appropriate as it is in 2020.
Even Michael Myers has to just chill for a bit. 2020 has been a lot for the Halloween villain. We all deserve a beer and a lie-down.
Article continues below advertisement
Nothing quite captures the mood of 2020 like that meme of Elmo absolutely freaking out in front of a fire. It was only right he got memorialized on a pumpkin.
If this hilarious sign means nothing to you, that's probably because it doesn't actually make much sense. But it is a reference to a sketch from Tim Robinson's incredible show, I Think You Should Leave, and it's hilarious, and you should watch it. Sure, the show came out in 2019, but it's still making us laugh in 2020.
Article continues below advertisement
Of course people can't resist carving Trump into a pumpkin (or a Trumpkin, if you will). Pumpkins are orange... He's orange... It was unavoidable this year, really.
No Halloween lawn decor in 2020 would be complete without a lengthy letter from your neighbors complaining about it. Honestly, this letter, though weirdly kind of complimentary, is the most disturbing, scariest thing on this list. Explain to your children that it's just decor, and then maybe don't walk past that house for a while! Stop with the strongly-worded letters!