People Share Crazy Messages They've Received From Their 'Neighbors From Hell'
The "Neighbors From Hell" Instagram account will make you glad that you don't live next to any of these people.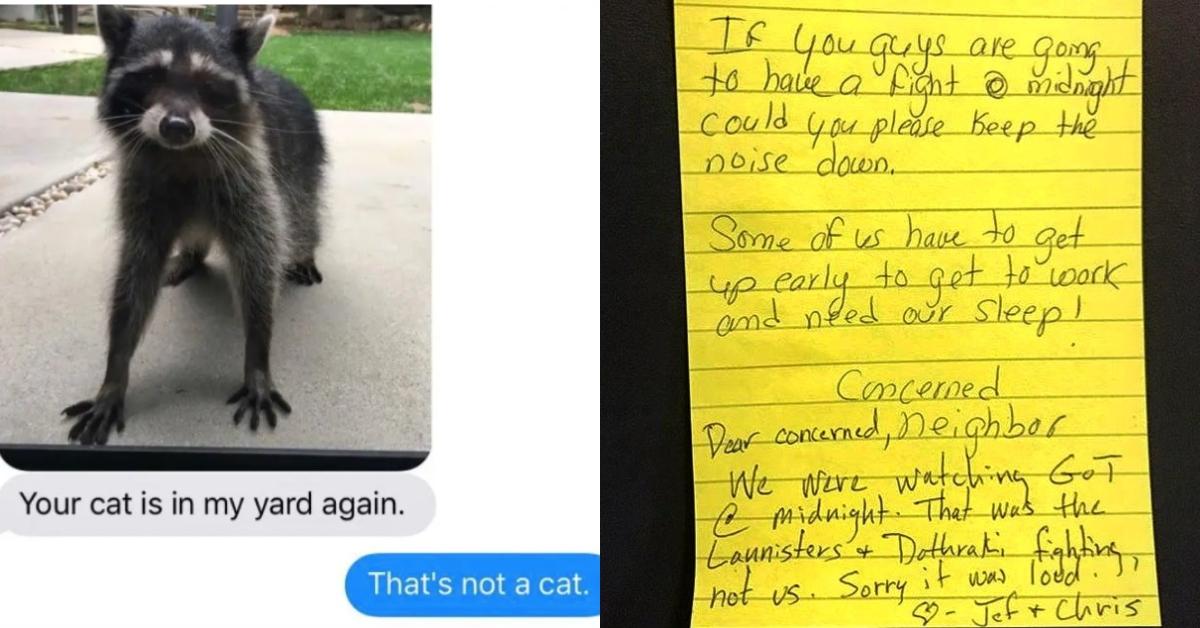 If you've ever had a bad neighbor, you will sympathize with these exchanges. If you've never had a bad neighbor, consider that you might be the bad neighbor. "Neighbors from Hell" is an Instagram account that compiles awful interactions with crazy neighbors, from the hilariously frustrating to the extremely creepy and everything in between. These are some of the most baffling ones.
Article continues below advertisement
Oh my god. This would frustrate the heck out of me. "Starving and lazy" is not an excuse to ask your neighbor to feed you. If I was this person, by the time they asked for parmesan cheese, I would have already changed my mind about giving them some pasta.
Hey! They told you they didn't hire anyone and they had no idea whose truck that is. That's when you say, "Oops, sorry to bother you!" I understand that you're frustrated, Lisa, but your poor neighbor is trying to eat a sandwich, and you're ruining it.
Article continues below advertisement
First of all, that's a raccoon and it's absurd that this person doesn't know that. Second of all, that's a really adorable raccoon and I don't know why you would care if it was hanging out in your yard if it wasn't hurting anybody.
Oh no. How creepy is this? How could you continue living near your neighbor knowing that they lied to their family and told them that you were dating?! This is a big "Heck no!" from me.
Article continues below advertisement
I honestly don't know which neighbor is worse, the one who complained about loud fighting and didn't realize it was actually the sound of Game of Thrones or the ones who played Game of Thrones so loudly at midnight that their neighbor believed they were fighting.
This is so creepy and terrible and I feel really bad for the person taking selfies. It's incredible how some people don't understand that "minding your own business" is always an option. And their response when she refused their help is so gross. This is an obvious case of "guy who thinks he's being 'nice' turns ugly the second he's rejected."
Article continues below advertisement
OK, I'm sorry, but this is hilarious. Imagine calling up a neighbor of one of your job applicants for a reference and him being like, "Oh yeah, man, he sells the best weed!!" I doubt that this person is ever going to rely on their neighbor for a job reference ever again, let alone sell them pot.
Linkedin is such a weird platform. It's supposed to be used for professional purposes, but plenty of people try to connect with friends and neighbors. And I guess if you don't want to connect with someone who isn't a professional contact, but they want to connect with you, you'll be harassed by the app until the end of time.
Article continues below advertisement
It's hard to live right next to someone and hear their every move, especially when they like to watch the same movies or TV shows all over again. Because even if it might be their choice to watch Moana for the 12th time, it's not your choice to listen to it. I want people to be able to live their lives and watch Moana as many times as they want, but I can understand how frustrating this must be for their neighbor.
Oof. It has to be embarrassing to be told that your neighbor can hear you sing in the shower. That's bad enough! But then to get "feedback" on the quality of your shower singing on top of that? No thank you!