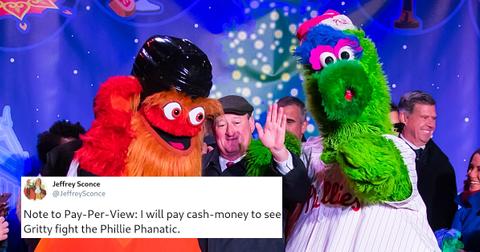 These Phanatic Memes Prove That People Aren't Loving the New Phillies Mascot as Much as Gritty
By Mustafa Gatollari

Feb. 23 2020, Published 7:54 p.m. ET
Is there anything less controversial and devoid of any deeper meaning than a sports mascot? They're basically very niche performative clowns whose sole purpose is to help hype the crowd up in between period and commercial breaks, and provide for some hilarious, if not staged, interactions between audience members.
Which is kind of weird that so many people are having such strong reactions to the new Phillie Phanatic mascot.
Article continues below advertisement
A frumpy, green, and furry creature with Birdo's mouth and a rotund lower abdomen, the Phanatic is probably one of Major League Baseball's weirdest, off-beat characters, maybe in all of sports (not counting Gritty.)
Which is probably why so many people started freaking out over the Phanatic's redesign. But you're going to have to squint to tell the difference, unless you're a die-hard Phanatic ... um, fanatic.