Bering Sea Gold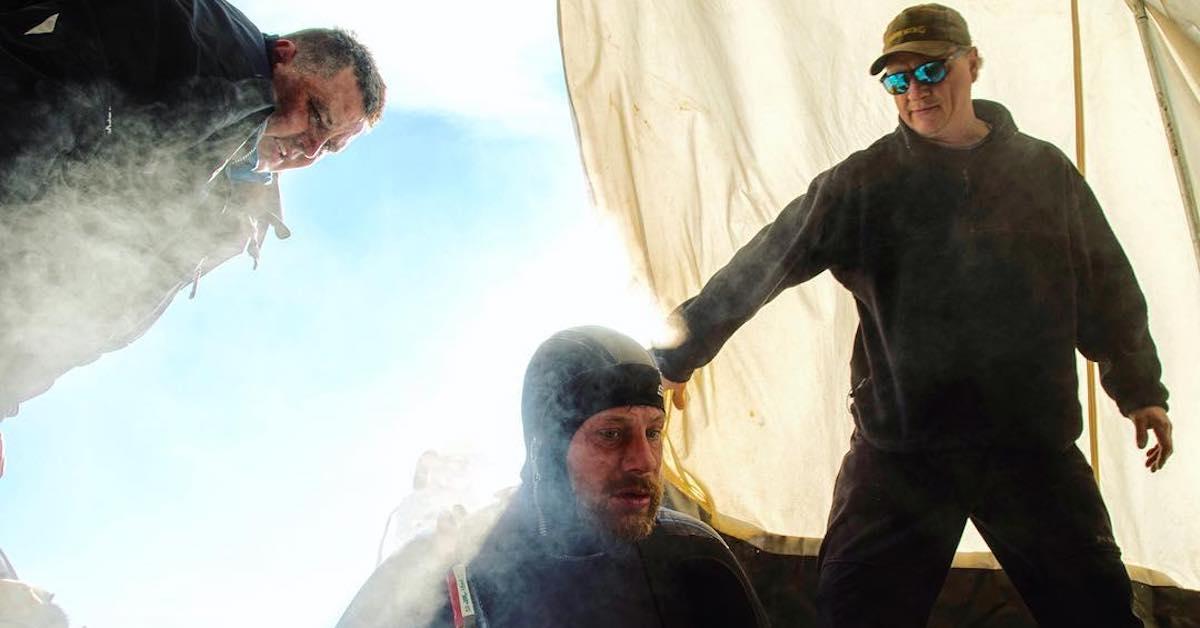 What is Bering Sea Gold about?
The hit Discovery series made its debut in 2012, and it follows several boats that are focused on dredging for gold in Nome, Alaska. Bering Sea Gold centers around the summer dredging season, while Bering Sea Gold: Under the Ice focuses on the winter digs.
The dredges currently featured on the show are Christine Rose (co-owned by Steve and Shawn Pomrenke), The Reaper (owned by Brad Kelly and captained by son Kris Kelly), Myrtle Irene (owned by Ken Kerr Dave Young), Gold Ship Wild Ranger (owned by Vernon Adkison) and The Eroica (captained by Emily Riedel).
Each season, the stakes are raised as the divers/captains look to break gold records and to shatter the profits of their fellow miners.
Who's in the Bering Sea Gold cast?
Shawn "Mr. Gold" Pomrenke (Season 1-) — Unlike many of his Bering Sea Gold co-stars, Shawn actually grew up in Nome, and he comes from a family of miners. His family started with Christine Rose.
Emily Riedel (Season 1-)—As the only female captain featured on the show, Emily is a pioneer in the industry. She went from being a deckhand on The Clark in Season 1 to captaining her own boat, The Eroica. Outside of gold mining, Emily is a talented opera singer.
Steve Riedel (Season 1-) — Steve is Emily's father, and the two went to Nome together in Season 1 to give dredging a try. He was a diver on Wild Ranger in the first edition of the show. While Emily is still dredging, Steve only appears on the show sporadically.
Brad Kelly (Season 3-) — Brad is the head of the Kelly family, and he was the one who decided that the family should try mining in Nome. He started as a diver for The Minnow, and the family now owns Reaper Mining.
Kris Kelly (Season 3-)— Kris began his reality TV career as a diver in Season 3, and he's lived under the shadow of his father's legacy. In recent years, he's taken over as the head of the family operation, and he's more than eager to prove himself once and for all.
Andy Kelly —As Kris' younger brother, Andy sometimes has a hard time taking directions. He's the diver for Kris on The Reaper.
Zeke Tenhoff (Season 1-Season 9) — After appearing on 74 episodes and working as the captain of The Clark, Zeke all but vanished from the show. He dated co-star/childhood friend Emily Riedel, but their romance and their working relationship fizzled out by 2017.
Ken Kerr (Season 10-) — He went to Alaska after mining in New Mexico, and he's the business partner of Dave Young. He founded two mining companies, and he's working on Myrtle Irene, which is the largest dredge in Nome.
Dave Young (Season 8-) — After buying the old Gold Nome property, Dave made an enemy out of Shawn Pomrenke. He and Ken later renamed it Arctic Gold. His younger brother, George Young, is also involved in the family business.
Vernon Adkison (Season 1-) — He's made a series of unsuccessful financial decisions, meaning that he needs to strike it big on the catamaran called the Gold Ship Wild Ranger. Vernon is also the father of Elaine and Yvonne Adkison, who appear on the show from time to time.
Daryl Galipeau (Season 2-) — Daryl has worked as the trusted lead diver for Emily Riedel, and on Season 12, he's assisting her on The Eroica.
Where is Zeke from Bering Sea Gold?
In Season 1, Zeke Tenhoff was the owner and captain of The Clark, a dredge that he had built with his own hands. After 2017's Season 9, Zeke stopped appearing on the show.
It's unclear why exactly Zeke left the show, as he is not active on social media. He had a relationship with Emily that ended, but the two still worked together after their split.
Who is Emily from Bering Sea Gold?
Emily began the series as a deckhand for The Clark, which was owned by her childhood pal, Zeke Tenhoff. As time went on, Emily got more involved in the mining business, and she now runs The Eroica.
She first got into mining as a means to make quick money, as she wanted to pay for graduate school for her opera singing. More than a decade after taking a chance on a new career, Emily is still working in Nome and upping the ante each season.
Where can you watch episodes of Bering Sea Gold?
Season 12 of the reality series is currently airing on Fridays at 8 p.m. on the Discovery Channel. Those with cable subscriptions can also catch up on old episodes on the Discovery Go app, or on Go.Discovery.com.
If you don't have cable, you can still watch the series on Hulu.
Latest Bering Sea Gold News and Updates