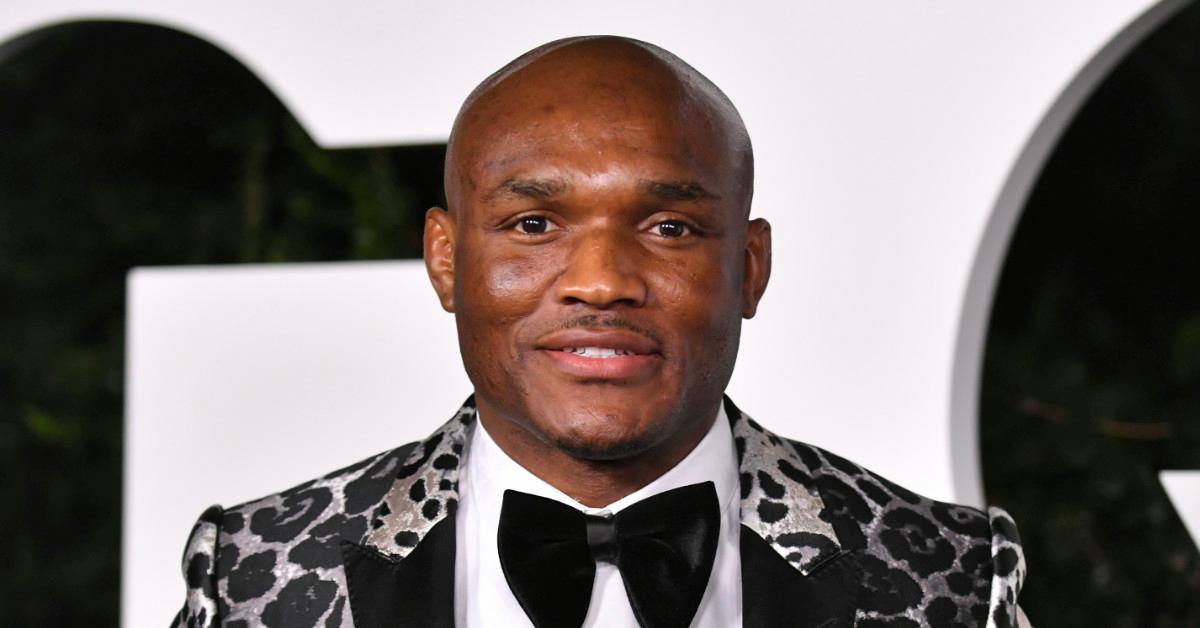 UFC Star Kamaru Usman Is Talking Retirement, but He Still Has Some Fight in Him
Sounds like Kamaru Usman isn't letting a little hand surgery stop him from his pursuit of UFC glory. The 34-year-old, whom ESPN has ranked the best MMA fighter in the world pound-for-pound, recently went under the knife, but he's already making big plans for this year.
Article continues below advertisement
"In 2022, I'm gonna shock the world," Kamaru told TMZ Sports last week. "July, International Fight Week, I'm gonna fight Leon Edwards. God willing I get through Leon Edwards, September, Mexican Independence Day, I will stop Canelo Alvarez."
Here's more about Kamaru's recent surgery and his comments about his UFC future…
He recently had surgery to repair ligament damage in his hand.
Kamaru had surgery to repair a ligament in his hand recently, as manager Ali Abdelaziz of Dominance MMA confirmed to ESPN in February. In fact, UFC President Dana White even posted graphic "before and after" photos of the operation to Instagram around the same time. (Be advised that the photos are not for the squeamish.)
Article continues below advertisement
Ali wouldn't tell ESPN which hand had the damaged ligament, but he did say that Kamaru was gearing up for a comeback in time for the UFC's annual International Fight Week, which is scheduled for July 2 at T-Mobile Arena in Las Vegas this year.
He's raring to fight Canelo Alvarez.
Talking to TMZ Sports last week, Kamaru said that he wanted to fight Canelo Alvarez, who's ranked as the world's top boxer, and speculated that the fight could earn both of them $100 million each.
Article continues below advertisement
"Absolutely, I see myself winning that fight," he added. "A lot of people are gonna say, 'You can't do it. No, he's too good, he's too skilled, too strong.' Yeah, they said that about Tyron Woodley. He's too big, he's got knockout power, he's fast, he's explosive. What happened? I told him I was gonna dominate him for five rounds, and I did that. I'm not gonna step in there if I don't think I can get it done."
Article continues below advertisement
But he has also hinted at retirement.
In November, the Nigeria native told reporters that he might be ready to hang up his gloves soon. "You know, I'm in a point in life to where I understand how much this takes from you," he said, per MMA Fighting. "I've been nine weeks now away from my daughter, and FaceTime does help, but it doesn't do it justice, as far as being there each and every day. So obviously, I don't know how much longer I'm willing to do this."
He went on, citing a desire to retire when he's ready. "I want to be that champion who does it all," he said. "I want to do it on my own time, like Khabib [Nurmagomedov]. I know a lot of people have been throwing a lot of shade, saying a lot of things about Khabib leaving when he wanted to leave. That's how you do it. Even Georges St-Pierre, that's how you do it. You leave when you want to. You don't let the sport retire you. So yeah, when I feel like that time's there, it's time for me to go."