Nairo Released a Statement Claiming Zack Was the One Who Sexually Abused Him (TW)
Today, former 'Smash Bros' gamer Nairo released a statement revealing his side of the recent allegations against him, involving Zack Lauth.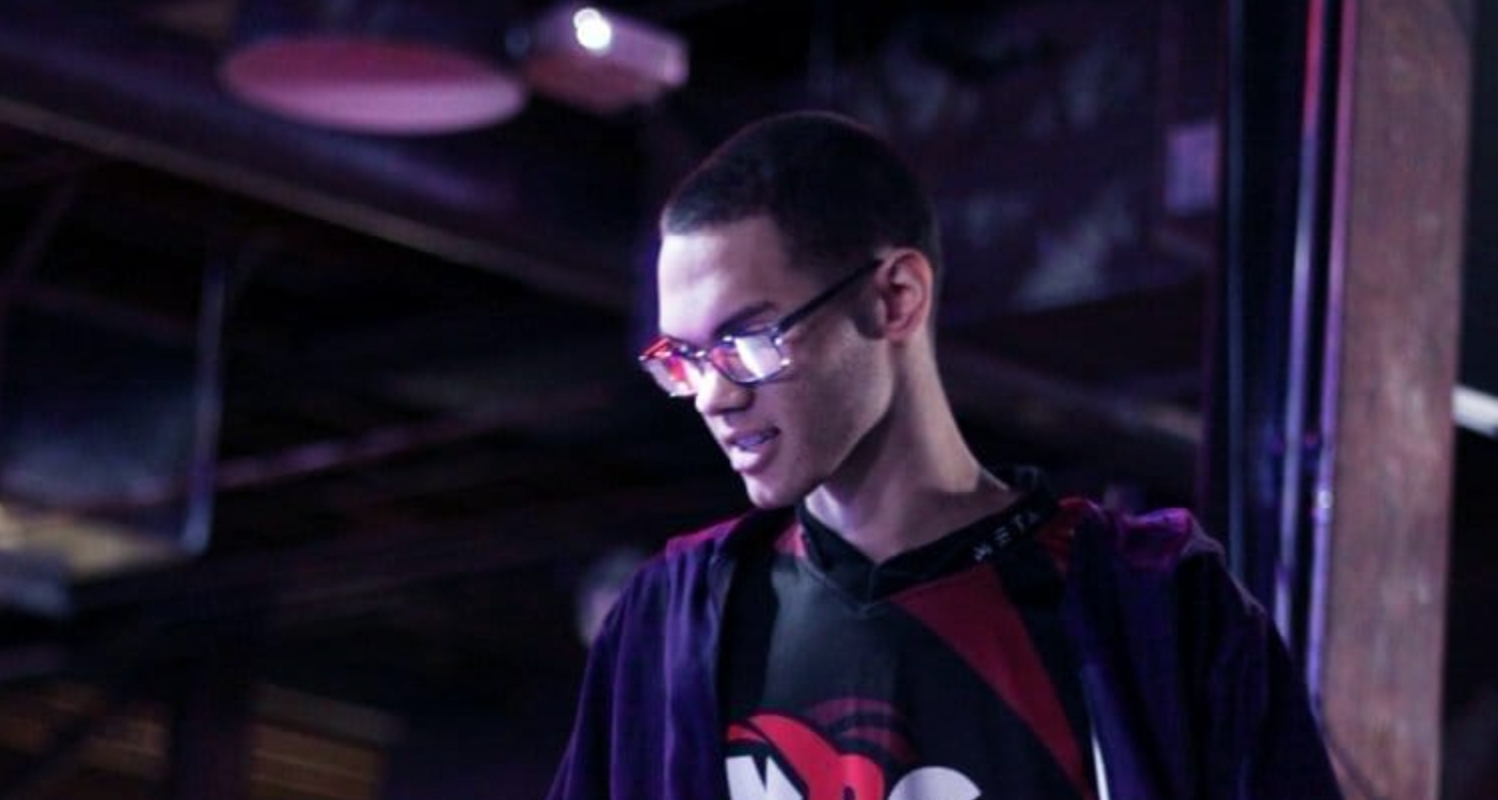 In July 2020, it was reported that former Smash Bros. gamer Nairoby Quezada (who goes by "Nairo") had been accused of being in an inappropriate sexual relationship with gamer Zack "CaptainZack" Lauth in 2017. Zack was 15 and Nairo was 20 when this allegedly happened. NRG Esports tweeted an official statement, writing "This morning we were made aware of disturbing information involving Nairo. We take these situations incredibly seriously. NRG has severed all ties with Nairo."
Article continues below advertisement
Zack claimed that Nairo and his manager (who happens to be his brother) Kelvin "ksizzle" Quezada, gave him "hush money" to not speak out about the alleged abuse, and to lie about what happened after another gaming community member spoke out about it.
Article continues below advertisement
Zack said, "I was told that by 'doing my part' by not telling anyone about our relationships, I'd receive financial help from him. The first $2,000 that I was sent was equal to the amount that I would have received from my sponsorship had I not been dropped. This was after the Ally situation came to light. Nairo IMMEDIATELY started calling me because some people were trying to bring our situation to light."
After a brief back-and-forth which involved Nairo initially denying anything had happened, he finally tweeted an apology, saying, "I'm not making excuses. My behavior was wrong."
Article continues below advertisement
However, today, Nairo took to Twitter and claimed that Zack had raped him — not the other way around.
Article continues below advertisement
What happened to Nairo?
After staying virtually silent since late June, Nairo opened up about his side of the story, detailing that Zack had sexually assaulted him and then threatened to tell everyone they were in a sexual relationship if Nairo turned him down or didn't pay him the amounts Zack claimed was "hush money." Nairo wrote a statement, available on Medium, that says, "The truth is I was never in a relationship with Zack nor was I ever interested in him." It all started when Nairo reluctantly let Zack stay in his hotel room during CEO Dreamland. He woke up to Zack "forcefully performing oral sex" on him.
Article continues below advertisement
"I yelled at him to stop, but he refused, and he only stopped once I managed to push him off me. I was so shaken up by everything — what he just did, his betrayal of my trust in letting him stay — that I just shut down," Nairo wrote. He claimed that Zack tried to do it again the next day, and threatened to blackmail him if Nairo didn't comply. "He kept pressuring me despite my pleas and when I told Zack to leave, he threatened to expose me, saying he'd tweet out that we did sexual things. I couldn't believe it and begged him to stop this, but Zack held that over my head," Nairo wrote.
Rumors about an inappropriate relationship between the two began to surface in August 2019, and Nairo claims Zack was the source, since he was the only one who knew about what happened. Zack was dropped by his sponsor, and that's when Zack started to demand money from Nairo. Nairo wrote that after a long time of anxiety and depression, he finally came to terms with what had happened: "After the allegations came out, I was so crushed at how my silence had been worthless in the end and broke down, eventually opening up to my brother and closest friends about my story. That was when I learned that what happened to me did have a word. I was raped."
Article continues below advertisement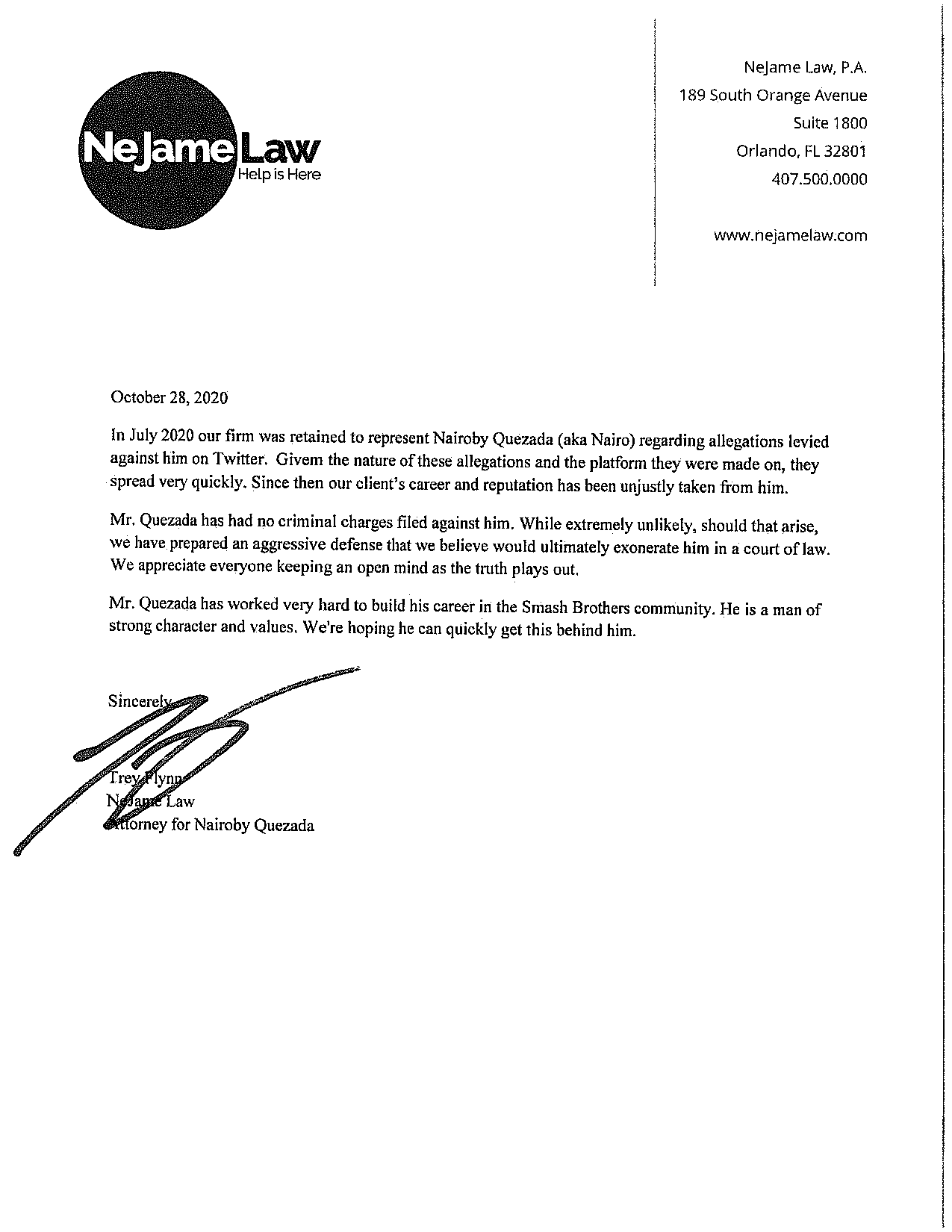 Currently, Nairo's lawyer has taken over the allegations and is working on clearing Nairo's name. Nairo is also in therapy.
Article continues below advertisement
Several high-profile gamers are on Nairo's side and are urging everyone to read Nairo's statement. Gamer CLG Void spoke out, writing, "I have seen the 30 page document and the evidence spoken of here. I won't be saying much else about the situation as I legally can't. I'd appreciate it if you guys could at least give this a read. I believe Nairo & support his voice."
Article continues below advertisement
Another, Cosmos, tweeted, "I have read through the 30 page document, and seen the evidence, so I can confirm that it does exist. I am legally bound from saying anything more, but I believe Nairo. I am here to I support his voice, so if you will, please just read through it, it really won't take long."
Article continues below advertisement
Zack has yet to respond to Nairo's allegations against him.
If you need support, The National Sexual Assault Hotline is available 24/7 at 1-800-656-4673. You will be connected with a trained staff member in your area. Or visit RAINN.org to chat online with a support specialist at any time.