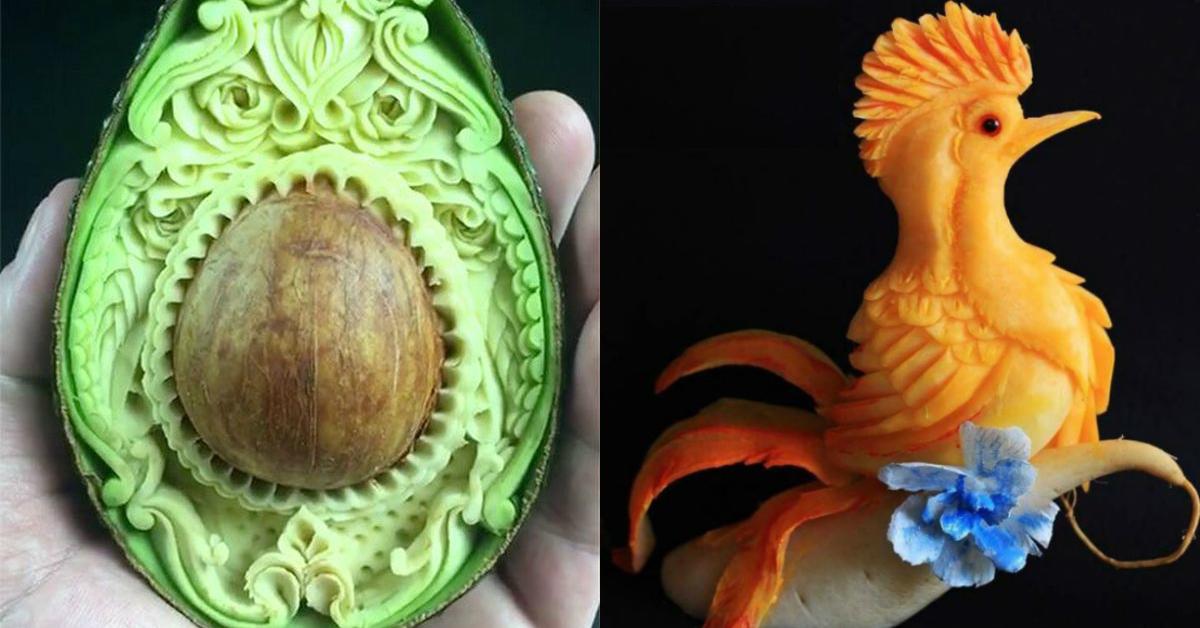 This Food Sculptor Turns Fruits And Vegetables Into Mind-Blowing Pieces Of Art
By Mustafa Gatollari
Some of the most beautiful things in life are, functionally speaking, absolutely useless, according to John Ruskin.
Now you might not agree with that statement fully. There are tons of totally functional things that are pretty damn good looking. Take a nice car, for example. Or an expertly crafted knife.
But then you look at peacocks, and high-heeled shoes, and spoilers on Toyota Corollas, and then you can kind of see where Ruskin is coming from.
And turning your food into an incredible work of art won't really make your food taste any better, but dagnammit, it's pretty darn cool.
Daniele Barresi's a 26-year-old Italian food sculptor and artist who's been posting his gorgeous creations to social media.
Barresi's avocado artwork been turning a lot of heads (blame millennials) but the squishy green delight isn't the only thing he can carve the hell out of.
Barresi's fruit-carving journey began seven years ago, when he spotted some works of food art at a wedding.
He spoke about that momentous day with Mashable:
"From that day I tried to find more information about it and I started with an apple. I saw something which excited me. Day by day, pumpkin by pumpkin, I realised that it was time to participate in a competition to know what people and judges think about my skills."
In his first carving competition in Italy, Barresi took home a bronze medal. The following year in Switzerland, he won a gold medal, and got gold again the next year in Luxembourg.
He's also judged other contestants at a competition in Taiwan and has been steadily growing his social media presence by posting his amazing creations to Instagram and Facebook.
Barresi's a pastry chef by trade, and decorates his delicious desserts and treats with beautifully sculpted fruit creations.
Even without carvings, he can make some pretty incredible looking desserts.
As for the time that Barresi spends on his edible pieces of art? It all depends.
"The avocado took me just 40 minutes. Yes it is complicated but it is a small size. A watermelon take me from 30 minutes to 6 hours. Same with pumpkin."
Barresi might spend a lot of time on his fruit carvings, but his passion really shows in his work.
And what's better than loving what you do for a living? Even if it is a niche hobby that involves applying Thai techniques and embroidery to manipulating the shape of fruit. (h/t mashable)