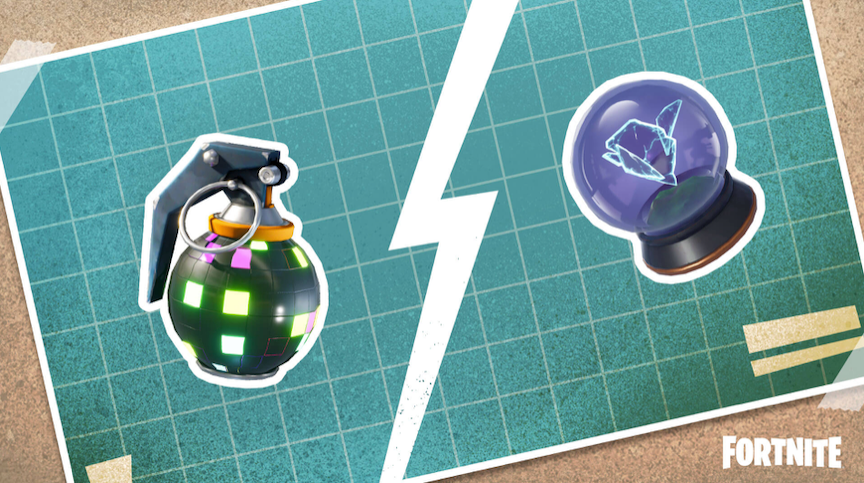 Players Can Vote Between the Boogie Bomb and the Rift-to-Go in 'Fortnite'
By Sara Belcher

Apr. 22 2022, Published 4:21 p.m. ET
The IO's invasion of the Fortnite map is still happening, and to help players in their fight alongside the Resistance, Epic Games has been bringing back certain weapons and items.
Already the Light Machine Gun and the Heavy Sniper Rifle are set to return, and now players can choose between the Boogie Bomb and the Rift-to-Go.
Article continues below advertisement
Players can test both the Boogie Bomb and the Rift-to-Go in 'Fortnite' for a limited time.
One of these two items will be brought back into the game — but it's up to the players to decide.
The Rift-to-Go was originally introduced to Fortnite in mid-2018, providing players with a way to teleport themselves out of danger through a temporary rift. The rift can also transport more than one player, meaning you can bring a team of allies through the rift — or an enemy could follow through the rift behind you.
Article continues below advertisement
The Boogie Bomb, on the other hand, forced any player within the bomb's radius to dance for five seconds (or until they take damage). This means they cannot fire, run, build, or protect themselves in any way until the effects wear off.
Both of these items have been vaulted for some time, but for just a few days, the Rift-to-Go and the Boogie Bomb are back in play. Starting on April 22 and going until April 25, players can find both of these items in chests and loot drops.
Article continues below advertisement
'Fortnite' players will vote on which item to bring back to the game.
As part of this season's fight against the IO soldiers, new items are being brought back from the vault to help players support the Resistance and take down the IO.
Both the Boogie Bomb and the Rift-to-Go will be available in-game for a few days, but afterward, players can spend Gold Bars at Funding Stations to vote which one they want to be unvaulted for the rest of the season.
This isn't the first set of options Epic Games has given players to give them more control over the game and what items and weapons they use — and with the fight against the IO still underway, it likely won't be the last.