Crush Your Enemies With Runaway Boulders in Season 3 of 'Fortnite'
Runaway boulders are the newest way to crush your enemies in 'Fortnite' (literally). Here are their locations so you can complete the challenge.
Season 3 of Fortnite's third chapter is all about the vibes — and with the new season comes an array of new weapons and abilities. Not only did the game bring back the Ballers (and give players a rollercoaster to ride on with them), but there are also other creative ways that have been implemented in the game to take out your opponents.
For example, in this season, players can dislodge runaway boulders to crush their enemies like in a slapstick cartoon — but where are they located?
Article continues below advertisement
Where to find the runaway boulders in 'Fortnite.'
To complete the quest, you'll have to first locate the various runaway boulders that are scattered around the map. As is expected, you can find these in more mountainous areas of the map, specifically in the upper left quadrant. You'll find the biggest concentration of runaway boulders in the snow biome — which makes sense. The boulders would need to be located up high if you want to dislodge them and have them gain any traction.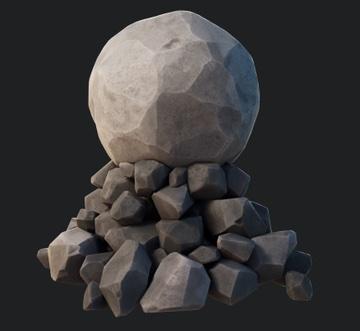 Article continues below advertisement
If this doesn't help you, there are plenty of boulders located above the Rave Cave, making that a good place to begin your search.
Unfortunately, there isn't an exhaustive list of all of the specific locations around the map where you can find these runaway boulders, but your best bet is to search somewhere on high ground until you come across them. There are quite a few of them around the map, so they shouldn't be too difficult to find.
How to dislodge the runaway boulders.
Before you locate the runaway boulders, you'll want to make sure you have the right tools to dislodge them, or you won't be able to complete the challenge. You'll need either a melee weapon or one of the Ballers to successfully break the rocks haphazardly holding up the runaway boulders. The Ballers are located at the Rave Cave, so if you start there you should be able to grab one before you begin your hunt for the boulders, given that you get to the area before other players have grabbed them.
Article continues below advertisement
If you decide to go the melee weapon route, you'll want to make sure you're equipped with something that's good for close-range combat, like a harvesting tool or lightsaber.
Once you've obtained one of these items and located the runaway boulder, you'll want to aim for the rocks that are holding it up. With your melee weapon, you'll have to hit the rocks a few times to break them, but once you do, the boulder should roll away from you down the hill.
If you're trying to break the runaway boulders with your Baller, you'll want to boost at the rocks. Again, this may take a couple of tries before it's successful, but as long as you follow the prompts given to boost your Baller, it should work.
It's also important to remember that the Ballers can't be recharged, so be sure to save enough energy to complete this quest before you use it up and have to discard it.