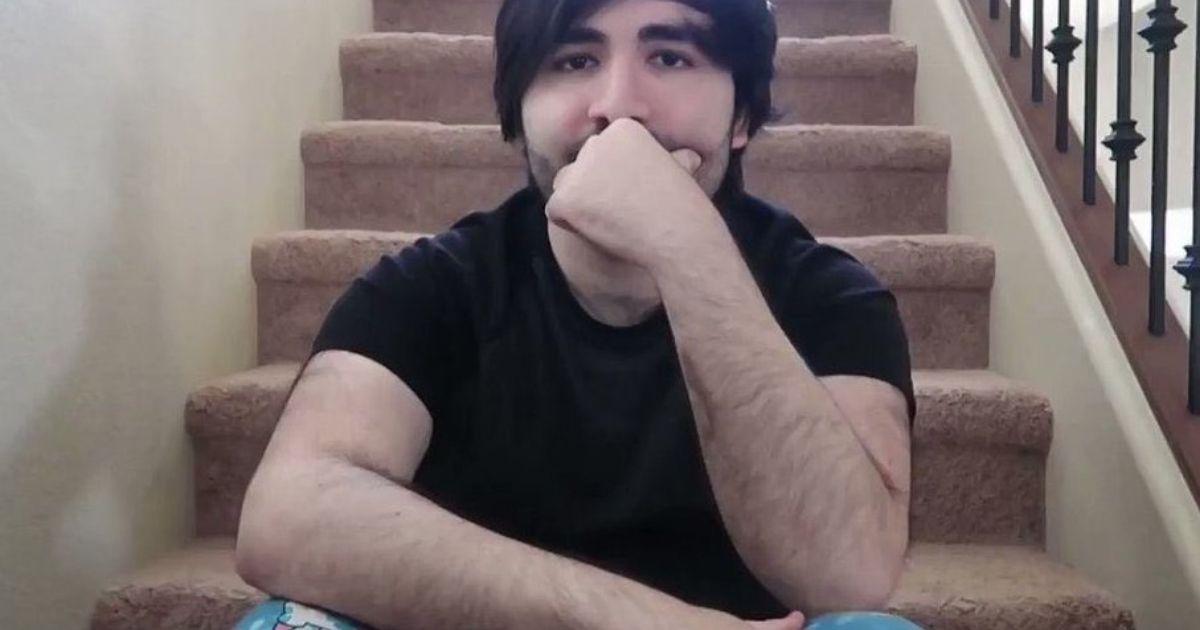 Popular Twitch Streamer Voyboy Banned From the Platform
One of the largest social platforms that's on the rise has been Twitch. The platform allows people to go on and do livestreams. Podcasts and live playing video games are two of the most popular content that are streamed on the platform, and it has a wide and diverse group of streamers.
Article continues below advertisement
There are strict rules on what's allowed on the platform, and when that's broken, users can get banned. It's happened a handful of times, even to popular streamers and that brings us to Voyboy. So why did Voyboy get banned? Here's what we know.
Why did Voyboy get banned from Twitch?
On Nov. 5, 2020, Twitch streamer Voyboy posted on Twitter that he was banned from the platform. Why did Voyboy get banned? The situation seems to be a little complicated and there's not really a straightforward answer yet.
Article continues below advertisement
Voyboy, who is a professional League of Legends streamer, was given a ban from Twitch after his Nov. 5 livestream. He tweeted, "Uhm. Was just streaming League five minutes ago when looks like my @Twitch account got banned..."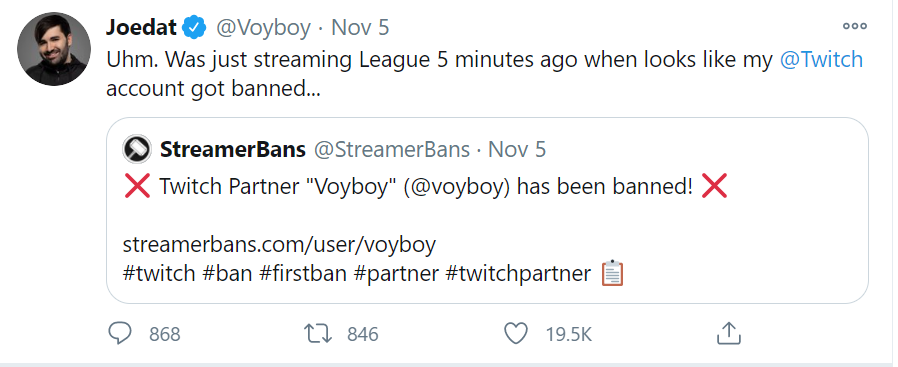 Article continues below advertisement
It seems pretty typical of Twitch to not give out too many details when a ban takes place. Even the user who was banned themselves aren't given information on what led to the decision. Often the users are emailed a form letter that tells them they've been banned, had their services restricted, or are not able to use certain services for a period of time.
For Voyboy, he said that he wasn't notified but heard about the ban from Twitter. Given the notice that he was banned, fans started to speculate as to what his ban was a result of. Several Reddit threads popped up discussing Voyboy and the ban he received, and there seems to be an internet consensus.
Article continues below advertisement
The internet believes that the reason Voyboy was banned from Twitch could have been related to a DMCA claim. According to Polygon, Twitch has been actively searching out any issues to content — new or old — that's related to DMCA claims, often related to music use.
Article continues below advertisement
"DMCA, the Digital Millennium Copyright Act, controls how copyrighted material is used online, and there are provisions that protect platforms from litigation should the platform remove the offending material once notified about the infringement," Polygon reported in October 2020. "Twitch uses a three-strike policy for its users — if you get three strikes, you're banned."
Article continues below advertisement
NME reports that Voyboy has a playlist on Spotify that is dedicated to streaming music, and it's likely one of the songs played while he was streaming live that led to the ban. And the ban was likely a result of one of the older videos where he was still using music, given as of late he's been streaming without music.
"DMCA strikes are notorious for sniping old videos, and even occasionally flagging fan-made clips associated with professional accounts," NME reported.
While there hasn't been any confirmation from Twitch reported, nor has Voyboy shared if he knows anything further, given the fact that he has been "comparatively free of controversy," according to NME, it's hard to come up with what else it could be.
It's not clear at this time if the Twitch ban is permanent or temporary.