Wordle Might End up Costing Money After Its Recent 'NYT' Deal
Wordle, the popular word guessing game, was just bought by a major newspaper. What does this mean for our latest pandemic obsession?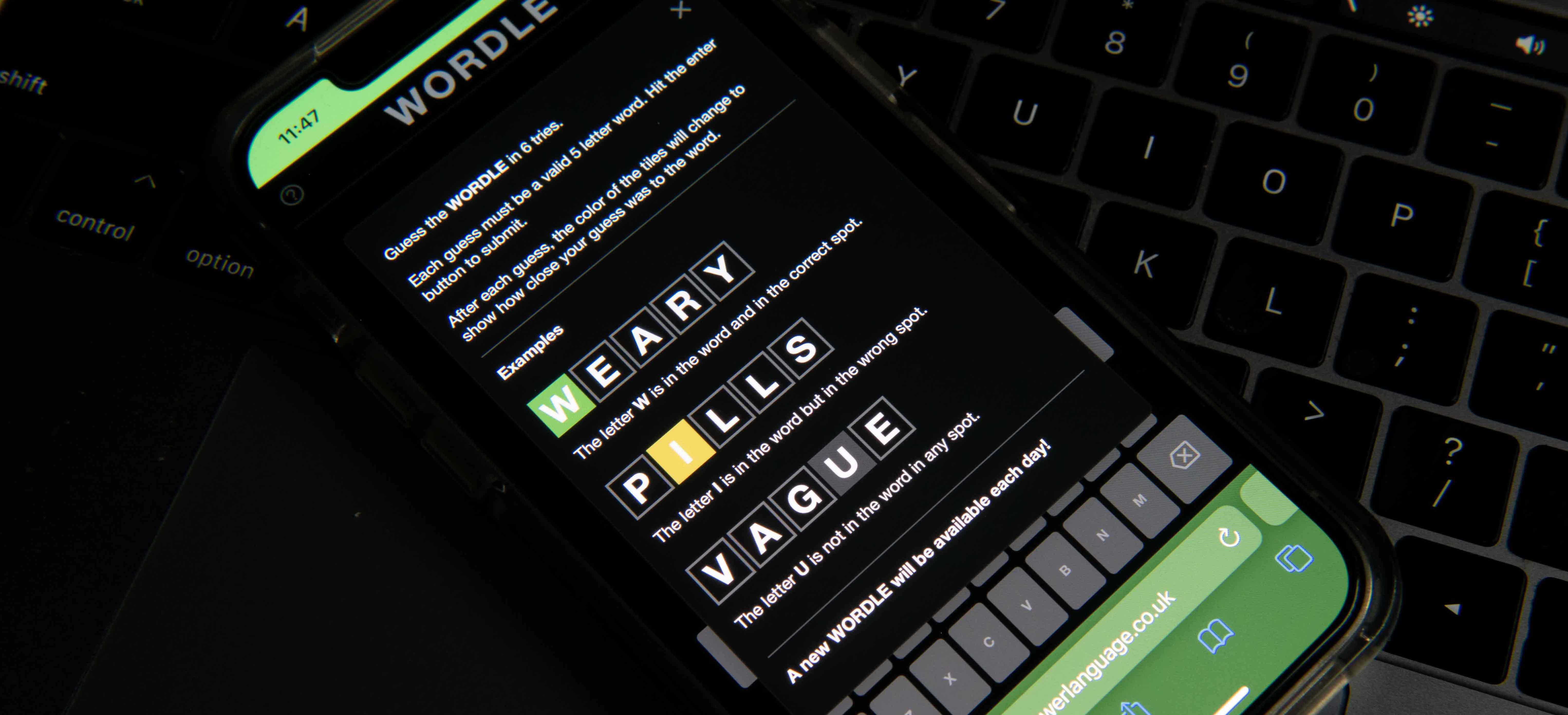 With the popularity that Wordle has gained in the past few weeks, money was bound to start flying around eventually. As one of the first new fads of 2022, Wordle united people everywhere under a black, yellow, and green banner. Right now, it's a fun daily mental exercise that basically helps refine your vocabulary every day, and it's free to boot. But with its recent acquisition from The New York Times, could we be seeing paywalls for Wordle in the future?
Article continues below advertisement
Wordle is a simple and fun word game. Players have six chances to guess a particular five-letter word within a set of boxes. After each word guess you make, the game tells you which letters are right, which letters are wrong, and which letters have to be shuffled around. If you can guess what the correct word is within six attempts, then you earn bragging rights for the day, especially if you manage to guess correctly in fewer than six attempts. But fans might have to pay up for more attempts in the near future.

Article continues below advertisement
Will Wordle cost money? The 'NYT' just acquired the game.
Up until this point, Wordle has been very easy to get into. It's not an app, so there's nothing to download and take up space on your devices. And it's even been free since its October 2021 launch. Simply fire up the game in Power Language on your device of choice and get to guessing. It takes up minutes of your day to play, providing a nice little break from whatever you might be doing. And the once-a-day format means you don't have to worry about the game monopolizing your attention span.
But the Wordle wonder couldn't possibly last forever. At the end of January 2022, The New York Times announced that it had acquired the tiny browser game for a price in the "low-seven figures." The newspaper released a press statement commenting on the acquisition.
Article continues below advertisement
"As The Times looks to entertain more solvers with puzzles every day — especially during these anxious times — we're thrilled to announce that we've acquired Wordle, the stimulating and wildly popular daily word game that has become a cultural phenomenon," the publication stated. "Wordle, which gives players six tries to guess a five-letter mystery word, will join New York Times Games's portfolio of original, engaging puzzle games that delight and challenge solvers every day."
Wordle creator Josh Wardle even offered his own words on the acquisition and his enthusiasm with the deal.
"I've long admired the NYT's approach to their games and the respect with which they treat their players," Wardle said in a statement posted to Twitter. "Their values are aligned with mine on these matters and I'm thrilled that they will be stewards of the game moving forward."
Article continues below advertisement
Reportedly, the newspaper doesn't plan to make any drastic changes to the game as of yet. Wardle even stated that players' current win counts and streaks will be preserved moving forward. But if you've ever tried to read more than a handful of articles on The New York Times, there's cause for concern.
Article continues below advertisement
'The New York Times' loves its paywalls.
Ever try Googling a source for your writing, finding the perfect one, but then learning you've used one too many free articles on that particular site and can't access the one you need? Chances are you've been at the receiving end of that, courtesy of The New York Times. The news publication is infamous for offering up to 10 free articles a month on their site before blocking you from their content unless you become a paid subscriber.
As such, the internet is endlessly worried over what the NYT business model means for Wordle. Replying to the Times' tweet about the acquisition, one user commented: "If we can't even read the article for free there's no chance the game will be..."
One user even referred back to their Jan. 17 tweet which reads "I am dreading the inevitable monetization of Wordle."
As of now, only time will tell if Wordle will be the same in the coming weeks.