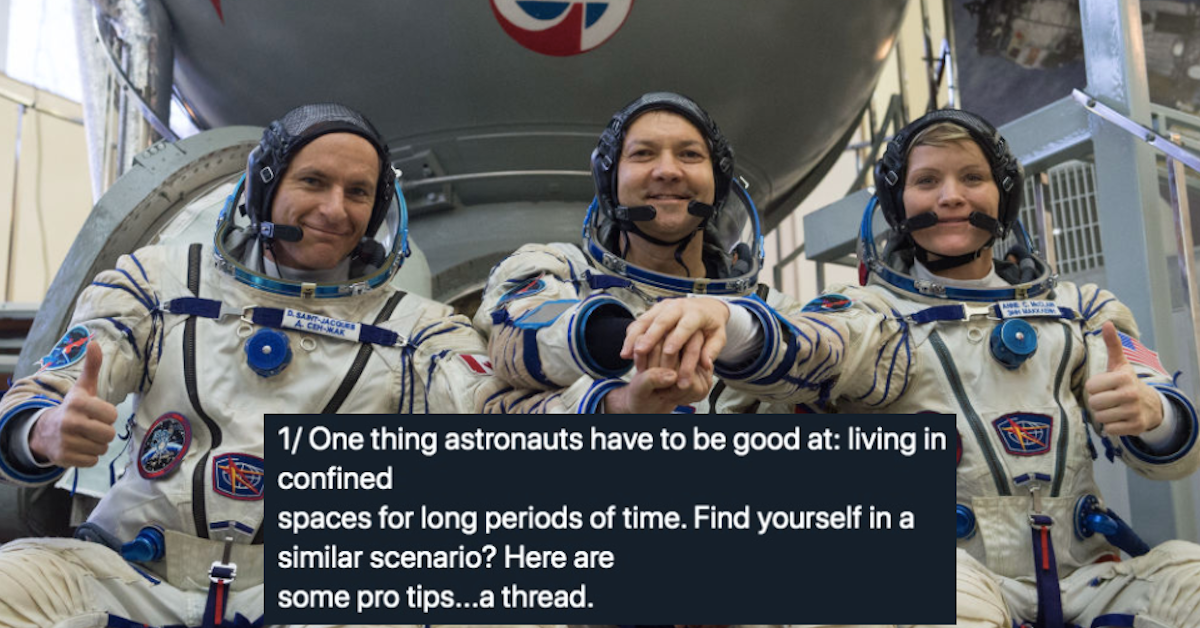 Astronaut Provides Helpful Tips for How to Survive in Confined Spaces
Anne McClain is a real-life astronaut who has spent a lot of time up in space in confined spaces. She thought that was pretty relevant to the current crisis we're facing. People are over the world have been told to shelter in place, to stay in their homes unless there are essential reasons they need to leave.
Though most of our homes have more room (and gravity!) than space ships, Anne thought she'd share what she has been taught about surviving in small spaces for extended periods of time. I found her thread quite calming and useful. I hope you do too.
Article continues below advertisement
Astronauts are definitely pros when it comes to surviving in confined spaces for long periods of time. But Anne didn't come by all this helpful knowledge on her own. Astronauts are trained in behaviors, habits, and attitudes that help them thrive in difficult situations.
These behaviors were identified by a few key people, including astronaut Peggy Whitson, who holds the current record for the most time spent in space with 665 days, and psychologist Dr. Al Holland. I think they probably know what they're talking about.
Article continues below advertisement
These five skills are referred to as "Expeditionary Behaviors," and they help astronauts survive and thrive in every situation they are faced with. Practicing "Good EB" can make your time in seclusion from others much more bearable. Productive, even!
Article continues below advertisement
Communication
How important is communication? We hear it all the time when it comes to relationships. Being clear in your communication — what you say as well as how you listen — is essential to success.
Anne writes that Good EB when it comes to communication includes, "Share info / feelings freely. Talk about intentions before taking action. Use good terminology. Discuss when your or others' actions were not as expected. Debrief after success or conflict. Listen, then restate message to ensure it's understood. Admit when you're wrong."
Easier said than done, for sure, but definitely worth the effort.
Article continues below advertisement
Leadership / Followership
This is perhaps more important in teams that are trying to, you know, successfully run a space mission, but it still applies to anyone who is sheltered at home with a partner, a roommate, or any other people.
Good leadership / followership EB, according to Anne, means, "Accept responsibility. Adjust style to environment. Assign tasks, set goals. Lead by example. Give direction, info, feedback, coaching, and encouragement. Ensure teammates have resources. Talk when something isn't right. Ask questions. Offer solutions, not just problems."
Article continues below advertisement
Self-Care
Only in recent years has the importance of self-care come to the forefront of our thinking. If you're not physically and mentally taking care of yourself, there's no way you're going to be successful in anything else you attempt to accomplish. It's so important. Even though we are stuck at home, it's important to be physically active, get outside if you can, eat well, and maintain personal hygiene.
Anne writes that good self-care EB means, "Realistically assess own strengths and weaknesses, and their influence on the group. Learn from mistakes. Take action to mitigate stress or negativity (don't pass on to the group). Be social. Seek feedback. Balance work, rest, and personal time. Be organized."
Article continues below advertisement
Team Care
Taking care of yourself is important, but so is taking care of your team members. In this case, your team members may be your friends, family, partners, kids, roommates, etc. Even if you can't be with everyone you care about, you can still maintain connections over the phone, the computer, video chat, and more. And that sort of connection is more important than ever.
Good team care EB? "Demonstrate patience and respect. Encourage others. Monitor team for signs of stress or fatigue. Encourage participation in team activities. Develop positive relationships. Volunteer for the unpleasant tasks. Offer and accept help. Share the credit; take the blame."
Article continues below advertisement
Group Living
Last but not least, group living. If you live with someone, even if it's your spouse, chances are you usually don't spend this much time in close quarters on a regular basis. It's an adjustment to learn how to cooperate and thrive in this new reality.
Anne writes that good EB for group living includes, "Cooperate rather than compete. Actively cultivate group culture (use each individual's culture to build the whole). Respect roles, responsibilities, and workload. Take accountability, give praise freely. Work to ensure positive team attitude. Keep calm in conflict."
Article continues below advertisement
"We are all astronauts on planet Earth together," Anne writes. I like that! There is no doubt that this pandemic has had and will continue to have devastating consequences. But we can all strive to make our daily lives and the lives of those around us a little better, even if we have to do it while remaining at least six feet away at all times.
These are useful skills to develop for living in confined spaces, sure, but they're also good life skills for any and every situation. Here's hoping that when this situation calms down, we don't lose sight of the warmth and connection we've fostered.