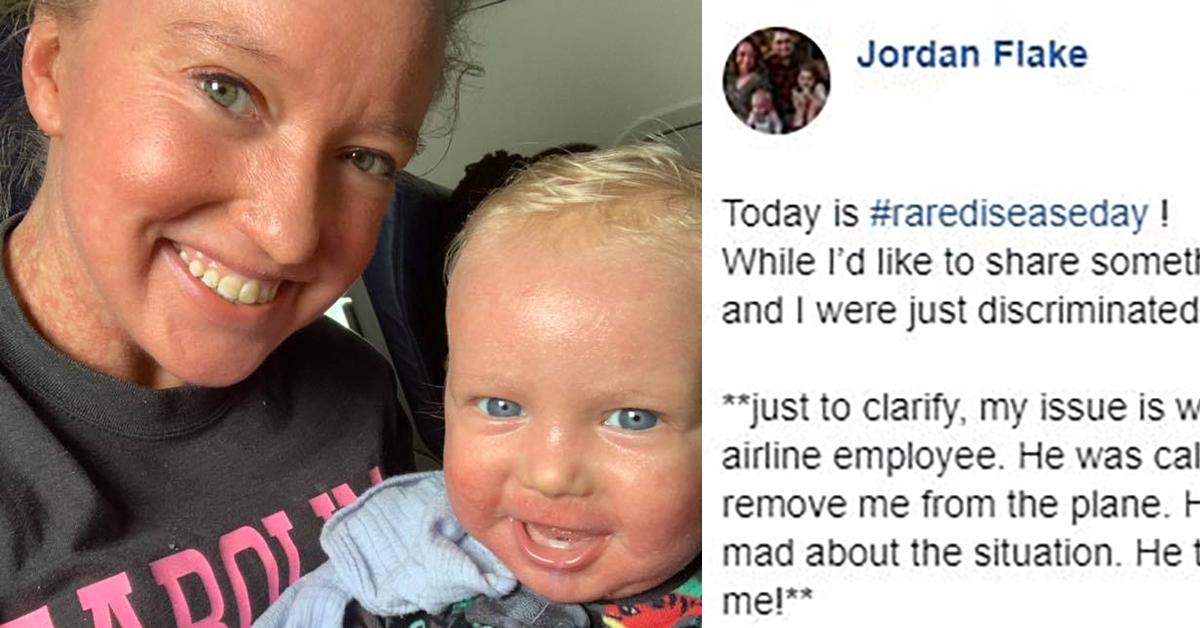 Mom Writes About Discrimination Her Baby Experienced by Flight Crew for His Rare Condition
A mom is calling out a flight crew on social media for the insensitive reaction they had towards her son's genetic skin condition.
Traveling on a plane is stressful as it is. Not only is the process usually really expensive, but there's so many factors to consider: extra time for security check-ups, possible delays, connecting flights, and the ever-shrinking leg room in economy class.
Article continues below advertisement
All of these issues become compounded when you're travelling with a baby. You need to allot yourself even more time to take the little tykes to the bathroom/changing their diapers. Then there's the whole process of feeding them: you need enough space to prepare their bottle if you're formula feeding them or pouring in some pumped milk. Finding a spot to breastfeed your kids is problematic too because you never know if you're going to have a jerk around who takes offense to a mother feeding their child.
Ask any parent and they'll tell you how grateful they are whenever a flight crew makes any type of accommodation or consideration, no matter how little, when they're travelling with a child. It feels great to know that there's someone out there who sympathizes with your struggle, if only for a brief moment, during such a stressful situation.
So you can only imagine mom Jordan Flake's horror when her and her baby were booted from a flight.
Article continues below advertisement
That's Jordan and her smiley son Jackson in the photo above. Jackson and Jordan were born with a skin condition known as Ichthyosis, which causes some discoloration due to dry, scaling skin that forms on individuals who suffer from it. It is similar to eczema or psoriasis, and more than 16,000 babies are born with it every year.
Article continues below advertisement
As she was boarding her American Airlines flight, a crew member of the airline boarded the plane and then asked the 2 men that were seated next to Jordan and her baby to get up. He then quietly asked her about their "rash," and if she had a note from the doctor that said she could fly.
Jordan was understandably flustered, but kept her cool and explained that it was a genetic skin condition.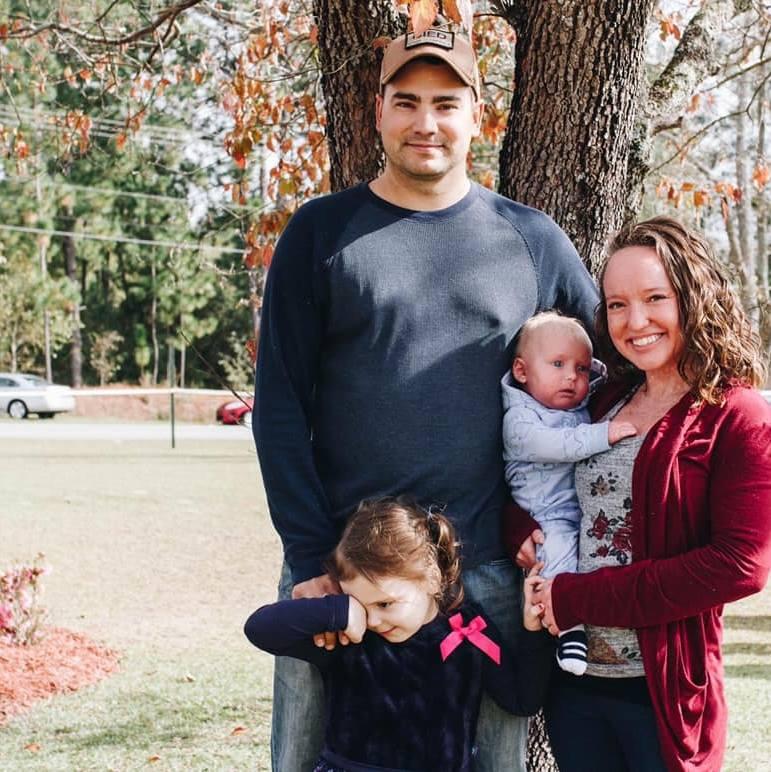 Article continues below advertisement
The man then approached the flight crew and explained the situation to them, and even looked up Ichthyosis to learn some more context on the skin disorder.
From what Jordan could ascertain, the pilot didn't have a problem with her being on the aircraft, but there was a flight attendant who wasn't comfortable with the fact that she didn't have a doctor's note.
Unbelievably, she was asked to leave the airplane with her baby. The man who was called on to the plane to address the "issue" was apologetic about inconveniencing her, but it didn't change the fact that she was forced to not only take another flight, but she couldn't retrieved her checked baggage at the time. So she was forced to buy other clothes/lotions, make childcare arrangements, and use another airline for her flight home the following day.
Article continues below advertisement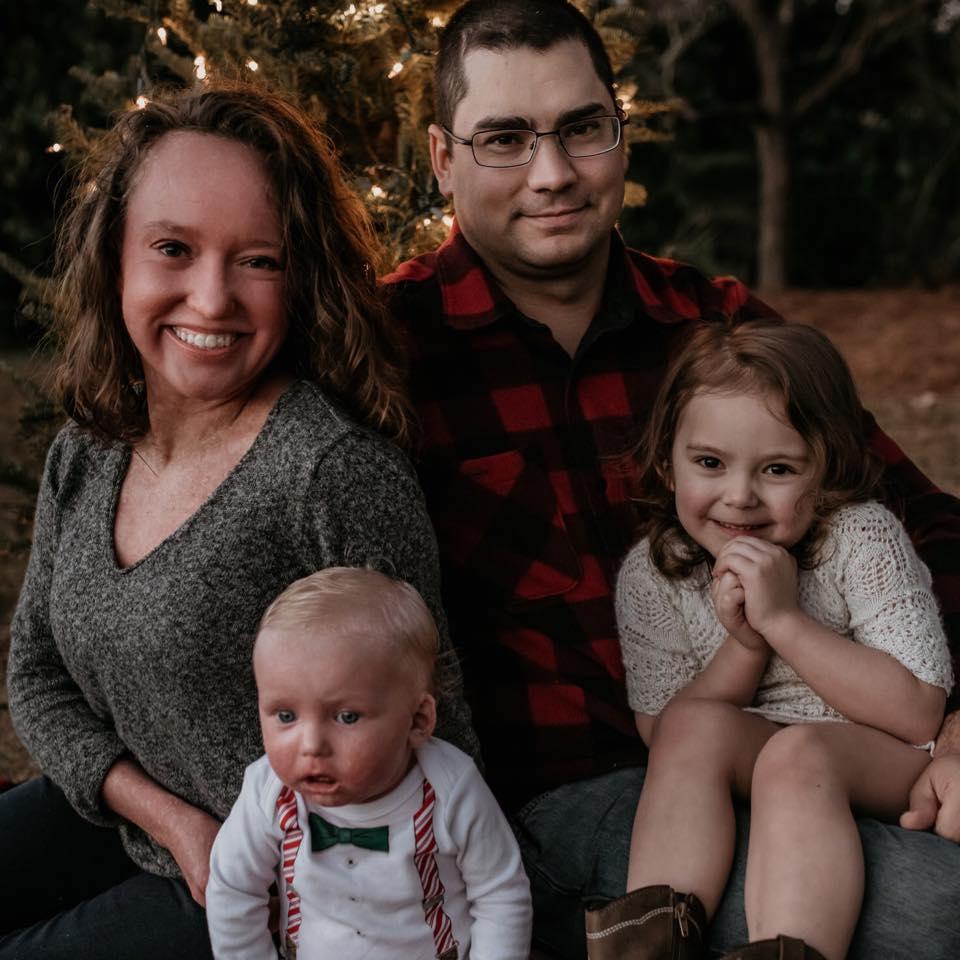 She wrote about the entire experience in honor of "Rare Disease Day." Instead of writing about a positive, inspiring story to celebrate the day she was forced to talk about what American Airlines put her and her child through:
"We boarded our American Airlines flight where everyone smiled and talked to Jackson. Before take off a man (employee called on flight to handle the situation) came up to my row and asked the 2 men sitting next to me to get up. He then quietly asked me about "my rash" and if I had a letter from a doctor stating it was ok for me to fly. I explained to him that it was called Ichthyosis and it was a genetic skin condition. He walked up to the front to talk to the crew. He apparently also googled it during that time. He came back and said he apologized but we wouldn't be able to fly and we had to get off the plane. He helped me get my bags and Jackson. He talked to the pilot as we were getting off. The pilot seemed ok with it, but the flight attendant rudely said (without even acknowledging me) 'well she doesn't have a letter from a doctor, so...'"
Article continues below advertisement
"They also weren't able to retrieve my checked luggage. The man helped me off the plane, got me a hotel and a new flight with a different airline. I had to make unexpected childcare arrangements for my daughter at home and I am having to get a ride to the store to get our lotions and some clothes for tomorrow. I have never been so humiliated in my life! I have emailed them and am waiting for a reply. Happy Rare Disease Day! Quit being ignorant and take the time to listen to people! I shouldn't have to explain myself."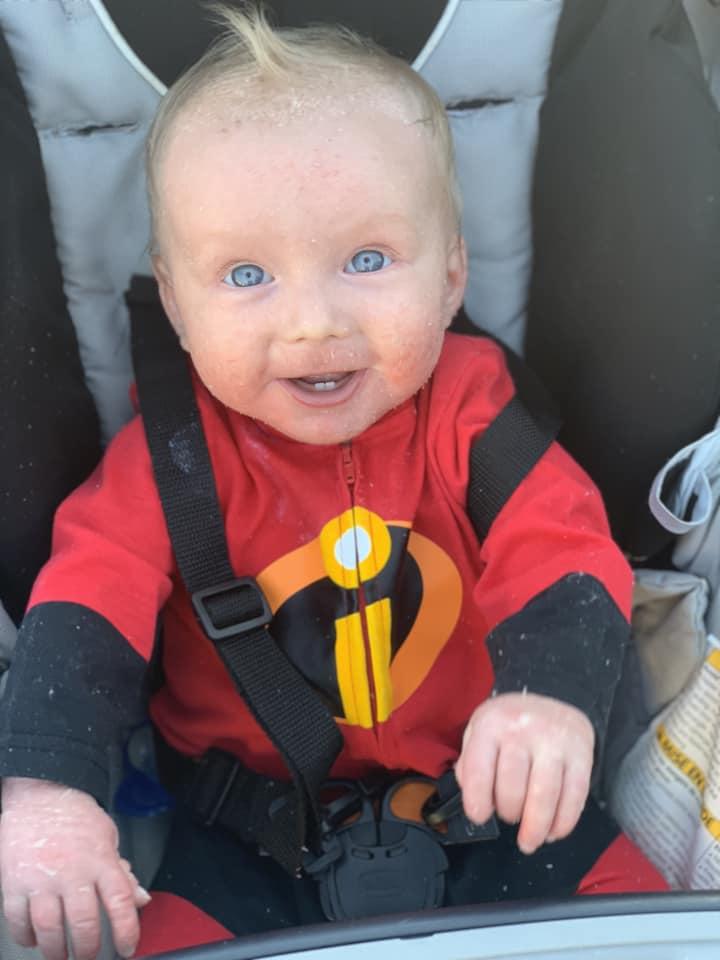 Article continues below advertisement
People were horrified about Jordan's experience and couldn't believe that more consideration wasn't shown to the travelling mommy/baby duo. Others who have loved ones diagnosed with Ichthyosis were in shock and a conversation about diseases that can't be seen/understood at first glance was started in the comments section of her post: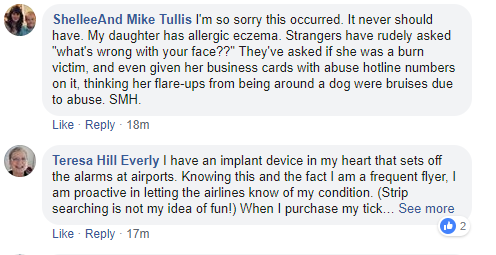 Article continues below advertisement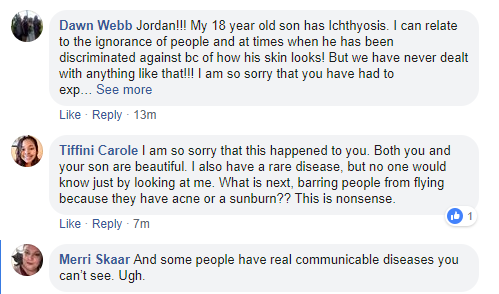 American Airlines has since apologized for the incident, and released a statement expressing regret that Jordan and her son were treated the way they were on one of their flights to The Washington Post:
"We sincerely apologize to Ms. Flake and her son for the experience they had Thursday, and our team has begun an investigation into the matter."
Article continues below advertisement
After Jordan's post blew up, she continued to talk about the effect the experience left on her with LoveWhatMatters.com:
"I should never feel ashamed of myself for the way I was born. This was unacceptable and uncalled for. I have never been asked to show a letter. I have never been told by a doctor that I had to have documentation stating I wasn't contagious, or whatever they were assuming. In 2019, it's time we stop discriminating. Ask questions, and listen."
"If anything comes out of this, I hope it's that whatever individual put this into action realizes they were wrong and unkind, and will think twice next time. If I am not to judge people based on their gender, skin color, or relationship status, then I should not be judged based off of the way I was born."
Article continues below advertisement
What do you think? Was American Airlines out of line even asking about her condition in the first place? Or were they right to address it?