Woman Claims Burger King Employee Charged Her Extra and Pocketed the Cash — "Always Ask for Your Receipt"
A TikTok user says that a Burger King worker asked them for cash after their card was charged sparking a debate on the platform.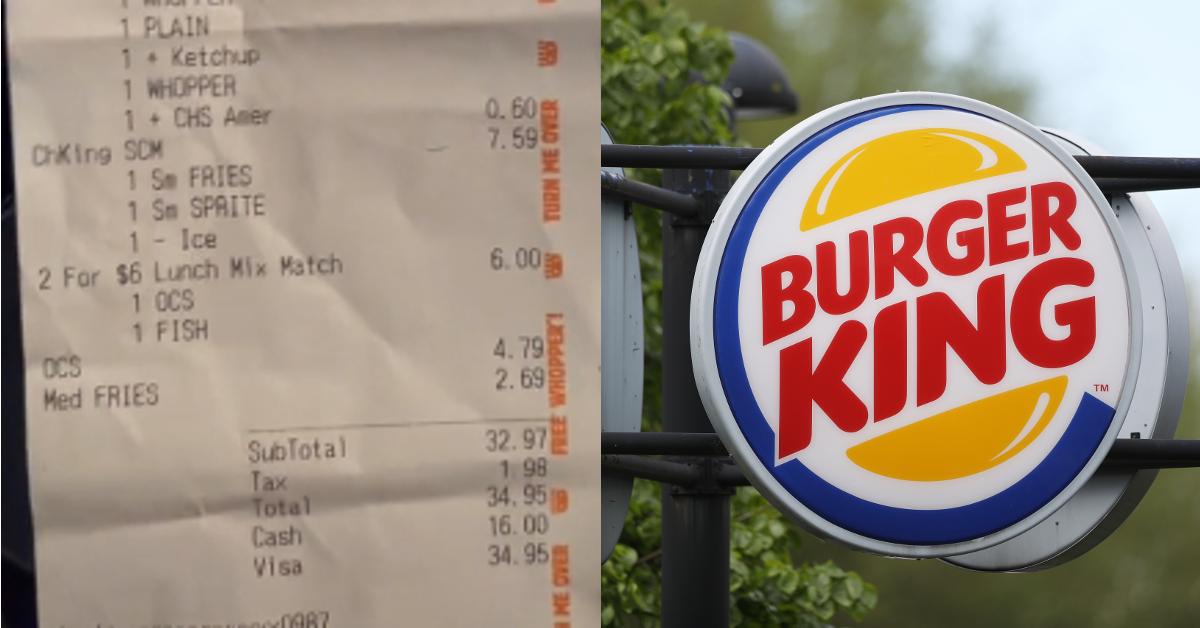 There are lots of different ways employees finesse either customers/their employers and manage to get away with it. At least for a certain period of time, that is.
While it's easier these days for businesses to track sales thanks to credit card charges, when it comes to cash businesses, there are certainly ways workers can come up with skimming a little off the top.
Article continues below advertisement
This is common in super hectic and busy bars. If you're struggling to make ends meet with tips, the urge to keep a little something-something for yourself while your bosses are raking in 1000% mark-ups from cranberry vodka can be enticing.
Usually, in these situations, it's the business that suffers and not the customer.
One would think that while a bunch of folks are hammered, it'd be easier to separate them from their cash and while that may happen, most instances of workplace transaction/inventory fraud are at the cost of the business owner.
So one wouldn't really think that a fast-food employee could manage to pull a fast one on a customer to pocket cash, but that's what one TikToker said happened during a recent visit to a Taylor, Mich. Burger King.
Article continues below advertisement
In a video uploaded by @mrshardy2011, she shows her receipt which indicates she overpaid by $16. The TikTok user's total bill came out to $34.95. What she wanted to do was pay $18.95 on her credit card, and $16 in cash. However, the receipt shows that in addition to her card being charged the full amount, she also just handed over $16 cash to the employee.
Article continues below advertisement

The clip raises several questions: namely, if the employee was truly trying to pocket $16, then why would they put on the receipt that the $16 was placed in the restaurant's register?
Article continues below advertisement

On the other hand, why wasn't there some type of message on the P.O.S. machine indicating the customer overpaid, unless that was processed as a gratuity? But that doesn't seem like the case because fast-food employees typically aren't awarded tips, nor do the sales machines at establishments like Burger King usually prompt customers for gratuity.
Article continues below advertisement

Judging from the comments section of the now-viral TikTok, it seems like the situation escalated. The video's uploader indicates that police were involved in the matter, as they said the worker told the cops they didn't take the cash.
Article continues below advertisement

Furthermore, the Tiktoker also said that upper management didn't fire the employee, but that she was going to contact corporate to further investigate the matter.
Article continues below advertisement

While it's difficult to say what exactly happened at the Burger King, there were other commenters in the viral clip who also seem to have had their fair share of transaction woes with fast food employees.
Article continues below advertisement

Some relayed stories of workers stealing credit card numbers and going on online shopping sprees, others stated that locations had charged their card multiple times after saying that the sale was declined, which seems like a way of increasing sales for a store rather than an employee pocketing some cash for themselves.
Article continues below advertisement

What do you think of the situation? Is it really a case of workers attempting to steal money? Or was it an honest mistake of someone making a mistake of splitting the charges on a bill?