This Guy's Dunkin' Donuts Customer Order Has TikTok Collectively Puking
A Dunkin' Donuts employee shared a bizarre request they received from a customer, and users on TikTok can't believe it's real.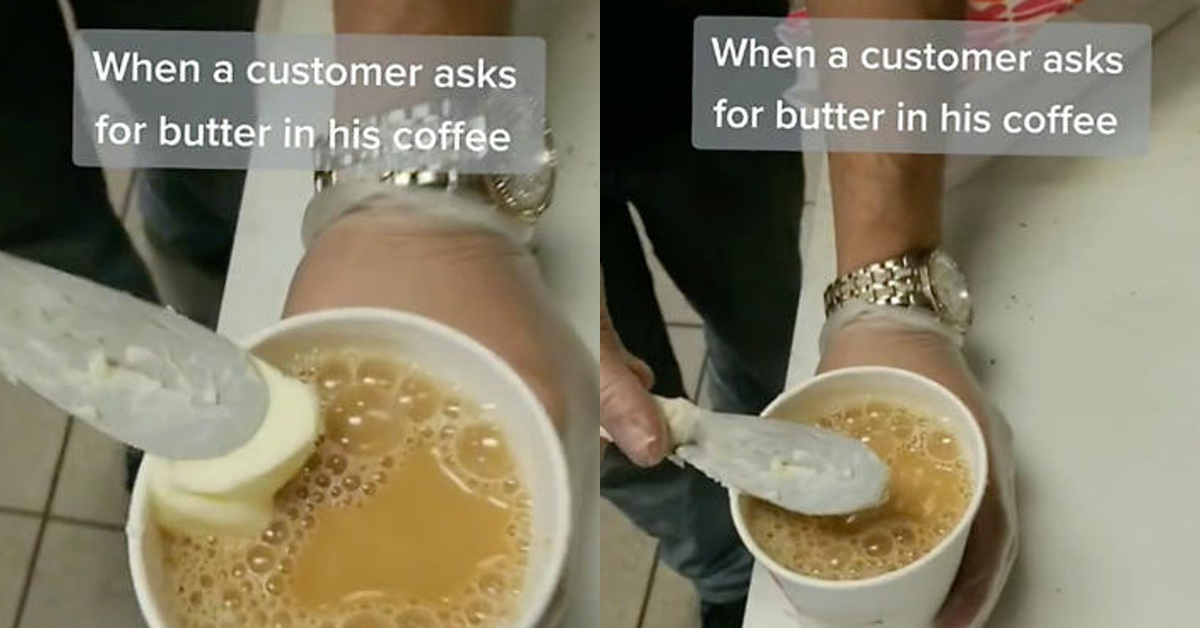 There are tons of health trends that somehow gain popularity that will either roil stomachs, raise eyebrows, or do both. Remember how everyone and their mother began dousing themselves in coconut water despite the fact that it tastes a little like sweetened sock sweat? And what about the great Kale-awakening of 2007-2009 when everyone started putting the bitter green in literally everything?
Article continues below advertisement
The annals of "superfoods" are filled a bunch of other notable entries: acai berries, almond butter, green juice smoothies, coconut oil, and other forms of edible enemas. You can also add "bulletproof coffee" to that long list.
If you've never heard of the beverage, it's a ketogenic drink that's meant to stave off cravings for extended periods of time and assist with sticking to a low-calorie diet.
Article continues below advertisement
The main ingredient is, of course, coffee, but it also typically includes MCT oil and butter. Usually, practitioners of ketogenic diets will prepare the drink themselves, and there are plenty of online recipes for doing it yourself.
But let's say you want to stick to your diet on the go? What's a bulletproof coffee lover to do? Ask their local Dunkin' Donuts to put a pad of the dairy fat in their java, of course!
That's probably what happened with this one Dunkin' Donuts customer, who surprised a worker at the coffee shop so much that they had to upload footage of them making the order to TikTok. "When a customer asks for butter in his coffee," read the text over the now-viral clip that shows a Dunkin' employee scraping a fat pat of butter into the joe.
Article continues below advertisement
Article continues below advertisement
The post sparked a debate in the comments section, with some folks talking about the benefits of bulletproof coffee or simply praising its taste. Others balked at the idea of butter in coffee.
Article continues below advertisement
Other commenters shared the strange customization requests they've received from customers over the years. One employee remarked that a customer asked them to put salt in their drink.
Article continues below advertisement
Even the official account of the Boston Red Sox piped up in the comments. The first Dunkin' location was founded in Quincy, Massachusetts, so naturally the Sox have nothing but love for the chain. But even they had to admit that putting butter in Dunkin' coffee just wasn't right.
What do you think? Are those who are grossed out just in need of broadening their coffee-drinking horizons? Or this one trend that you'll be happy to see pass?