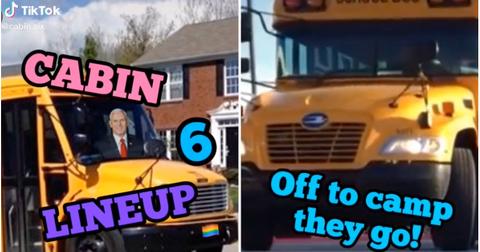 Meet the Members of Cabin Six, the LGBTQ+ TikTok Collective
By Shannon Raphael

Oct. 12 2020, Published 3:43 p.m. ET
It's evident how much TikTok can influence Gen Z — and top users on the app have become role models and influencers to aspire to. In December of 2019, Hype House, the first TikTok collective, was formed. Several of the people behind the most-followed TikTok accounts joined, including Chase Hudson, Addison Rae, and Charli D'Amelio (she later left the group), and users couldn't get enough of the content filmed within the walls of the houses. 
Article continues below advertisement
Unsurprisingly, in the months since, many groups have been created to emulate this success. From the Sway House to Clubhouse B.H. to Diversity University, many teens and young adults are buying up L.A. mansions to shoot their viral videos in. 
Cabin Six is one of the newer additions to this list, and there are a few elements that make the group stand out from the rest. 
All of the members are part of the LGBTQ+ community, and their mission is to provide representation and showcase inclusivity. Auditions for the group are held fairly regularly, and the list of influencers within the collective is always growing. 
Another thing that sets Cabin Six apart from its other collective counterparts is the fact that the group doesn't actually reside in a home together yet, and many have yet to meet in person. 
Though only a few members actually live in the Hype House, much of the content is filmed inside the home. The Sway House, on the other hand, is home to many of the group members. 
The official account for Cabin Six features separate content from each of the creators. 
Who are the Cabin Six members? Keep reading to find out who is contributing to the official Cabin Six TikTok page.