TikToker Calls out Woman for Sitting Right Next to His Family in Costco Food Court
A TikTok user sparked a debate about Costco Food Court seating (of all things) after he recorded a woman who sat down next to him and his family.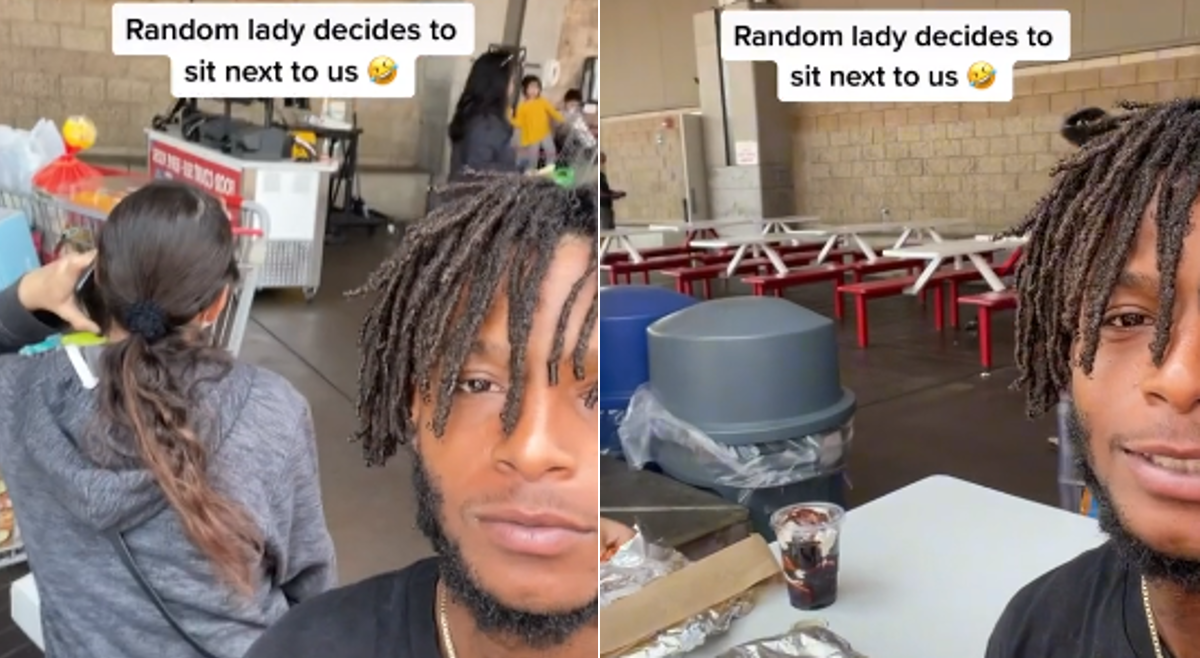 There are fewer values greater than the Costco Food Court. The massive bulk-purchase retailer has been offering $1.50 hot dogs and sodas since 1985 (not to mention $5 rotisserie chickens) along with competitively priced pizzas loaded with gobs of mozzarella cheese and other goodies for low low prices for a very long time.
Article continues below advertisement
It's one of the most affordable places to go out and eat and the best part is, most locations don't check for your membership to eat there.
And while the options aren't exactly the healthiest (there is a grilled chicken salad that's $4.99, or more than the price of three hot dogs and sodas) it's hard to beat that kind of prepared food value.
But this kind of deal comes with a few concessions. It's not like you're going to get reserved seating when you're eating at the food court, but rather you'll be subjected to all of the intricacies of cafeteria-style table arrangements. Costco food courts are usually decked out with benches and long tables and folks tend to just sit wherever there's space.
Article continues below advertisement
One TikToker, however, took issue with the fact that a woman sat next to him and his family when there was seemingly plenty of space for her to sit elsewhere in the food court.
Article continues below advertisement

User @tysteazyy uploaded a clip where he recorded the woman and called her out for sitting down beside him. "Random lady decides to sit next to us" he writes in a text overlay. He says in the video, "Who is this lady bro?"
Article continues below advertisement

He continues, "Look at all those empty seats though." He provided further context in the clip's caption, writing: "Enjoying lunch with my fam when a random lady sits at our table having a phone conversation."
Article continues below advertisement

The video set off a ton of different reactions in the comments section, with other TikTokers stating that he was wrong for putting her on blast. Many argued that she had just as much of a right to sit down there than anyone else in the Costco, the @tysteazyy and his family included.
Article continues below advertisement

Others thought it was just plain rude for him to call her out for behavior that wasn't necessarily wrong.
However, there were also TikTokers who felt that she should've picked another location in the food court to sit down at, especially considering all of the other seating options.
Article continues below advertisement

Others thought that users would feel differently if their genders were reversed and it was a woman complaining about the fact that a man decided to sit so close to her and her family when there were clearly other seating options available.
@tyseazyy also wrote in the comments, "Why the hell would I want a stranger sitting with at a small table while I eat with my girlfriend and 2 kids lmao."
Article continues below advertisement

What do you think? Is there anyone in the right or wrong here? Should the woman have "read the room" better and picked another location to sit at? Or is the TikToker making a proverbial mountain out of a proverbial mole hill?