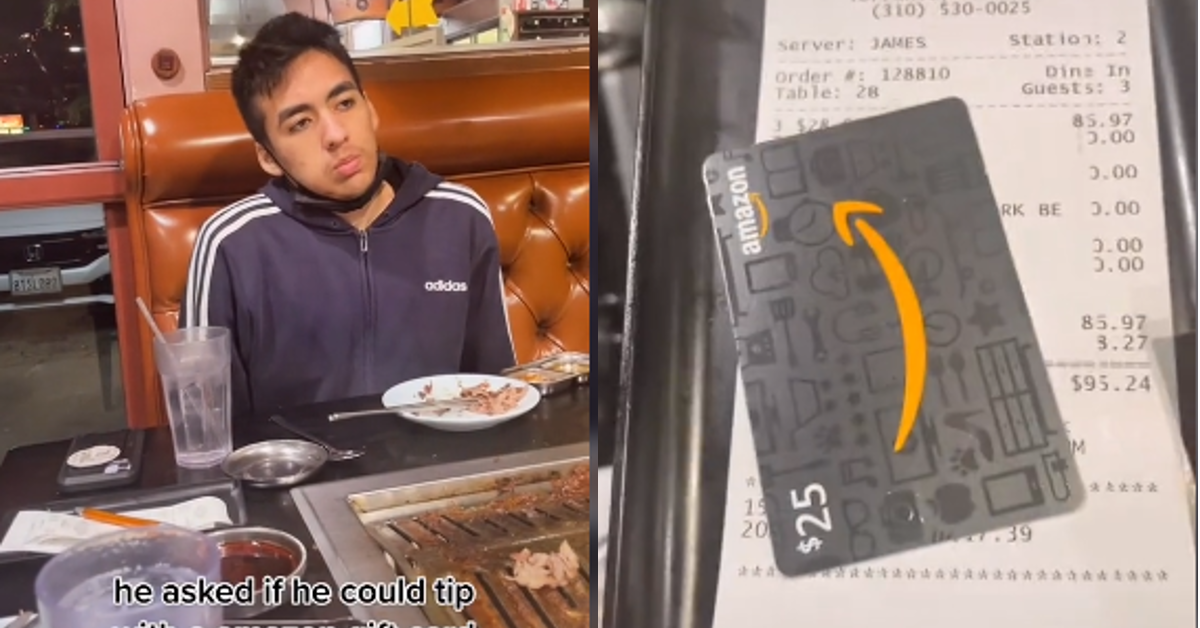 Customer Tries Tipping Waiter With $25 Amazon Gift Card and Tiktok's Divided
It's no secret that servers aren't always treated the best. With low wages, freakouts from customers when they're told they need to wear masks, and a slew of other horror stories, it can be pretty tough working in the service industry when you're dealing with a bunch of super entitled customers.
Article continues below advertisement
Especially when it comes to those who think that tipping is either optional or is best reserved as a food delivery manipulation tactic. And then there are some folks who have some rather unconventional ways of compensating their server. And no, I'm not talking about the $17 scratch-off ticket I won at my cousin's wedding to give to the valet driver because I didn't have any cash to give him.
I'm referring to the viral TikTok video uploaded by user @kaittwest who recorded her teenage brother who wanted to help chip in for a meal they all went out to enjoy together.
When they were presented with the $95.24 check, he asked if it would be all right to tip with a $25 Amazon Gift card.
Article continues below advertisement

Kaitlyn Lombera posted the recording to TikTok where it went viral and sparked a debate in the comments section. In an interview with Fox News, she said that she was out to dinner with her brother Gustavo and their sister Ashley. Ashley offered to cover the whole check, and that's what prompted Gustavo to take out the gift card to at least cover the tip. At $25, that's more than 20% gratuity.
Article continues below advertisement
"My brother wanted to contribute somehow, so he offered to tip with the Amazon gift card. Our waiter was super nice, we loved him…so my brother thought a $25 gift would be a good tip."
Article continues below advertisement
Kaitlyn said that the waiter laughed when his brother asked about tipping with the gift card so Ashley opted to charge the gratuity to her credit line instead.
There were a lot of folks who were seriously pressed that the young man would think it was acceptable to tip with a gift voucher.

Article continues below advertisement

"You can't pay your rent or bills with an Amazon gift card. Would you be ok with your job giving you an Amazon gift card instead of a paycheck?"
Another wrote that it was a matter of practical trust: "I know your sweet brother meant well, but they don't know how much money is actually left on the card & need cash to pay bills."
Article continues below advertisement

A slew of other people also mentioned that the gift card balance could be zero, meaning that the waiter in question would've ultimately gotten hosed. However, Kaitlyn stated that the $25 gift card indeed held the full balance.
There were some servers who said that they would've loved to have received a $25 gift card as a tip.
Article continues below advertisement

"As a waitress I would love it! Lol $25 more than 20% too." Another penned, "I don't see what's wrong? He wanted to tip and he was finding a way to do so."
Another server wrote that, "Once a lady had no cash and tipped me with a $10 Starbucks card. I loved it!"
Article continues below advertisement

Kaitlyn went on to say that their entire interaction with the waiter was "a lighthearted situation."
What do you think? Is it a problem to use a gift card for gratuity? Or are people on TikTok just being a bunch of stuck-up nerds?