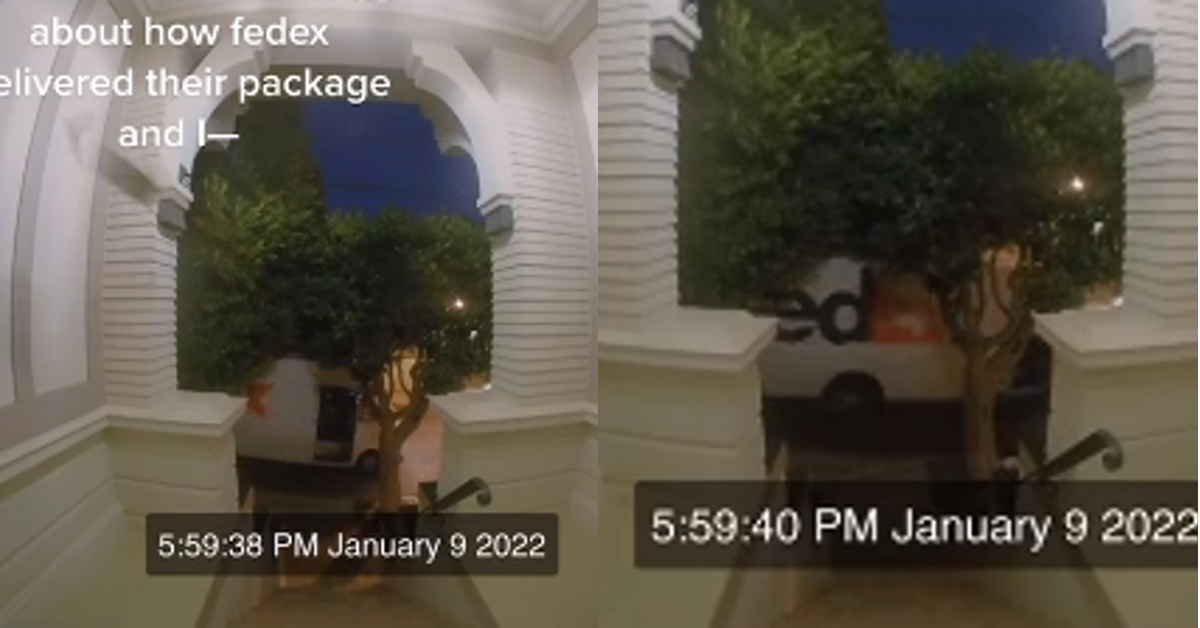 TikTok User Catches FedEx Driver Throwing Package Out of a Moving Truck
It's no secret that the COVID-19 pandemic has caused an uptick in deliveries, and thus, delivery delays for folks who rely on getting their consumer goods shipped directly to their door.
This has resulted in a surge in profits for parcel services but there's a downside too: the increased demand means that employees are pressured more than ever before to complete their jobs.
Article continues below advertisement
It doesn't help that they often face a litany of occupational hazards and sometimes straight-up hate from random folks while they're just going about their day and trying to complete their work.
Even with all of those stresses, however, there are a lot of people who can't seem to get behind the way one FedEx employee decided to deliver a package.
In a now-viral TikTok, @racheyyyporter(Rachel) uploaded a clip that she says came from her neighbor who posted it on the Next Door app. Rachel writes on the video in a text overlay, "someone posted on nextdoor complaining about how fedex delivered their package and I—"
Article continues below advertisement
The clip in question shows a blink-and-you'll-miss-it moment: a FedEx delivery truck drives by a home and the driver tosses the customer's parcel out of a moving vehicle. The video looks like it was recorded off of a doorbell camera and it garnered tons of views on the popular social media platform.
Article continues below advertisement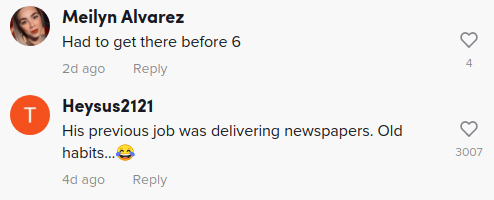 Many commenters who saw the video were shocked at the perfect placement of the package, with many folks surmising that the driver must've had a lot of practice tossing items due to the accuracy in which it landed in front of the house.
Article continues below advertisement

"That's express delivery," @96tilinfinity quipped.
"His previous job was delivering newspapers," @heysus2121 remarked.
Someone else expressed that the delivery driver in question must've been behind schedule, "he just wanted to make sure it would get there by 6:00."
Article continues below advertisement

And while there were a lot of folks who said they definitely wouldn't want whatever packages they had coming to them in the mail like that, there were also many who couldn't believe the strength at which the package was tossed.
Article continues below advertisement

"How did they do that so accurately and so hard, they gotta canon in there?!" @summerrrrlynn asked.
Goods do get damaged during shipping, with some delivery companies experiencing higher percentages than others. USPS has a 10% damaged package report rate, while UPS clocked in an 11% report rate. Out of the three, FedEx has the lowest reported package damage reporting at 7%, according to Speed Commerce.
Article continues below advertisement

While the reported lost package rate for delivery services like UPS is placed at .01-.02%, that doesn't account for "porch pirates" who steal shipments directly from people's homes. Which is something that employees really can't account for, unless you have someone like this who goes out of their way to do whatever they can to ensure that your package has the best chance of not being spotted by thieves.