Mom Who "Died" for 27 Minutes Had an Eerie Message When She Came Back
Tina Hines went into cardiac arrest and was technically dead for 27 minutes. When she finally woke up, she couldn't speak but had a message she needed to write down: "It's real."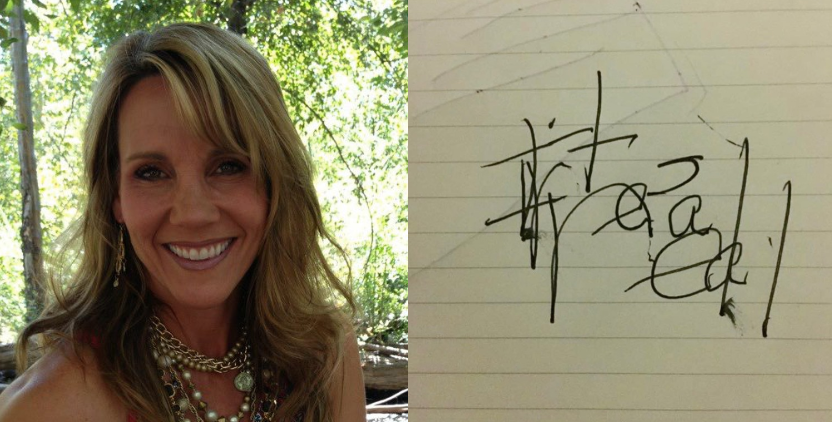 Actual miracles are few and far between, but I'd say this incredible story qualifies. It starts with a tragedy. Phoenix resident Tina Hines was about to head out for a hike one morning with her husband Brian back in 2018 when suddenly, out of nowhere, she collapsed.
She was active and in shape and there was no reason for this freak cardiac event, but it was immediately serious.
Article continues below advertisement
"Her eyes didn't close, and they were rolled back in her head. She was purple and not making any noise or breathing," Brian told AZfamily. Brian was able to revive his wife, a mom of four, using CPR, but soon her heart stopped again. Paramedics arrived and had to resuscitate her a total of five times before the ambulance got to the hospital.
She was effectively dead for 27 minutes.
Article continues below advertisement
Coming back from that is amazing enough in itself, but it's what happened when Tina regained consciousness in the hospital that really makes her story incredible. When Tina woke up, she was still intubated, so she couldn't speak, but she motioned for a piece of paper and pen, and then, in scraggly, nearly illegible handwriting, wrote the words, "It's real."
What's real? Well, Heaven. Tina told AZfamily, "It was so real, the colors were so vibrant." She saw black gates and "Jesus standing in front of them, with a bright yellow glow behind him." That's about as classic a vision of Heaven as it gets.
Article continues below advertisement
A little while after Tina left the hospital, she and Brian went to visit the 911 operator, firefighters, and paramedics who worked so hard to save her life that day. How can you ever repay a service like that? Tina and Brian both hugged her rescuers and cried in their arms.
Article continues below advertisement
One Phoenix firefighter told AZfamily that they shocked Tina three times on the scene, and two times on the way to the hospital. "I've never shocked anyone five times," he said.
"It's one of those calls that none of us will ever forget," another rescuer said. "I was a witness to a miracle is the way I look at it."
Whatever your beliefs, there is no denying that this is an extraordinary story. It has touched the lives of so many, not to mention Tina's own family members, who are so grateful that she's still with them today. Tina's niece, Madie Johnson, went so far as to get a tattoo of Tina's written message.
Article continues below advertisement
"(Sharing because this story is too cool not to share)," she wrote in an Instagram post. "A little over a year ago my Aunt Tina, one of the most amazing, discerning, and healthy people I know had an unexpected cardiac arrest...She was put on a defibrillator and after miraculously waking up the first thing she did, unable to speak because she was intubated, was ask for a pen and in my cousin's journal wrote, 'It's real.' The people in the room asked, 'What's real?' and she responded by pointing up to heaven with tears in her eyes."
Article continues below advertisement
"Her story is too real to share and has given me a stronger confidence in a faith that so often goes unseen," Madie continued. "It has given me a tangibleness to an eternal hope that is not too far away."
Madie's tattoo of her aunt's message will always serve as a reminder to keep the faith.
Article continues below advertisement
Tina is happy and healthy today. She now has a defibrillator and pacemaker, which will hopefully prevent any future cardiac events like this. And she might even get the tattoo herself! In a Facebook post where she tags Madie, she writes, "I shall pursue the #itsreal tattoo, because of you!"
No matter if you are religious or not, I feel like it's sort of a comfort to know that at least one person has been able to confirm her own idea of what happens to us after we die. It's not a subject people like to talk about, but Tina actually lived through and came back from it. And I'd say that qualifies for whatever your definition of "miracle" is.